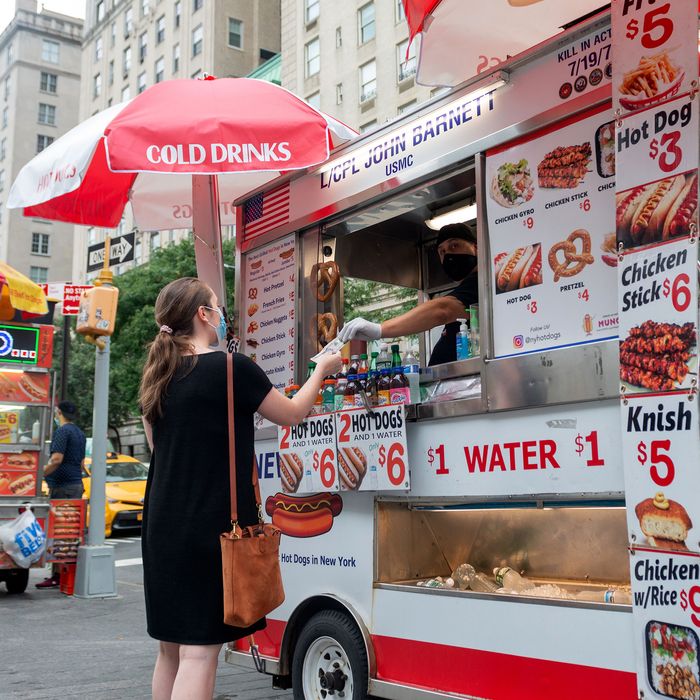 Photo: Alexi Rosenfeld/Getty Images
In June, Mayor Bill de Blasio announced that the NYPD would no longer be involved in enforcing street-vending laws. Instead, the city would create a new civilian agency to oversee vendors, he promised, amid protests calling for police abolition and reform.
This was supposed to be progress. Street vendors have long complained about police harassment — interactions that have continued steadily throughout the pandemic — and the notion that perhaps enforcement shouldn't be under the purview of the NYPD is hardly a radical idea. (A bill to create a civilian oversight unit had been introduced to the City Council back in 2018, and while it has majority support, there has yet to be a vote.)
But three months after de Blasio's announcement, The City reports, the NYPD is still very publicly ticketing vendors. After fining two lower Manhattan operators on Monday, police took to social media to reassure the public that they are still on the case: "Unlawful vending can adversely affect local businesses and quality of life," tweeted one police chief. "We hear your voices NYC and we are acting."
According to The City, the tickets — at $500 per infraction — "cited the vendors for allegedly parking their permitted carts closer to a crosswalk than the required 10-foot distance and other violations." (The City also notes that the police themselves seemed to be unclear on the rules, since the citations "incorrectly said the minimum required distance was 12 feet.") Those are big fines — especially at a time when many vendors have been doing a small fraction of their regular business.
"We always feel that the city officials, any enforcement agencies, treat vendors with a lot of disrespect," said vendor Nabil Boussbaa. It was his first ticket in five years of operating (with a license) at the same corner, he told The City.
From the outset, the mayor's promise was vague: It didn't, for example, specify when the police would stop their enforcement, whether vendors would still be subject to oversight from other city agencies, and who would be part of this new civilian unit. The Street Vendor Project called the announcement "a major step forward" but also demanded concrete action. "He just said the police are not going to handle it anymore, but who is?," Sonía Pèrez, who sells tamales in Bushwick, asked the New York Times back in June.
So far, there are still no answers. "As appropriate, the NYPD will continue to respond to other illegal vending complaints in the interim as we work through an enforcement transition process," de Blasio spokesperson Julia Arredondo told The City.