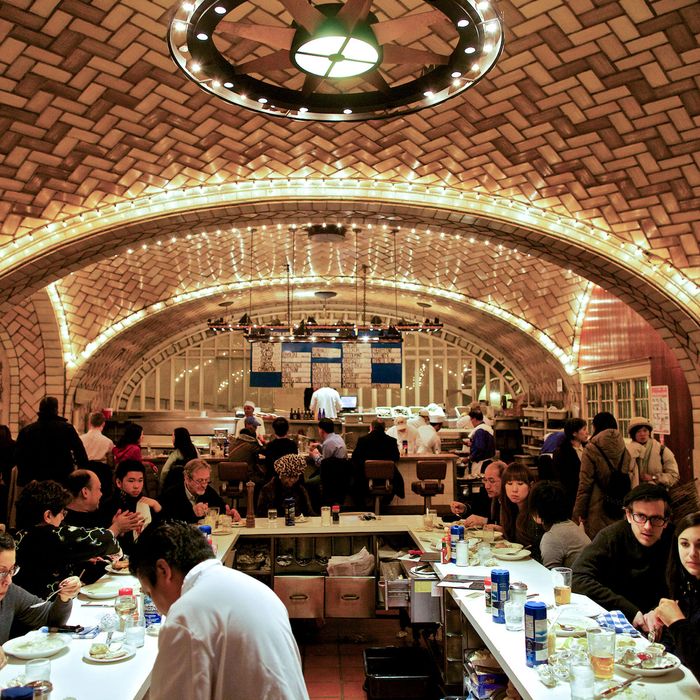 Manhattan's famed Grand Central Oyster Bar & Restaurant has been closed since March.
Photo: Benjamin Norman/The New York Times
In the final weeks of August, mayor Bill de Blasio remarked at a press conference that he was confident New York City's restaurants would be able to welcome guests back "at some point" in 2021. The future of 2020, though, remained an open question. But just as restaurant owners began bracing for the worst, there was news: On September 9, Governor Andrew Cuomo announced — surprise! — that indoor dining would indeed return to New York City after all, with restaurants allowed to seat 25 percent of their capacity beginning September 30.
"It caught us blindsided, and we were jumping up for joy," says Sandy Ingber, the executive chef at Grand Central Oyster Bar & Restaurant, which has been entirely closed since the city's restaurants first shut down in March.
Even for many of the restaurants that have opened in some form, the stopgap measures that have worked up until now — expanded outdoor dining, frantic takeout and delivery, picnic kits — won't be enough to float them through the winter. Most restaurants cannot survive another season of drastically reduced service, the initial federal aid has likely been spent and no more is forthcoming, and outdoor dining setups are still scheduled to get broken down on Halloween. The return of indoor dining — in some form, at some capacity — seemed, for many restaurants, like the only solution they had left.
Then came the next question: How to make it work? Restaurants are not built to run at 25 percent capacity, dining rooms were not conceived to function in pandemics, and nobody has any guarantees. But across the city, restaurants are piecing together plans. "It's very difficult to predict what's going to happen," says Ingber, whose business has historically depended on tourism, on Broadway, on business lunchers — on a whole host of factors that don't currently exist. "But we're gonna be doing our best to make a go of it."
Operators who spoke to Grub Street say reopening at 25 percent capacity does not by itself solve their problems. It allows for social distancing among diners but can't promise total safety, especially among staff. Standard kitchen-safety protocol does not usually encompass the dangers of inhaling the air. Twenty-five percent capacity lets restaurants recoup some fraction of their pre-pandemic business but often not enough to break even, let alone come out ahead. Meanwhile, the rent continues to come due.
"It doesn't make financial sense for any of us," says Angie Mar, chef and owner of the Beatrice Inn. "With 25 percent occupancy, the math just doesn't work." Grand Central Oyster Bar, according to Ingber, would need to be closer to 75 percent capacity to break even. East Village pirogi stalwart Veselka would need to be doing 50 percent, "at the bare minimum," says co-owner Jason Birchard. Jimmy Ly, of the East Village Vietnamese destination Madame Vo says he'd need "75 percent just to sustain."
At Karazishi Botan, a very small ramen shop in Cobble Hill, quarter-capacity means four or six diners total at a time. But as owner Foo Kanegae explains, the hope is that it's only a first step and will lay the groundwork for more customers soon. State public-health officials will reassess the numbers no later than November 1, when occupancy could go up to 50 percent if transmission rates don't rise. "It's the first chapter of a better story," Kanegae says. "Fifty percent, 75 percent, and hopefully 100 percent one day."
Still, everybody understands that full dining rooms are simply not an option now. "I'm not saying we should just open up to 100 percent — I'm not saying that at all," Mar explains. "For us to not go back to March and April, we do have to take all of the precautions."
So the coming weeks will be something like a high-stakes, citywide experiment. Six months ago, "nobody was wearing masks," Birchard points out. "Nobody was sanitizing to the same effect as they are now." He is hopeful that will be enough. Birchard and his wife both got sick in March, but he's hopeful that our fuller appreciation of the virus's dangers and our better understanding of the way it spreads mean we also have a better grasp on how to navigate things more safely. "I've got to be optimistically cautious," he says. So he's making the necessary adjustments. "I'm training the managers to take temperature checks. I've already got my HVAC guys getting the proper filters." But while he stresses he's in favor of all of it, that doesn't change the reality: "It's a lot to do for 25 percent."
At King Restaurant in the West Village, Annie Shi is also trying to figure out the air-filtration situation. First, there's the cost of getting the proper filters. Then there's the challenge of actually procuring them: Her usual HVAC guy is already completely sold out. And at the same time, she's hesitant to make any kind of major capital investment until she's reasonably sure the guidelines won't immediately change.
Even though the government's "Standards for Responsible Indoor Food Service in New York City" list lays out straightforward-sounding rules — tables six feet apart, masks except when seated, temperature checks, and contact tracing — owners say shifting guidelines around outdoor-dining barriers, and the cost of having to rebuild them after the fact, make them wary to take any initial directives at face value. Owners say they could even deal with shifting rules during a pandemic when we continue to learn more every day. Instead, stresses Linden Pride, a co-owner of Dante, the problem is the spirit of the rules' enforcement: punitive, rather than collaborative. "Obviously, I don't think they want us to fail," he says, "but they slip back into this 'We're going to come and find you' mentality, as opposed to 'Let's help you make sure that you get it right so you stay open and your staff make their living wage and you can pay us taxes, which we ultimately need.'"
Beneath all these individual concerns is this fundamental problem: The task of saving restaurants has fallen to the restaurants themselves, and in the midst of a pandemic, navigating various regulations over which they have no control, there is only so much restaurants can do. "It's not about making money anymore," says Ly. "Right now, it's about survival." Twenty-five percent is better than zero percent, but without rent relief, none of it will be enough. "Had we not been able to renegotiate our lease, we wouldn't be able to survive this," says Ricky Camacho, chef and co-owner at Añejo, which has — so far — been breaking even. Kanegae too says he's managing to stay afloat because his landlord has been "open and supportive" and game to negotiate the rent. "With a different landlord," he says, "we would have shut down much earlier."
Not everybody is so lucky. Mar says you can very roughly divide the city's restaurants into two categories: restaurants with landlords who will work with them, and restaurants with landlords who won't. At King, the urgency of reopening the dining room at quarter-capacity pales in comparison to the urgency of figuring out how to stay open at all. "Our main concern is that we have not been able to meet in the middle with our landlord," Shi tells me. "Where he wants to be and where we need to be are still pretty far away from each other. So my primary concern is whether or not 1932-A" — a temporary rule that essentially helps business owners survive financially if they can't pay rent — "is going to be extended past the 30th. That's my primary concern."
It is probably not hyperbole to point out that everyone in New York's hospitality industry is now used to living with all of this uncertainty. "We're not sure what's going to happen next," says Shigefumi Kabashima, who is currently preparing his two restaurants, ROKC and NR, for all possible futures. A few months from now, he could be operating at 50 percent capacity or 75 percent capacity — or he could once again be shut down completely. "I think we'll be able to survive, but I don't know if that's the right choice, to survive now," he says. Would it make more sense to close down and start a new incarnation of the business in a year or two? He has no plans to close — what would happen to staff? But is that right? He isn't sure.
Even if opening at 25 percent means losing money — and for many restaurant owners, it does — they also know there's no other option. "These businesses have a life of their own," says Pride. "It's very hard to revive them if you stop."
For Mar, the next step is pricing out the required upgrades — $15,000 and $20,000, she's been told, in the case of the HVAC system at her restaurant — even if she won't be able to recoup the costs for a long time. She's just hoping that complying now means she'll still be around when that time does come. "Twenty-five percent isn't gonna do anything for us," the chef says. "But you know, we're gonna keep going, and we're gonna make it work for as long as we possibly can, because that's what we do."