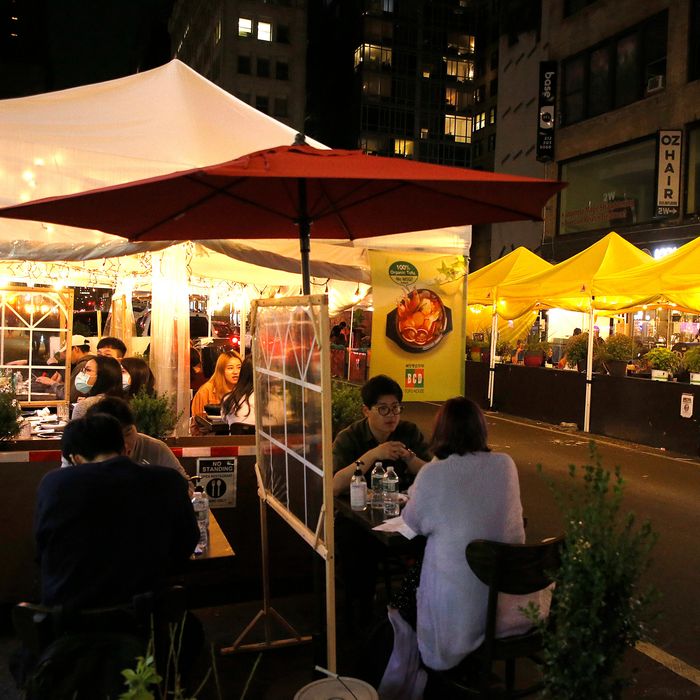 Outdoor dining in New York City.
Photo: John Lamparski/Getty Images
New York City's Open Restaurants program is now "permanent and year-round," Mayor Bill de Blasio said today on WNYC's "The Brian Lehrer Show." Many restaurateurs have called the program, which allows for expanded outdoor dining into the streets, a lifeline during the coronavirus pandemic. The Open Restaurants program had been set to expire on October 30, and industry members as well as others, including Grub, called for it to become permanent. Currently, Open Restaurants includes 87 streets around the city, but it will be expanding. It's more good news for the restaurant industry during what has been a relatively good week that also saw the extension of Local Law 1932-A, which suspends the enforcement of personal-liability provisions in leases, through March.
According to Wall Street Journal reporter Katie Honan, who obtained an early version of a press release, the city will also allow for heating elements such as propane. Continuing the Open Restaurants program and allowing for artificial heating could be crucial for many restaurants during the winter. While indoor dining is set to return at 25 percent capacity on September 30, there are issues and questions about safety, as well as the cost for small operators who say that they won't be able to do enough business inside. Not everyone is comfortable eating inside: One bar employee who spoke with Grub earlier this week said her regulars told her that once they could no longer eat outdoors, they'd only be getting takeout.
Outdoor dining comes with its own issues: inclement weather, which will be an issue during the winter; and for struggling businesses, the added costs of setting up; but its benefits also depend entirely on a business's location. Those with narrow storefronts, less sidewalk space, or whose businesses are on busy intersections or adjacent to fire hydrants or bus stops won't reap the benefits.
In response to the news, the New York City Hospitality Alliance issued a statement from executive director Andrew Rigie and counsel Robert Bookman calling the announcement "a major step to rebuilding a stronger, more resilient and livable city." Earlier this week, the Hospitality Alliance released results from a survey of 500 NYC restaurant owners that found almost 90 percent couldn't pay their full rent in August.