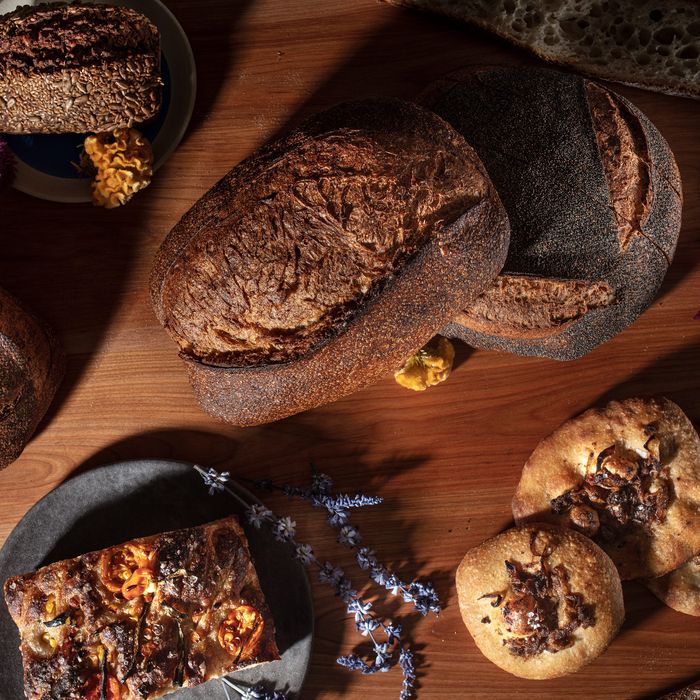 Country loaves, bialys, sourdough focaccia, and lots more await at Mel.
Photo: Melissa Hom
Nora Allen is a grain evangelist. She wants you to know grains, appreciate grains, savor grains. "I really want to get people jazzed on grains!" she says, standing in the production space of her new bakery, where she is explaining the differences between a Danko rye berry and a Warthog hard red winter wheat, "to get really nerdy." Her nerdery is contagious. Why aren't we all talking about grains?
At Mel, her new Lower East Side sourdough bakery, we are going to talk about it. Allen is deeply aware all this could be insufferable — fresh-milled, heirloom-grained sourdough focaccia with corn and blackened poblano peppers does tow a certain line — but it isn't. Instead, Allen persuasively makes the case: Whole grains can be not only virtuous, but exciting.
Even in an age when the words local and artisanal have lost all meaning, grains, she feels, have yet to get their due. When Allen was coming up in pro kitchens after college, there was plenty of conversation about where the produce came from, which farms raised the meat. "Why don't people ask about their flours?" she wanted to know. "People would take a really expensive piece of fish, and then use a commodity flour for their pasta. To me, it just didn't make any sense."
That was 2012. There weren't all that many places doing fresh-milled heritage grains in-house yet, but for the next few years, she apprenticed herself to those that were. "I worked in a bakery in Denver that milled all of its own rye, all of its own einkorn — that's where I really started realizing the difference," she says. The bread was better.
Back on the East Coast, Allen started at Roberta's, where she met fellow baker Max Blachman-Gentile; when he left to head up the bread program at the Standard, she went with him. "It was great," Allen recalls. "We were making really good bread." But hotels — they're weird. Who were all these people eating her good bread? "Especially for something so repetitive, I want to feel like all those loaves have a place they're going."
After she left, a few people approached her about projects. One of them was chef Flynn McGarry: He wanted a bakery in the neighborhood, and he had a backer interested, but he wasn't himself a baker. Could she do it?
Plans were made. A space was secured. Refrigerators were ordered. The bakery was on track to open in the spring. Then there was a pandemic.
For a while, the whole project was on pause, and it wasn't clear if it would go forward. McGarry left to focus on keeping his own restaurant afloat, although you can still trace his influence. (The name — Mel, after mjöl, which is the Danish word for flour — is all McGarry.) Allen decided to press on. At the same time, in households all across America, first-time bakers went all-in on sourdough.
There has perhaps never been a better moment for a mass grain awakening. Everyone is a baker now, or knows a baker. People group-text about proofing. On Instagram, she started taking bread questions, offering home bakers supportive feedback on their loaves. "I'm watching this interest be piqued in real time," she says. It is exciting, when everybody else finally has the same revelation you did.

Now, the bakery is open. For the last several weeks, Mel has operated exclusively as a wholesale operation, but on Saturday, the bakery will open to the public, at 1 Ludlow Street, selling sourdough croissants, rye chocolate chip cookies, and loaves upon loaves of bread: a sharply tangy einkorn poppyseed miche, a sourdough country loaf, and a kasha varnishkes–inspired bread (from Blachman-Gentile's recipe) made with toasted Maryland buckwheat porridge, onions, and schmaltz.
There will also be bialys. There are too many mediocre bialys in this city, vacuous bialys, bialys that are all chew and no bite. The problem, Allen suggests, is that "people have veered away from the Polish authentic bialy, which is braised onions and bread crumbs." The bread crumbs make the difference, she insists, although the sourdough exterior, satisfyingly glutinous, doesn't hurt. And, should you wish to experiment yourself, the bakery has a small "Micro Grain Market," stocked with (ground) flours from several of Mel's small-farm vendors. For now, it's weekends-only, 8 a.m. to 3 p.m. The plan, eventually, is to be open for retail full-time.
New York City, one might note, is not short on bakeries. So, can a common eater — say, this writer in particular — tell, by tasting, if bread is made with flour that's been fresh-milled? The answer: The bread at Mel is very, very good. It is soft and chewy, but never simple. It has integrity. It is nostalgic, but it is not twee. Is that because of milling? Sort of. As Allen explains, the fresh flour changes how the dough behaves. Sourdough starters thrive with it. And now, we all know what that actually means! Mel, Allen hopes, will be a place where we can learn so much more, if we want to. If not, we can just grab a sourdough croissant and be on our way.