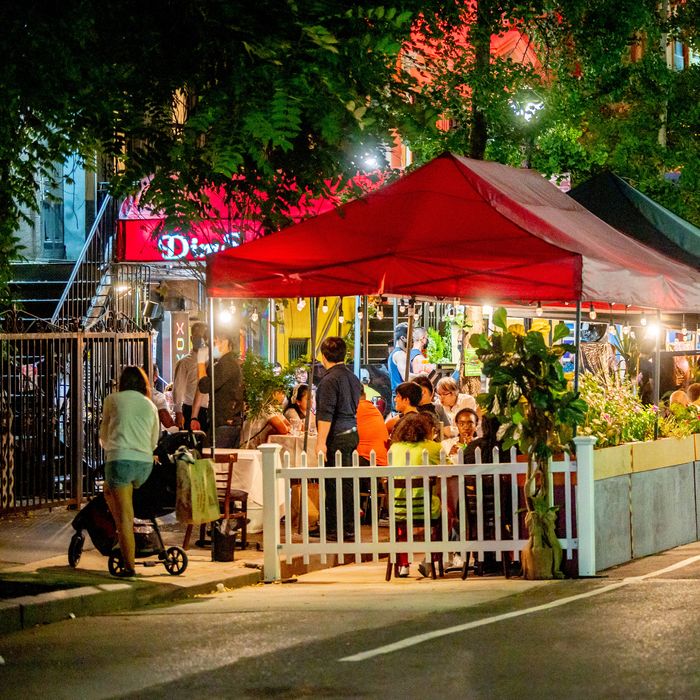 It's frankly surprising how enjoyable it can be.
Photo: Roy Rochlin/Getty Images
Labor Day 2020 is now behind us. Even though it is still technically "summer," and traditional calendar markers have lost all significance in this crushingly repetitive year, it is hard not to think about the looming autumn. There will be many things to miss as the temperature drops and we spend more time indoors. One of them will be the surfeit of outdoor restaurants that popped up over the summer.
Officially known as Open Restaurants, and also called expanded outdoor dining, this, as you probably know, is the program that allows restaurateurs to, with relative ease, commandeer sidewalk and street space for seating. More than 10,000 restaurants are taking part, and the city's streets are dotted with little umbrella-covered cubbies, all twinkling with string lights and filled with people who are, despite the horrible things happening in the world, having a good time.
Looked at from a certain angle, expanded outdoor dining is the kind of detail you'd hear about from a friend after a trip to Copenhagen or a Greek isle. "The restaurants just spill out into the street during the summer," the friend would say. "The whole thing is like a monthslong outdoor dinner party." That's what New York is now, and, for at least one more season, it will be us going forward. Strolling down, say, Court Street in Carroll Gardens, you might even be tempted to think of these little plywood-enclosed eating-and-drinking oases as whimsical, if you weren't also aware of the reasons they came to exist in the first place.
Imagine how charming they would be if the country weren't in the grip of a relentless, ever-present pandemic? Think about how agreeable it would be to sit outside at one of these expanded setups without having to worry about whether you also brought enough hand sanitizer. Picture an evening of outside cocktails that doesn't at some point involve wondering when is the best time to take off your face mask. Dream about a night that's slightly too warm to be comfortable and choosing to sit outside or inside.
Even with these ongoing concerns, expanded outdoor dining is … nice. Freed of these unnerving matters, expanded outdoor dining would be almost unthinkably pleasant. The fact is, for an ad hoc system that was initiated to help New York's restaurants survive, expanded outdoor dining works remarkably well.
How will it work going forward? The same way it works now, basically. Yes, there have been some not-unexpected problems — rain, rats, NIMBYism — but with seven additional months of planning time and an established set of regulations from the city, New York's operators and contractors will figure out all sorts of intelligent workarounds.
Already, there has been some legislative movement afoot to make it an annual tradition. Mayor de Blasio has announced plans to bring it back next June. Why not start earlier? (It can be so lovely outside in May!) Why not also go a step further and declare it a now-permanent part of warm-weather life in the city? What do we have to lose, really? Some car traffic. Street parking for a few months. Would anyone miss those?
Sure, like anything else, certain locations are better suited to this project than others, and that will become yet another negotiating point for leases on spaces. We also need to come up with a better name than "Open Restaurants" (too bureaucratic) or "expanded outdoor dining" (too clinical) for something that's been so delightful.
Of course, as this becomes a yearly occurrence, there will come a time each winter when all the outdoor dining setups are broken down and put into storage, and that will become a melancholy annual tradition of its own. Like those first 4:30 p.m. sunsets, the breakdowns will trigger our natural instincts to hunker down and hibernate, at least until the spring when the outdoor dining setups make their triumphant return. But thinking about the end of this year's outdoor-dining season is already a bit easier to take knowing that we actually have something to look forward to next year.