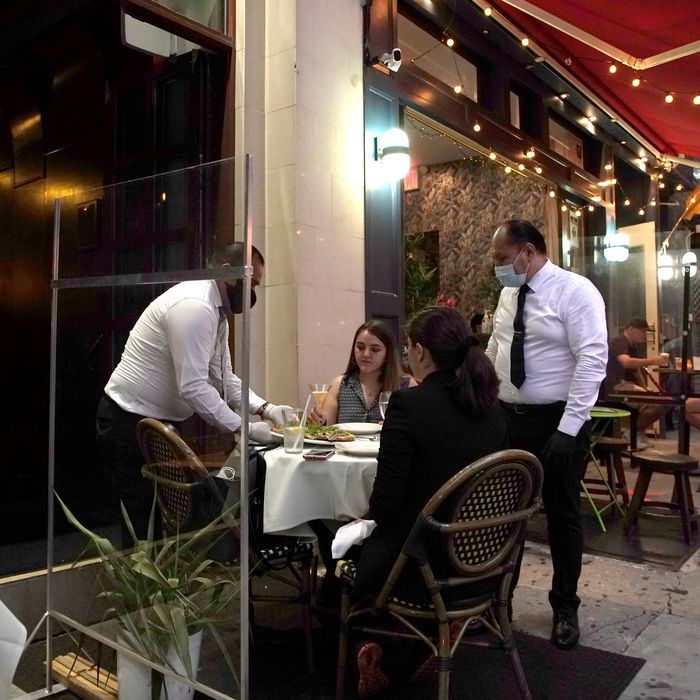 Local Law 1932-A is set to expire on September 30.
Photo: John Lamparski/Getty Images
Restaurant and bars have faced constant hurdles during the coronavirus crisis, but September 30, in particular, has loomed as a day many are dreading. That's the date that Local Law 1932-A, a key protection that suspends enforcement of the personal-liability provision in commercial leases of COVID-impacted tenants, is set to expire. (It also is when the city will reopen for limited indoor dining.) However, the New York Daily News reports that operators may get a little more breathing room, as the New York City Council is considering extending the law through March 2021.
An extension of the legislation has been called for members of the industry. Speaking with Grub in July, Adda, the MasalaWala, and Rahi owner Roni Mazumdar said, "The protection absolutely and desperately needs to continue … it would be a fatal blow to the restaurant industry if they don't extend it." Councilwoman Carlina Rivera, who sponsored the bill, is pushing for the extension, telling the Daily News that owners who have to permanently or temporarily close "through no fault of their own" should be able to "do so without facing threats to their personal assets or life savings." Along with the extension, Rivera is calling for the extension of two bills intended to prevent tenant harassment. The legislation is scheduled for a hearing next week.
In July, West Village restaurateur Gabriel Stulman wrote on Instagram that he had been "threatened" by his landlords, who told him they will "pursue personal guarantee once Bill 1932 is overturned." A group of landlords, the Daily News reports, have sued for an injunction against the bills on the grounds that they are unconstitutional. Rivera counters that the city can block landlords from collecting the personal funds of their tenants.
"I obviously think it's not only necessary but crucial to our survival. On the other hand, it's just buying us a little hope when without solid federal help, winter will be the death of all of us," Marie Tribouilloy, a co-owner of Bushwick's Ops and the owner of Ridgewood's Forêt, writes in a text message to Grub. But, like others, she says limited outdoor dining won't be enough. "We won't make it another 6 months like this either way," she says. "Honestly, I think most of us are fucked either way. The idea that we could be personally liable for our commercial rents is terrifying."