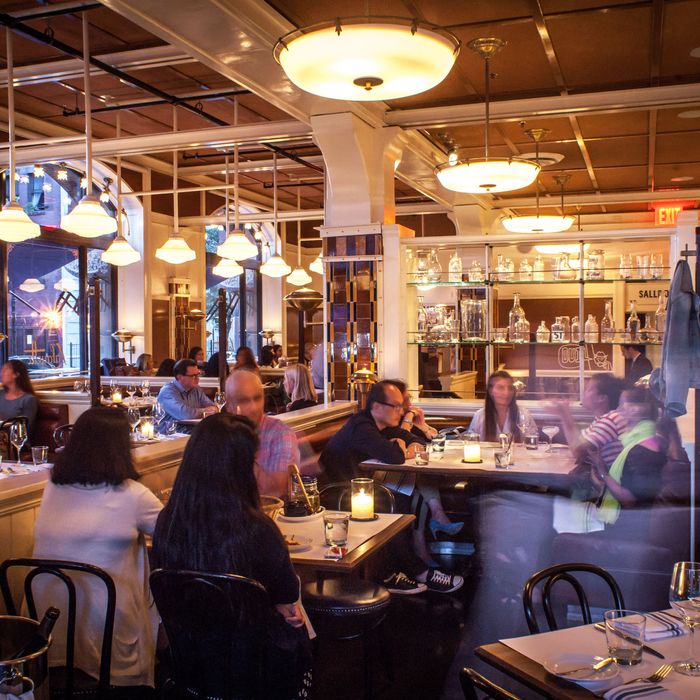 A pre-COVID scene at Lafayette in lower Manhattan.
Photo: Paul Wagtouicz
This article was featured in One Great Story, New York's reading recommendation newsletter. Sign up here to get it nightly.
Ravi DeRossi is one of New York City's most well known restaurateurs. His name is synonymous with a certain style of low-key, high-volume, alcohol-forward eatery you find in downtown Manhattan, which perhaps is not a coincidence, because DeRossi is currently operating nine of them. His empire includes an ever-changing roster of businesses: There is a plant-based tapas bar and an actual bar-bar that specializes in bitters. There is a low-lit, earthy date spot. There used to be an "exotic vegetable bar" that soon will be reborn as a vegan Filipino restaurant. With so many various establishments, DeRossi has seen firsthand the very different ways that the ongoing COVID-19 pandemic can affect sales. At Ladybird, his tapas spot, DeRossi says, business is "actually doing very well." But his restaurant next door — the vegetable bar turned Filipino spot — has shuttered. The difference: Ladybird has space for 40 outdoor seats, which is roughly what it had inside. The space next door is blocked by a fire hydrant. "I'm literally only going to get eight seats," DeRossi says. "We couldn't even do enough sales to pay the staff, because of the fire hydrant."
For the roughly 10,000 restaurants that are currently participating in the program, New York's expanded outdoor dining is perhaps not the solution to combating the economic downturn that arrived after sitting barefaced near other people became a dangerous activity, but it is certainly a solution, part of the patchwork of projects — merch, meal kits, delivery — that has helped operators stay in business. "Summer dining has allowed us to just do the bare minimum to keep things operational," says Alfredo Angueira, owner of Bricks & Hops, Bronx Drafthouse, and Beatstro, all in the South Bronx. Now, though, with Labor Day looming, many in the industry are terrified about what happens next: What does New York City look like when the picnics end and the weather cools and everyone heads back inside?
The dilemma could not be clearer: New York City restaurant owners say that, without income from indoor dining, many — so many — will be forced to close for good. "I don't know how many places could survive just doing to-go and delivery," DeRossi says. "We'd be done. We'd be finished." This isn't an estimate; he tried to make it work, and the numbers weren't good. "With delivery, we're doing less than 10 percent," he explains. We couldn't sustain at all."
What about government aid? Despite repeated pleas for an industrywide bailout, no further relief seems to be forthcoming. And at the same time, New York City officials have offered no public timetable or plan for indoor dining. They don't know if it'd be possible to do it safely and have not defined what "safely" even means, except to bleakly say that "it would take a huge step forward." Lately, the mayor has hinted that the only acceptable path ahead may be a vaccine.
But if this is an existential crisis for New York City's entire restaurant industry — the consensus is: "It is" — then it's worth looking at what successful, safe indoor dining could look like in the country's most populous city. The problems are clear. Real solutions, though, remain frustratingly elusive.
Long Island and Westchester County both reintroduced indoor dining at the end of June, offering at least a model for what that could look like in New York City: 50 percent capacity, with distanced tables, "enhanced sanitation and disinfecting requirements" and masks for everyone — though diners can take them off while seated. In New Jersey, where indoor dining was also postponed in July, restrictions will start to lift on Friday, when restaurants will be allowed to open at 25 percent capacity across the state. There, too, tables will be spaced six feet apart, customers are required to be masked except while eating, and reservations will be encouraged to help with both crowd control and potential contact tracing. Philadelphia has remained closed even as the rest of Pennsylvania has started to reopen, but the city will resume limited indoor dining on September 8 at 25 percent capacity, with masks for everyone and face shields for servers, using physical barriers at cash registers and in kitchens and seating no more than four diners per table. (In an unusually comprehensive twist, Philly also requires restaurants to "have sick leave policies in place so that employees excluded from the workplace do not lose earnings.") So: Why not implement something similar in New York?
"It would seem if restaurants have met, sustained, and exceeded all the metrics that have allowed restaurants throughout the rest of the state to reopen, that we should be able to open as well," says Andrew Rigie, executive director of the New York City Hospitality Alliance. "You've heard some people say it's an issue of density, but 50 percent reduced occupancy and tables six feet apart is the same in Staten Island as it is in Schenectady." If indoor dining is working in Westchester County, then why, he wants to know, can't it work 100 yards across the street in the Bronx? And if there is a scientific explanation for what is fundamentally different about the five boroughs, he continues, then at least restaurants deserve an explanation and a plan.
The city, instead, offers more of a philosophy. "Smart cities learn from their own mistakes," a spokesperson from the mayor's office told me. "Very smart cities learn from others." When Hong Kong reopened, the spokesperson points out, cases started going up. "Across the United States and around the world, we've seen troubling reports from localities that have restarted economic activity too quickly," the spokesperson says. "We're taking a different approach, and it's working."
There is still a lot we don't know about how and why the virus surges, and no two places are exactly the same. "Every epidemic is local," explains Henry Raymond, an associate professor of biostatistics and epidemiology at Rutgers School of Public Health. "The dynamics, the demographics, the vulnerabilities are so variable from place to place that it's not surprising that there are — even in side-by-side jurisdictions — different policies around the things people can do." But clarity issues arise when jurisdictional lines don't necessarily follow demographic lines. "Jurisdictional lines are totally arbitrary and don't make any sense," Raymond says, "in an epidemic sense." The one thing we do know for sure is that whatever plans are made, if there were any plans, need to be flexible: The data that goes into making a decision is going to change from minute to minute, hour to hour, and so those decisions may seem ridiculous tomorrow but today they seemed okay."
That could be one way to explain Mayor Bill de Blasio's ever-fluctuating position on indoor dining in the city: In the interest of not breaking any promises, he has seemed loath to lay out any reopening criteria at all. At one point last week, he suggested indoor dining might not return until next year. Later, he said it depended on how the city fares when school starts: "We'll get to see a lot about what our long-term health picture looks like, and that's going to help inform our decisions going forward." Two days ago, he reiterated his commitment to … keep an eye on things: "I will absolutely tell you, we're going to keep looking for that situation where we can push down the virus enough where we would have more ability to address indoor dining." All of this seems reasonable. (It is also how I feel!) But restaurant owners say this approach leaves them with no path, no plan, and no way to make decisions.
The outdoor-dining program, which has allowed restaurants to serve curbside, on sidewalks, and in parking spaces, is scheduled to end on October 31. It has been extended once already — originally, it ended after Labor Day — and it could pushed back again. But even if the hard deadline moves, there will come a day when the temperature inevitably dips into the 40s, and then the 30s, and it is not clear how many people want to eat duck confit in a parking space in the snow
Still, some owners are doing what they can to extend the outdoor-dining season as long as possible. "I've already purchased space heaters," says Emmeline Zhao, who opened Silver Apricot with the chef Simone Tong in the West Village in July. "When it starts to get cold," she says, "we're ready to go." Mikel de Luis, chef and owner of the new Soho tapas bar Haizea is also thinking heaters. DeRossi says he is looking into them too.
So it is possible the lamps will glow all winter, like an extended Hanukkah, and rates of the virus will stay low, and New Yorkers' need to leave the house will outweigh their need for warmth. Or, alternatively, this won't happen.
Angueira, of the Bronx Drafthouse, is skeptical about the potential of an extended outdoor season. For starters, most heat lamps are not approved by the FDNY, he says, and the options that exist are expensive. "Does it even behoove me to invest the money in those?" he asks, pointing out it's yet another unanticipated expense that may or may not pay off. "I think our outdoor patio deck came out to $6,000, if not more. And now we have to invest more money, because our dining tables were not up to the wear and tear of being brought in and out constantly," he says. Décor, planters, lighting — another $2,000 or $3,000. "And now we're talking about an investment in heating lamps? For how many more weeks?" You'd have to have some confidence, at least, that you'd recoup the cost.
Instead of installing lamps, Angueira is considering selling hoodies, and that's about as concrete as anyone's plans seem to be right now. In fact, the usable information we do have only makes a true path toward indoor reopening more difficult to chart. In states that have reopened indoor dining, COVID-19 outbreaks have been repeatedly traced back to bars and restaurants. Los Angeles County allowed restaurants to reopen, only to reclose them one month later as case numbers climbed and we learned more about where the virus spreads most effectively: in crowded, poorly ventilated places with lots of unmasked people talking.
In New York City, rates of the virus are very low: On August 31, the city's test positivity rate was 0.59 percent and has been hovering around 1 percent for weeks. (Yesterday, that count came to 1.33 percent.) When schools reopen for in-person classes — currently scheduled to happen on September 21 — it will be a major test for the continued health of the population. There is a very real possibility that it will get much worse in the fall. The news from Spain, currently undergoing a second wave of infections, is not promising.
At least one New York City operator has witnessed the problems that arise when communities are too hasty in their reopening. Isa Chandra Moskowitz runs the vegan comfort spot, Modern Love, which has two locations: one in Williamsburg and another in Omaha. Watching Nebraska return to indoor dining — the state began allowing partial indoor seating in early May — has only made Moskowitz more resolute in her commitment to keep her own dining rooms closed. "I've seen that it's not feasible," she says. "I've seen places that open, and now they have to close for deep cleaning. And then there are places where you know someone's sick and they just haven't announced it." In the meantime, takeout and delivery work for her: In Williamsburg, business is 95 percent of what it was last year and she can wait to reopen until she feels it is absolutely safe to do so. If there isn't a vaccine, she would at least want to see same-day testing. "Right now, sometimes we have employees waiting ten days for results," she says, and what do you do with that? "We haven't had a positive case yet, so we haven't really had to deal with it. But if we did, we'd have to close. So to have ten days of not knowing — it's just unacceptable."
That raises another obvious problem that's unique to New York City. Yes, it's possible to reduce seating and require face masks, but if there is an outbreak, how quickly it spreads does, in large part, depend on density. As Raymond, the Rutgers epidemiologist, explains, the calculator factors in not just what is happening now but also "the potential risk of what's gonna happen next."
Is it hopeless to think that indoor dining can return to New York City before a vaccine is widely available? The more I talked to experts, the more it started to feel like it might be. But what I also heard was frustration from operators who just want some sort of proposal in place so they can start making plans of their own. "At this point, I just need to know," says Tren'ness Woods-Black, the third-generation owner of Sylvia's in Harlem. "That's all. I'm not a doctor. I'm not a scientist. I'm not an air-filtration specialist." If reopening dining rooms isn't possible this year, then okay, she says. But "I don't want to feel beat up because I'm asking."
Angueira echoes Woods-Black's exasperation: "The health and safety of not just our patrons but our families and our country is paramount," he says. "We understand that, but don't insult our intelligence. We're business owners. We understand the logistics, we understand the ins and the outs — lay it all out for us."