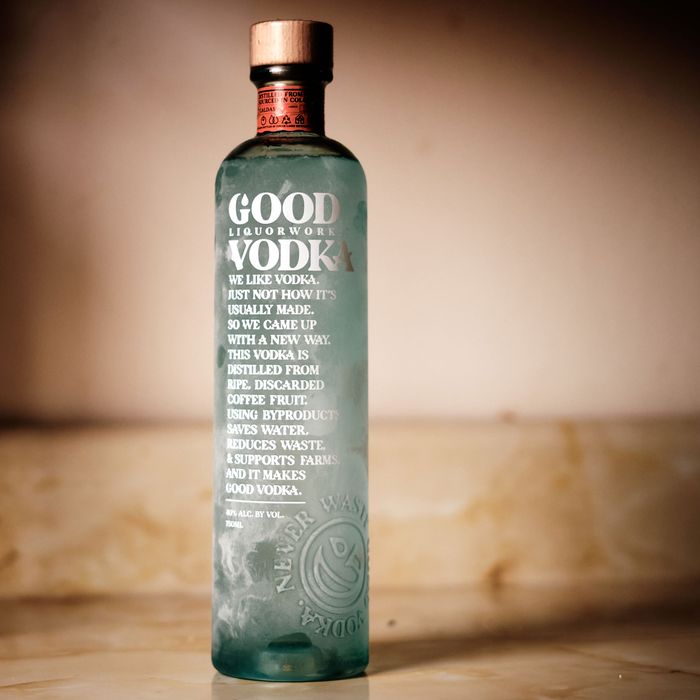 Good Vodka is, it's true, good vodka.
Photo: Christian Rodriguez
You have to admire honesty in advertising, and Good Vodka is, true to its name, good vodka. It comes in a bottle that reveals details not usually available about the '90s' favorite clear, anything-goes liquor: the distillery where it was made (Finger Lakes Distilling in New York), the harvest region, and harvest season. There's also a sort of mission statement ("We like vodka. Just not how it's usually made") that also explains the liquor's unusual source: discarded coffee fruit. Despite the unlikely source, the vodka tastes like vodka, which is to say it tastes like alcohol, but its bite doesn't sting, and, because it's made from fruit, it has a rounder, richer flavor.
If you're plugged into New York's cocktail world, you might recognize the name of Good Vodka. Over the past few years, Good Liquorworks' creators, Tristan Willey (who worked at places including Booker and Dax and the Long Island Bar) and Mark Byrne (also a writer who has contributed to Grub Street in the past), teased the project in its various forms. And now, they're in the process of soft-launching the product, opting to debut it at the Crown Heights cocktail bar Hunky Dory. There, owner Claire Sprouse uses it in a drink called "WHOOSH!," which also has lemongrass syrup, Manzanilla sherry, lemon, and a garnish of a tomatillo husk. Soon, Good will show up at other bars, including Leyenda, and it's being sold at Duke's Liquor Box in Greenpoint and Vinyl Wine on the Upper East Side. (The suggested retail price is $29.99.) "We're putting it out there with bars we like that are open in a safe way," Byrne says. A full launch, he explains, is "a COVID question."
The vodka got its start six years ago when, Byrne says, Willey paid a visit to a coffee farm in Guatemala and saw the discarded coffee fruit. "For a distiller, when you see a pile of fruit that's not being used, you're like, This is gold. This is filled with sugar. Sugar is all you need to make alcohol," Byrne says. Users of forums like Wine Making Talk and Home Distiller discussed the possibility, and cascara — the dried husk of the coffee cherry, long used in East Africa to make tea — has been made into a liqueur before. So Willey and Byrne distilled the coffee pulp into a fruit brandy, or eau-de-vie (it's peppery and minty, not unlike an amaro without the bitter edge or sticky sweetness), to prove it could work. ("If something makes a good brandy, it makes a good vodka," Byrne says.) They then had to, Byrne says, figure out how to import it, what form it should be imported in, and how to best ferment and distill it.
But why choose vodka instead of something more esoteric that might speak to Willey and Byrne's collective history in the drink world? "What I wanted with this project is a mass spirit, something that sells a lot, that people drink a lot, and that they don't necessarily think, I'm drinking this because it's eco-conscious," Byrne says. "People don't interrogate their vodkas the way they do their craft beers and certain craft whiskeys. They don't tend to ask for the same level of transparency."
In her Instagram post, Sprouse, known for pushing toward sustainability in bars, describes Good Vodka as "carbon-negative" and adds that "every bottle saves the carbon equivalent of 40 miles in a gasoline-powered car." Marketing in alcohol is often obfuscated or just spin. Remember the Indiana factory distillery where it turned out all those craft whiskeys were being made? Or take Tito's, which still bills its product as "handmade," despite the fact that the company produces millions of cases a year? (How many hands?) Sustainability can be, as Byrne puts it, treated as a marketing question of "How can we reframe what we were already doing to make it look green?"
Spirits are particularly wasteful — according to one study, every liter of alcohol results in about 15 liters of wastewater — and their production comes with agricultural concerns. Good Liquorworks turned to the Dutch company Ecochain, which analyzed its supply chain. "Because we're diverting this coffee fruit from ending up in rivers, where it becomes methane gas, which is incredibly polluting, the bottle ends up saving 15.76 kilograms of CO2 emissions per bottle," Byrne says. That's a sharp contrast to the usual alcohol, which, according to one study, tends to generate greenhouse-gas emissions of .73 to 2.37 kilograms for every liter.
Along with Ecochain, Good Liquorworks worked with the National Federation of Coffee Growers of Colombia (FNC) to build a supply chain. "I wanted it to be a company that was bound to their member farmers in an important way. Their primary purpose was to come up with a deal beneficial to the farmers," Byrne says.
A nonprofit, the FNC works on behalf of over 560,000 coffee farmers in Colombia through everything from research to building roads. The coffee website Sprudge wrote in 2013 that it "has made Colombia synonymous with quality for most of the world's coffee drinkers." The organization has faced criticism: This summer, Vice published a report alleging the FNC profits off denying climate change, which poses an immediate and existential threat to coffee farmers in Colombia and around the world. Juan Esteban Orduz — the president of Colombian Coffee Federation, Inc., a subsidiary of the FNC — says Good Vodka is potentially opening up a new market for the coffee fruit.
"Another thing we push for is upping the value chain and for farmers to create alternate income sources. This is a new source of income for farmers," he says. "We hope they will grow, but not only that, we hope this is opening eyes for other people to do other things with the pulp."
In Colombia, he says, the coffee fruit's pulp has been usually "very marginally" used to make breads, sauces, and desserts. It's also used as a fertilizer by many farmers, something Byrne says they realized as they worked on the vodka and which they tried to remain conscious of. To not take that away from farmers or give them additional work, Byrne explains, they landed on using leftover pulp (one step further in the coffee-processing chain) that doesn't get used as a fertilizer. The work on the part of the farmers is limited, he says, to redirecting that leftover pulp into barrels.
"Every alcohol is an agricultural by-product. All of these vodkas are made on a farm. The fact that so many hide that discourages me," Byrne says. "I want to reconnect these things. I think Good Vodka is a way of showing people what they should be asking for."
They have also both worked at Kings County Distillery, which is co-owned by New York editor-in-chief David Haskell.