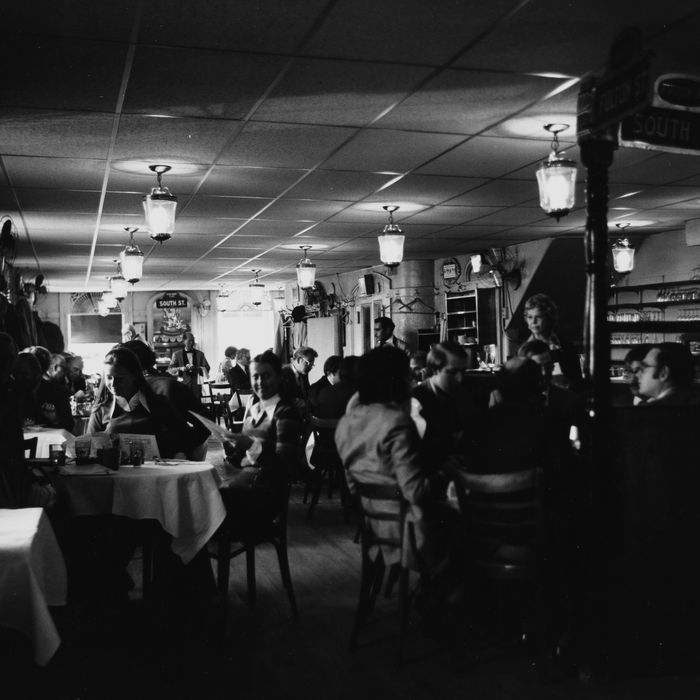 Seems ominous!
Photo: Edmund Vincent Gillon/Museum of the City of New York/Getty Images
It's been more than six months since anyone in New York City was allowed to eat food inside a dining room. Most New Yorkers, understandably, miss the joy that comes from a great meal, a joy that is impossible to fully replicate with takeout, delivery, or even the occasional outdoor dinner. But as of today, New York City's restaurants join the rest of the state in being able to welcome some guests inside — and the available evidence suggests that the public will not exactly rush back into even the most socially distanced of dining rooms.
The well-publicized state-mandated safety precautions, reduced maximum capacity, and even the experts who have offered solemn, thoughtful advice on dining out cannot really assuage lingering concerns, because more than any single restaurant, one major concern must be the unpredictability of fellow diners.
Yesterday, the New York Times published a handy guide to details that diners will want to watch for when deciding for themselves whether it is safe to eat inside. Ostensibly, the list is meant to be helpful, but it is also a preview of the anxiety that will accompany any indoor meal right now. How can anyone fully relax if they are also busy trying to determine whether the windows are open enough, or if the dining room's ACH is adequate? Do the servers seem to be lingering together a bit too long? Is it safe to use the restroom?
In truth, it's easy enough to believe responsible operators who say they will follow all safety regulations to a T — the stakes are simply too high, and no owner wants their business to become the epicenter of a new outbreak. The thing is, it is also very easy to believe all of the people who work in restaurants who have told us, time and time again, that it is the customers who are most likely to ignore safety protocols, that a sense of entitlement creates an atmosphere where some diners not only openly flout mask-wearing rules, but also push back when asked to take basic precautions.
It is not difficult to imagine a scenario where someone at another table — even one that's 6 feet away — is yelling and chewing and spitting droplets into the shared air. A mask-wearing mandate similar to Chicago's, where diners must now wear masks unless they are "actively" eating or drinking, might help. But how vigilant will people be about the noses that inevitably peek out over the mask? You just know that somewhere, tonight, someone will try to walk into a New York City restaurant doing that thing where the mask is pulled down under their chin, rendering it totally useless.
Even setting aside for a moment the fact that parts of the city have seen an alarming rise in positive cases just this week, the only thing that will truly convince on-the-fence indoor diners to take a chance is time. If it continues to work, if there is no resulting rise in infections, if workers are kept safe — it will be far easier to feel okay about sitting in an enclosed space with strangers.
On a personal note, I hope that my own concerns about indoor dining are unfounded. I am, it probably goes without saying, rooting for an industry that desperately needs a win. I've seen firsthand how hard people are working simply to keep their businesses open. I've talked to the owners who say that opening their dining rooms at 25 percent capacity means operating at a guaranteed loss, but also feeling as though they have no other choice.
For now, I'm going to support those restaurants by continuing to take advantage of the city's now-permanent outdoor dining situation. If I'm going to be uncomfortable while I eat dinner, I'd rather it be because I'm a little too cold than because some dude at the next table over won't wear a mask.