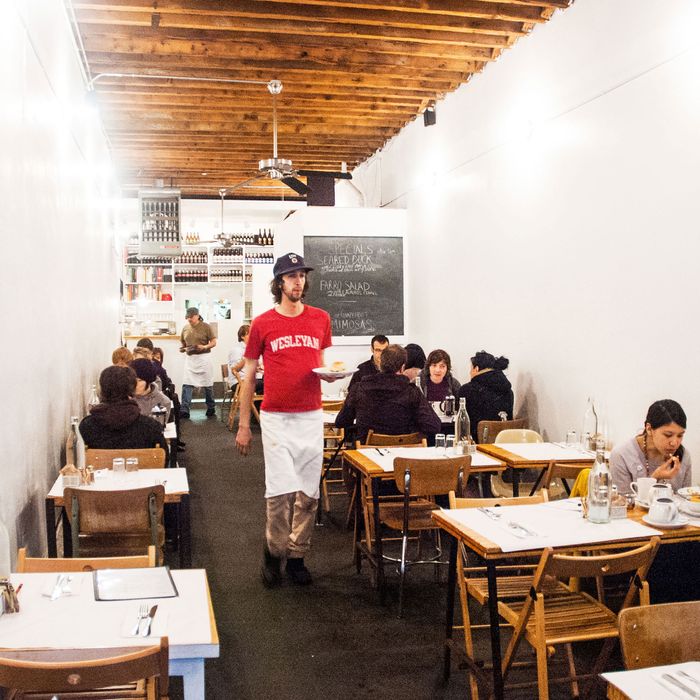 The original Egg.
Photo: Ryan Monaghan
When the last country-ham biscuit is served on Sunday at Egg — the breakfast spot that, for a time in the early-to-mid 2000s, represented all that Brooklyn brunch was or could be — the restaurant will enter into the Brooklyn bardo. The interiors, already spartan, will be stripped even more bare. The blonde wood tables on which white craft paper was once rolled will be denuded. The kitchen equipment will most likely end up on Craigslist or dispersed through auction. In a few weeks, the space will return to its raw form and Egg will enter into the realm of memory, living on only in the doleful Instagram feeds of hungry ghosts. That is, at least until the algorithms change and they blinker away forever.
Of course, the Egg that is now closing isn't the Egg ab ovo. The primordial Egg was on North 5th, just off Bedford, and it was a precious thing. Founded in 2005 by George Weld, Egg was an early pop-up. In the linguistic parlance of public school, it co-located with a hamburger-and-hot dog place called Sparky's All-American Food. Egg, a pioneer in ambitious biscuits, was open just until 11 a.m., at which point it would revert back to its natural state like a bacon-scented Cinderella. For those intrepid, dedicated, or lucky enough to make it inside, an empyrean of fluffy scrambled eggs awaited; as did leaves of Col. Bill Newsom ham, small glass columns of French press coffee, and buttery biscuits, which like baked geodes split open with a sigh.
But to get in involved getting up hellishly early, putting down one's name — this when "apps" just meant appetizers — and waiting. And waiting. And waiting. And waiting until the sidewalk groaned with hungover, hangry hipsters.
I remember the feeling of accomplishment and pride when my name was called. The casual victory march toward the table, past the other still-waiting aspirants. I remember the crayons that came on the table, the hope that your waiter would somehow be impressed with the doodles drawn, and would dole out a word of praise — I was thirsty, even then — and the wobbly metal chairs, the wood tables that dug into your elbows, the then-to-me ridiculous extravagance of French press coffee. And the biscuits and gravy that drove me crazy and made my blood run thick and fast. But mostly I remember the people with whom I ate, when we were young, and I remember the flotsam knowledge I still hold on to, gleaned from the trawl of decades-old small talk. Didn't Asha Schechter's girlfriend work there, the one with brittle bones who used to walk from Brooklyn to midtown every day?
I vividly remember the sensation of walking over the concrete floors to that tiny bathroom with the flimsy door just opposite the bar and wondering — after all that coffee and sausage — if anyone could hear what goes on behind the locked door. Mostly I get an all-body feeling when I walk by or think about Egg, like how I imagine an old fighter feels watching young boxers battle, bobbing and weaving along, young again, even if only in his mind for a moment.
Even when Egg moved to its final home in 2014, where it replaced Parish Hall, George Weld's dinner venture, those memories were kept alive and added to. (I once had breakfast with Christina Ricci at the new place, for a story, obviously. Rereading it now, it's clear I mostly just wanted to talk about how much I loved Egg and she gamely played along.) Mostly the individual meals were not not memorable but rather cumulative. One doesn't remember every brushstroke, simply the image painted. Seeing the sign hanging was enough to feel young again.
Now that Egg is closing, the victim of COVID-19's bullshit asphyxiation of New York's restaurants, the link, loop, and ear of its double "g" will be no more. Those memories will rest un-summoned. Over the course of a few days I feel like I've aged years. For when a restaurant like Egg closes, one doesn't just lose the meals — not to mention jobs — but one loses the memories of those meals, too. First we'll remember. Then we'll forget. Then we'll forget we forgot. In this way memories can be canny fugitives, brushing over their tracks as they go. Perhaps this amnesia is a measure of self-protection.
To walk around Williamsburg, especially these days, is to walk among ghosts. It is to remember when Pies n' Thighs was in the back of the Rock Star Bar under the bridge, and Royal Oak grew where condos now are. When Dumont glowed like a lantern of bonhomie on Metropolitan, and Overthrow, that fancy boxing gym, used to be the Trash Bar, and before it was the Trash Bar it was Luxx and before that it something else no doubt. Knowing this means knowing that we're older now.
So we have to choose: Walk slowly, weighed down by memory and sorrow; or move forward and forget. I know I'm of the latter sort so before Egg goes away forever, I'm going to get over there to drown my sorrow in sawmill gravy while I still remember how sweet the taste can be.