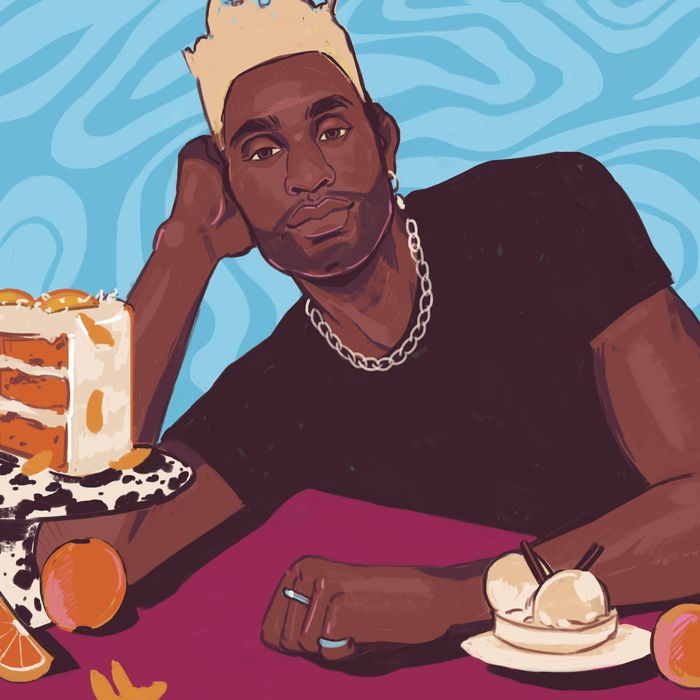 DeVonn Francis and carrot cake.
Illustration: Noa Denmon
"In this moment, we're trying to figure out how to build, deliver something related to food, but not necessarily in a way where it's high overhead, low return. Both in a financial and emotional way, too," says DeVonn Francis, the chef and artist behind Yardy. Since 2017, the experimental events company has thrown dinner parties and other events steeped in Francis's identity as a queer Caribbean-American chef to much notice. Since March, he has been, as he puts it, fighting to "keep the business alive" and reconsidering what it can be. Over the summer, he started a meal delivery service, and since August has been doing takeout for Soho's Smile to Go. Keeping the business alive is all-consuming, but this week he was treated to a surprise visit from his parents and spent time over the weekend eating some of his favorite things, including Cafe Mogador, Ops pizza, and ceviche. 
Thursday, September 10
I have a classic, I think, chef's diet. Where it's like, I kind of eat everything and nothing at the same time. When I go into work in the morning, I have to try everything to make sure it's good. So I was eating cake, but I also ate galettes and I tried a new pineapple jam and I had coconut rice and shrimp. I also made sure the banana cake wasn't overcooked but wasn't undercooked. I slapped some food together from the walk-in.
The cool thing about my Thursday is that my mom and dad, who have been quarantining in Virginia for so long, surprised me at home. They showed up in New York, and we were able to have dinner on my boyfriend's rooftop. That was cute, because even though I talk to my mom on the phone every day, I hadn't seen her in person for six to eight months. It was nice being able to have a moment where we were bonding over this food. I made a whole roast chicken and a salad and roast peppers. My partner and I did the food together. I did most of it, if I'm being honest. He's a very good sous-chef. We had two bottles of wine, and we played a card game after dinner and made dessert.
I was texting my dad that day — he normally lives here in New York — and I was like, "What are you doing for dinner?" And he wrote back, "Oh, um, I don't have plans." It slowly revealed itself during the day because my sister was like, "I think our mom is in town." I arranged the dinner day-of, mostly because I wanted my parents to meet my partner. This was the first time they were meeting. My parents were super-tired, but they pushed through and were like, "We want to come and see you."
It was really special. The weather hadn't quite turned yet; it was not too cold, not too hot. It felt really sweet to spend a lot of time with them, because we had been so far apart for so long. One of the things about the pandemic, which I think is obvious, is that you truly think about your mortality. People have lost family members and parents, and so to be able to physically see your family in front of you, and be grateful for that moment, it felt so different. The nostalgia, the emotions, the warmness, I felt, really took me by surprise.
Friday, September 11
At work, it was the same sort of eating. Right now, my days are less about cooking and more about leading my team. I'm trying to hire chefs back, help friends — but also co-workers' friends and people who work at restaurants I care about — who don't have jobs. I want to bring them in so they can make money and they can take care of their kids, pay rent, buy groceries. Most of my day happens in between bites of food: testing recipes, taking calls, emailing people back, checking on products we're working on. But I've been really trying to lean into more of a creative-director role.
After work, I bought a six-pack of Modelo and dyed my hair. I would describe the color of my hair as teddy-bear-like. I try to change it at least every three months. When a season changes, I want something different.
I had a bag of Haribo gummies, too. It was the watermelon one. Those are so iconic. Oh, I'm obsessed with gummies. My parents would literally come home with Costco-sized bulk, save-it-for-the-Armageddon, prepper-sized bags of gummies. It's that texture: Chewing on them feels like you're doing something, even when you're not.
I had dinner at my boyfriend's. We get this CSA from Farm to People, and on the weekend, we'll just plan dinner around whatever is in the box. He made this really incredible chicken with caramelized onions, olives, and eggplant, with green onions shaved over. It felt like something out of a '90s sitcom, the way it was plated. He used mascarpone to fortify the pan sauce with the caramelized onions, and he deglazed it with — what does everyone drink with chicken liver? — Riesling!
Saturday, September 12
I'm eating my own food all week, so by the time the weekend comes I'm desperate for someone else to feed me. Also it's important for my palate to understand how people are thinking about food right now, especially when restaurants are closed and doing takeout, which feels like the new normal. So for me, this weekend was my PS4 playing Final Fantasy, watching Lovecraft Country on HBO, and ordering pizza.
About breakfast: For some time, my boyfriend and I were trying to do a keto diet. I ate this cinnamon keto cereal, and I'm not on keto anymore, but I really do love that cereal. (The date smoothie at Weekends in Williamsburg is so incredible, too. Usually we'll have a walk in the morning, go get a date smoothie, and just be silly and walk around Brooklyn and drink smoothies until we get hungry for actual breakfast.)
During the day, we went to Target and bought Scrabble, because I really wanted to be a hermit and play Scrabble inside. Before that, though, we went to my friends Lauren and Flannery's pop-up at Ray's. I met them when I worked at Estela, and they took me under their wings and basically taught me everything I know about catering when I was 19. They love to do Mexican-inspired food, and they made this incredible tostada with crema, corn, peaches, and this salsa negra that was out of this world. All those ingredients are pretty basic, but then when you have this, you're like, "Oh my God, this is so well balanced it's insane." They had these grilled prawns with mint and this green sauce. It was bananas.
We also went to People's on the LES. It's my friend's space, and I've trusted her opinion on wine my whole entire life — or, well, at least for the five or six years I've known her. She gave us three dope-ass bottles. This one amazing German pét-nat, this really incredible Italian red, and one I don't remember.
For dinner, we got Ops pizza delivered. The Juno pizza from Ops is so iconic. Like, potato and broccoli rabe; there's this bitter green moment happening. Super-simple, but also it's wood-fired sourdough pizza, which you don't find everywhere. That's special, and they do it so well. Drinking a really, really good bottle of wine and being in bed with a slice of Ops pizza, oh my God. That's my dream come true.
Sunday, September 13
We went to the Greenpoint Terminal Market — it's by the water, you know, where they do those movie screenings. I had ceviche, a cortado, and al pastor tacos.
I really love street vendors, because it speaks to the heartbeat of New York — and America. All these different immigration populations came together to make the food fab. I love seafood. It's such an easy thing; it's a cooking method, it feels bright, it feels like a summer moment. The ceviche I got came with pulverized squash purée with this kind of leche de tigre, obviously shaved red onions, and those crispy corn kernels, choclo, that are big like hominy.
Between the market and dinner, I got this tasty margarita at a  bar next to McGolrick Park.
Then we had, for dinner, Mogador. I really wanted Cafe Mogador because I haven't been able to go in person. I had the merguez platter, with the couscous, harissa, labneh, carrots, and mint — 100 percent, all the time, I get the Moroccan tea and then the merguez platter. We had an orange bottle of wine from People's.
I love Mogador. If Mogador ever closes, I might leave New York. It's so special. When I was a student at Cooper Union, I would go and eat there between classes. I thought I was super-cool. All the upperclassmen would be like, "You need to go to Mogador," and I was like, "What?" Then I went and I was like, "Oh, because this place is actually lit." Such quality food, also. It's such a good vibe. The one in Brooklyn is cool, too. I miss being there.
Monday, September 13
Back to work, back to my scrappy moments in the walk-in. I had a lot of carrot cake that day. I'm not proud of it.
I'm obsessed with carrot cake. I have made it so many times it's Yardy's signature dessert. I'm trying to recipe-test new ones because I can't look at this carrot cake anymore. It's one of those things: I made and I made it too good and I have to top it. I have to one-up myself, and it feels very hard in this moment. The idea came by because my dad used to go to Sam's Club and buy it to sell at his restaurant. Instead of cream cheese, I use labneh we press overnight. We use Maldon sea salt, coconut flakes, and lose the raisins because I hate raisins. There's lots of a brown butter, a bit of almond flour, and candied carrots on top.
This really great chef I know named Roberto Melon came by and brought his blackberry barbecue sauce in. We're going to put Roberto's sauce on one of our sandwiches. We met through Performance Space New York; they have opened up their space to a lot of young people to work out of there and take space there. The deputy director was like, "I have this young, amazing Black chef who wants to meet you," and I said, "Yeah, let's meet." I gave him the whole menu to try — this was three weeks ago — and I told him, "Yeah, take my number, and if you want to learn more about food, I have tons of connections. Also, if you to want make something and sell it here, let's talk about it." So we're testing things out with him and trying to do a product collaboration with him. It's cooperative economics. I really want to have more Black farmers and Black vendors and people who make stuff in our space. We have a really great deli case where we can sell prepared meals, condiments, and we want to do more of that.
The last six months, it's not only been How do I keep the business alive from a financial standpoint? but How do I keep my own energy and spirit alive while I do it? Because honestly, when you're in your house — I don't like to think of it like I was stuck there, but deciding to stand in solidarity with everyone else, stay in your house for the betterment of everyone's health — you think about things. You take stock of what you've been missing. There are so many things about food that have been so gratifying, but also so many boundaries that still exist that stop you from being creative because you're so worried about running a business. Those things I don't take lightly.
I make my best work when I feel good about myself, when I feel good about where I am emotionally, spiritually, mentally, whatever else. Yes, we want to make food, and we want to make it for other people. But also what do we want out of it for ourselves, and what is the work that we make for ourselves that just matters, because we would make it anyways even if no one was watching. Those are the kind of conversations I constantly have with myself nowadays.
After work, I just went home. When I was leaving, there happened to be a burrito leftover at work — we have breakfast from ten to 11 — and I ate that. So I had an 11 a.m. burrito at 6 p.m., and that was how my Monday went.