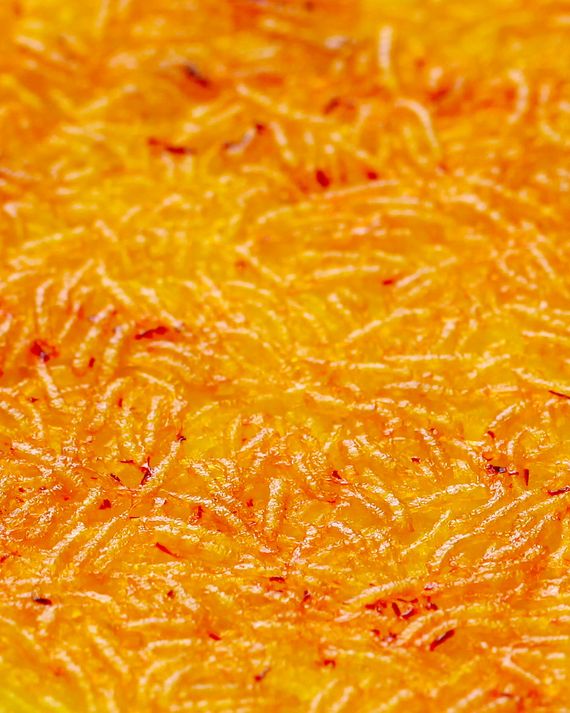 Golden, perfect.
Photo: bonchan/Getty Images/iStockphoto
I had spent the entire day in the very cramped kitchen of my 400-square-foot California bungalow washing, prepping, and chopping mountains of fenugreek, parsley, and chives. I was attempting to make ghormeh sabzi, the complex and beloved Persian herb stew. "How dark should the herbs get before I stop frying them?" I asked my mother, Soheila, who was on the other end of the line, guiding me through the recipe. "Just until they're about to turn black," she said, as I tried my best to follow her remote instructions.
My forays into cooking the food of Iran started shortly after the early days of sheltering in place. As the pandemic first took hold in America, I was 38, unmarried, and childless — the exact combination of qualities that society had warned me against in case of a worldwide catastrophe. Splayed on my couch one night, staring at my phone, I noticed everyone was baking bread. First, I saw the sourdough boules, then came the garden focaccias, upon which people who suddenly found themselves with a lot of free time placed intricate designs of herbs and vegetables. For the less committed, there was the sweetness and simplicity of banana bread.
Yet while the nation baked complex carbohydrates and posted them on Instagram, I had little aspiration for perfectly proofed dough — but I did have entire days to do whatever I wanted, so I decided to try my hand at re-creating the meals my mom had made for me since childhood.
In my earliest years, I lived in a mostly white Orange County suburb. That all changed after I finished fifth grade. My parents separated, and my mother decided we should move to the urban sprawl of Tehran. School in America was gold stars and Trapper Keepers. School in Iran was a portrait of Ayatollah Khomeini staring me down from above the classroom chalkboard. We stayed there until I moved back to America after my 18th birthday. My only constant, no matter where we lived, was my mother's from-scratch, cut-no-corners approach to cooking.
I knew the techniques required to perfect Iranian food could be just as demanding as French, Japanese, or any other revered cuisine from the culinary pantheon. It wasn't any help that most Farsi-language cookbooks, and even directions from other home cooks, are often extremely, almost hilariously, vague. Ask when you're supposed to take rice off the stove, for example, and don't expect to hear some measure of time. Instead, you'll be met with a phrase that roughly translates from Farsi into English as "when it has inhaled the steam."
Still, I set out to first make the perfect pilaf of long-grain basmati rice, the foundation upon which so many other Persian dishes are built. There was also the matter of figuring out the not-so-precise alchemy of tahdig, the crispy, crunchy layer that forms at the bottom of a well-oiled pot when making rice. In addition to letting my rice inhale the steam for the correct amount of time, I also had to then flip my cooking pot onto a serving dish with gusto, hoping for an evenly formed, perfectly golden crust.
When my mother moved to the United States from Iran in the early 1980s, she didn't even know how to fry an egg, let alone prepare entire meals. So she taught herself by phoning her aunt — ammeh-jan — in Tehran at a time when international calls were either a luxury or a sin, depending on whom you asked. Soon she realized she had a talent for cooking all things Persian, and the way she showed love became food. She still cooks for family, for friends, for neighbors, for her mechanic, for her doctors, and anyone else who might cross her path. So it made sense that I would now call her to ask for help.
I had so much time, and there was so much rice: I made zereshk polo (barberry rice), loobia polo (green-bean rice), baghali polo (fava-bean rice), and adas polo (lentil rice). Meanwhile, my khoresh bademjan, a deep-red eggplant stew, simmered for hours. Spring turned to summer, and I seized on the short window when sour cherries were in season. Pitting them one by one, I cooked the tiny crimson-colored stone fruits in sugar to make albaloo polo (sour-cherry rice). Even with dessert, I didn't shy away from the long white grains of comfort. I infused rice with rose water and saffron to make sholeh zard — Iran's glorious, neon-yellow version of rice pudding in which the softness of each spoonful is only broken up by the slivered almonds that get stirred throughout.
I have long felt like a person with two identities, and, as I stood plucking endless leaves of parsley for my stew of fried herbs and lamb shanks, the American half of my personality wondered if I should have just made bread after all. Would feeding a sourdough starter really be more onerous than this? No matter. I carefully added the ingredients in the order my mother suggested and, hours later, felt whole as I ate a stew that was almost as good as what she would have made.