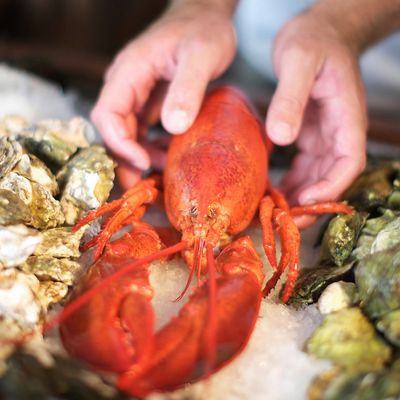 This Rhode Island lobster is closer than you think.
Photo: Dina Rudick/Boston Globe via Getty Images
Perhaps you are one of the New Yorkers who has recently purchased a new car. Maybe, after five-plus months of various stages of lockdown, you're just looking for any reason to get out of the city — even for an afternoon — before the weather cools off. Whatever the reason, you need somewhere to go, and now's the perfect time to hop in a car (borrowed, rented, whatever) to drive in search of something delicious. Grub Street surveyed a handful of food lovers to see where they'd recommend you go, places with delicious things to eat and ample outdoor seating. (Then we mapped the distances from Central Park, so you get a sense of what kind of drive you'd be in for.) Grab your masks, download an Audiobook for the trip, and enjoy.
10 miles away
This is a supermarket, but it's really a daylong culinary adventure. Mitsuwa, which is located in New Jersey, across the river from the Upper West Side, is certainly worth a car rental. They have the most amazing sampling, with little stations where they also show you how to make the food you are trying. The fish section is the best in the area. We buy lots of fresh fish, amazing sushi rice, nori, and we have a make-your-own hand-roll feast at home. The Japanese pickle section is insanely wonderful. The snack section alone is worth the trip— crab chips, nori-covered rice crackers, pocky, just to name a few. Then, when you've checked out, there is a food court that is second to none. My family's favorite is the taiyaki stand, which sells Japanese pancakes, in the shape of a fish, stuffed with sweet red bean. They are always hot and perfect. — Gadi Peleg, owner of Breads Bakery
12 miles away
Tony Boloney's in Jersey City, from the famous viral taco pizza to the extensive vegan menu: It's creative, family-owned, and stick-to-your guts good. There's also a food truck, and other locations. During COVID, these beautiful humans fed the community, slinging and delivering free dinners for the homeless shelter, food-impoverished families and seniors. The owner is an angel and someone you genuinely want to support. — Raakhee Mirchandani, author of Super Satya Saves the Day
22 miles away
If you're in the mood for a great hot dog, you must check out Walter's in Mamaroneck. They serve a killer split dog, finished on the griddle with butter and famous spicy mustard. I say go for a double and some fries and take some home for the grill. Right now, they've got takeout, pickup, and an outdoor picnic area. — Josh Capon, chef
30 miles away
I'm obsessed with a tiny Italian restaurant in a strip mall in Wayne, New Jersey, called Viaggio. They're doing outdoor dining now. My husband and I used to invite another couple or two to come with us for a road-trip adventure and head there for a BYOB evening of insanely amazing fresh pastas, fantastic salads, house-cured meats, fresh-baked breads, etc. I long for those road trips again, and the dark, sleepy drives back to the city, stuffed full of great food, friends, and laughter. — Zibby Owens, host of "Moms Don't Have Time to Read Books"
46 miles away
One Connecticut restaurant that actually opened during the pandemic is Cantina Don Memo, by the chef Bill Taibe. There is a large patio where outdoor eating is happening at the moment. The restaurant was also inspired by two brothers in the chef's staff, the Garcia brothers. They have been working with the chef for over 17 years, and he wanted to pay tribute to their home cooking of Mexico. — Leticia Schwartz, author of Latin Superfoods
60 miles away
Beacon, the hippest town in the mid–Hudson Valley is home to many restaurants and gourmet shops. The most extraordinary of them all is the Round House. What makes this place worth any drive is not only the lobster roll, but the view. Beacon is also home to some great hiking trails, and the Round House is nestled next to Mount Beacon. Great food, great views, and great people. — Adam Sternberg, chef
70 miles away
COVID hasn't changed the meal that's always on the top of my list of food to travel for: a tomato pie from Delorenzo's. (I'm from Trenton, where the best pizzas are "tomato pies.") The Robbinsville outpost is a little more than an hour from Chelsea if you break the speed limit (another Trenton trait), which means I can dash down, get takeout, and finish cooking in the oven at home. Which reminds me: Can I borrow your car? — Pavia Rosati, founder of Fathom and co-author of Travel Anywhere (And Avoid Being a Tourist)
80 miles away
Swyft in Kent, Connecticut. It has incredible pizza — hello spicy sausage and hot honey — but everything else on the menu is also delicious. The salads are incredible, the veggie sandwich is heaven, the burger, the smoked chicken, the beer. Joel, the founder and chef, is so talented. He spent time working at Noma in Copenhagen and still likes to forage locally. — Brett Heyman, founder of Edie Parker
80 miles away
My favorite spot is Rossi's Deli in Poughkeepsie. It's a gorgeous and easy 90-minute drive outside the city. They have tables on the curb during the warmer months. It reminds me of restaurants and cafés in Aviano, Italy, where I went to high school. The real highlights in my opinion are the sandwiches on fresh focaccia, heated on the panini press. I always get the import mix with balsamic and oil. It's the perfect sandwich. While I was in culinary school, my friends and I would grab sandwiches and drink, then drive about ten minutes up the way to go sit on the banks of the Hudson in Roosevelt Park. — Mavis-Jay Sanders, founder of Food Plus People
85 miles away
I don't go to Mountain Brauhaus for the lederhosen, but I do go for the schnitzel, pretzels, and spaetzle. This German restaurant is near our favorite getaway to Kerhonkson, and right near New Paltz. The patio is open! — Amy Klein, author of The Trying Game
90 miles away
Located in the town of Amenia in Dutchess County, Troutbeck is an idyllic escape from life in our city. The restaurant has a farm-to-table seasonal menu — I started with a salad fresh from the garden and a perfectly seared golden brook trout with toasted almonds. My dessert was a long stroll on the 250-acre property. — Waris Ahluwalia, designer, owner of House of Waris
93 miles away
In the North Fork, Greenport Harbor Brewery is hands-down my favorite regional craft brewery and their special releases are off-the-charts delicious. They are the best. One the country's best butchers and charcuterie guys is at 8 Hands Farm — all grown and processed there. Amazing place. Oysterponds Farm has the best berries and the most dreamy jam. I have a case in my pantry. — Andrew Carmellini, chef
94 miles away
Winvian Farm — it's a two-and-a-half hour drive outside of Manhattan. I went for my surprise bachelor party. If I'm honest, I think I was expecting something different for my bachelor party, but was nonetheless blown away. Magical, elegant, and well-curated. It reminded me of the time when I first visited Blue Hill at Stone Barns. The juxtaposition of being out in the middle of nowhere but having that New York City refinement was really beautiful. — Simon Kim, owner of Cote Korean Steakhouse
100 miles away
Up in the Catskills, this great pizza place just opened, Forage Pizza, in Forestburgh. Plenty of outdoor seating, a killer farmer's market salad, and a friendly smile from the couple who owns it. — Becca Parrish: founder and CEO, Becca
101 miles away
For a great take-away situation by the beach, go for Estias is Sag Harbor. Everything they do is top-notch. Everything is super well-balanced and fresh, they have a garden outside of the restaurant where they source a lot of their herbs and vegetables for their dishes. I can't get enough of it! — Elena Besser, chef
105 miles away
The Beacon in Sag Harbor. Sunsets are spectacular, the staff is super-friendly, and there's always a fun, energetic crowd. Our favorite dishes there are the crispy portabella mushroom, the tuna tostada, and the lobster rigatoni. — Pam Weekes & Connie McDonald, co-founders, Levain Bakery
114 miles away
Phoenicia Diner is truly a place that's worth going out of the way. The whole menu is fabulous, but I have this soft spot for their tuna melt because any time I'm in a diner — even the fancy, reimagined ones — it's this impulsive thing I have to order, like a cultural touchpoint speaking to the Jew in me: tuna melt, seltzer, anti-anxiety meds. — Carly Fisher, author of Easy Weekend Getaways in the Hudson Valley & Catskills
120 miles away
Duryea's Lobster Deck in Montauk is delicious, and it truly is laid-back. I have the most special memory of my daughter going to the order window to give them our order and then taking her friend's hand as they walked down the dock to look at jumping fish. All the seating is outside, underneath ivory nets, which makes it a much more comfortable and safe place to go out to eat right now. — Zara Tisch, founder of Terez
128 miles away
Abbott's Lobster in the Rough, in Noank, Connecticut. I'm very much a cold lobster roll person, but I make an exception for Abbott's, a casual seafood shack by the water. They even have a version that comes with a pound of lobster meat. The lobster roll is buttery and tastes like summer. — Lauren Shockey, author of Hangover Helper
156 miles away
There's a sweet little Dominican joint in Troy, New York, called Mi Casa that sells the best braised BBQ ribs, stewed chicken, and maduros. The rice and peas are made with pigeon peas and coconut milk, which really makes this place a ten for me. If you're heading up north to the Adirondacks for a weekend away or just a day hike, this is the place to check out for when you're hungry and want some serious home cooking. — Hali Bey Ramdene, founder of StudioHaliBey
157 miles away
I love Matunuck Oyster Bar in South Kingston, Rhode Island. They have their own pond right out back where they get the oysters — so they are pond-to-table and incredible. They also use produce from their own farm. — Melissa McNeeley, Events by Melissa McNeeley