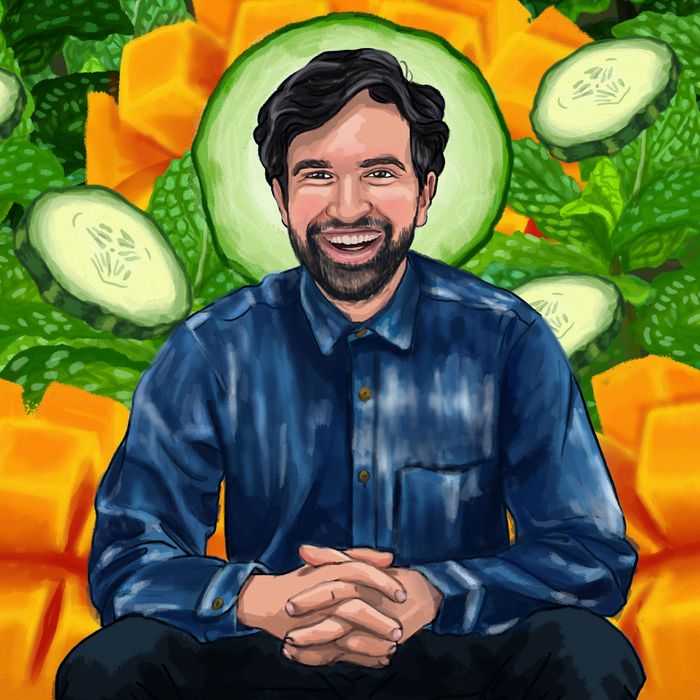 Zohran Kwame Mamdani among the fruit.
Illustration: Margalit Cutler
In July, Zohran Kwame Mamdani won the Democratic primary for Assembly District 36 in Astoria, Queens, part of a wave of progressive challengers who ousted incumbents in New York's state legislature. A housing counselor endorsed by the DSA, Mamdani's campaign also functioned as outreach during the pandemic for getting food to the hungry through a partnership with the Astoria Mutual Aid Network. "All of the voter contact calls we hit, we would open them with the question of, 'Do you need food? Do you need groceries?" Mamadani says. (His campaign office is also home to the Astoria Food Pantry.) "It's critical to fight for these kinds of things, and understand that food justice is integral to any kind of dignified life, dignified society." Since winning the primary, Mamdani has been fielding lots of phone calls and meetings, and in his downtime eating around in Astoria: getting his current breakfast sandwich at his local deli, taking kebabs to the park, and eating nachos with smoothies.
Thursday, August 6
Breakfast: skipped it. I mostly skip breakfast. I need to stop doing that. I love breakfast food. I used to regularly make breakfast for myself, but it's been a while since I did that. I've gone through stages where every morning I would make chai and I would have egg, avocado, and toast. When I was growing up, I would always have chai in the morning at home — my parents would both make it. When they make chai, it's a lot more proper chai. When I make chai, it's what we call mzungu chai, which is the Ugandan word for white-people chai. You boil some water, put an English tea bag in it, you put one thing of cardamom in it, and you add a spoon of sugar.
What happens is I have breakfast so late that it becomes lunch. I'm just pushing it. But I think it would be very charitable of me to say I am a cook. All the meetings I'm having now, since my election, are allowing me to justify spending a lot of money at bodegas and delis.
Not enough people are talking about bodega smoothies. Let me honest. I thought I was going to get canceled because of Palestine. Then I thought it was because of bike lanes. But really it's because I'm ride or die on the blueberry smoothie at the bodegas New York City wide.
My favorite thing about bodegas is, I feel like there was almost this moment like in Dave Chapelle's race-draft skit between Dominicans and Yemenis, like, "You take hookah, we'll take bodegas." At a certain point, now so many bodegas are Yemeni-owned and all my boys think hookah is a Dominican thing.
I just go to D&F Italian Deli — there's also St. James Deli around the corner, but I would say D&F is my joint. I had lunch there early, like 12 p.m. Medium iced coffee with milk and one sugar, and a sandwich with turkey, pepper jack cheese, avocado, onion, lettuce, tomato, jalapeño peppers with hot sauce, pressed, on a roll. Fantastic. I'm trying to be the spiciest representative in Albany, so I have to live out my politics.
As I said, I'm not cooking at all now. This is a real dirtbag diet. I'm eating an egg and cheese and an iced coffee and I'm not going to work. I'm just coming home. I really need to get back into somewhat of a healthy lifestyle. But I think the campaign is such an unhealthy time, and those habits have stuck with me. Also during Ramadan you kind of get used to just having one big meal, and that was also a really great thing for the campaign lifestyle, in terms of how to set up the day. But I absolutely need to be cooking because this is not sustainable, and it's also way too much cash.
For dinner, my girlfriend Olivia and I got two sandwiches from Astoria Bier & Cheese. A grilled cheese and then a beet-jam spread on an avocado sandwich. We ordered our food up front, and ate it in the backyard there.
Friday, August 7
Breakfast: skipped it again.
I grabbed a couple bites from Olivia's salad — cucumbers, avocado, feta, tomatoes, onions, and peppers — before heading to Ninos AQ for lunch. Somehow I thought I was eating light when I placed my order but I ate a chicken parm with pasta. I was like, "This is great, this is just straight meat with a side of pasta." I did, however, drink about seven glasses of water, so I think that balances it out.
I have some friends who still don't eat out, they only get takeout, and I have some friends who eat out all the time. I try to only go to places where it feels like you're a little closer to actually going by those social-distancing restrictions. For example, there's a restaurant here — I'm not going to be a narc — and there are no actual restrictions going on. You have a guy signing with no mask right around you, next to tables. That's not a good thing.
The ideal places are where servers don't come up to your tables. I also eat a lot in the parks, I just get takeout and go eat there.
Finished Olivia's salad straight out of the Tupperware and then ruined whatever health points I earned by eating three bowls of chevda. East African–style chevda is my favorite snack, and somehow Patel Brothers now stocks this Kenyan brand, so I obviously bought four packets last time I was there. The brand name is Kenyan-style Chevda. Premium Kenyan Chevda. The company is called Tropical Heat, which is a rap name I almost had.
Oh my god, chevda. It's an Indian snack, but there's a specific style that's East African, from the Indians who came over 200 years ago, which is my dad's family. That chevda is different. I worship that chevda. Kenyan chevda, they're the kings of this. I was born and raised in Uganda, in Kampala. In Uganda, there was one Kenyan brand we used to wait for, called One Stop. We'd buy it en masse whenever it came. But this stuff I get here is not bad.
Saturday, August 8
Breakfast: skipped it again, like an idiot.
I had my lunch early again, at noon. Iced coffee and the same sandwich from D&F Deli. Fantastic again. I'm definitely a creature of habit. Right now my habit is D&F iced coffees and an egg and cheese. I also love this place called Hemo's Spot, it's a smoothie joint that also has a branch in Bay Ridge. I have it again and again.
I'm someone who falls in love with something and then seeks to recreate it every single day until I don't want it at all anymore. It's really fucked up. My mom used to make kati rolls and I think I ate them every single day in middle school, to the extent that a good friend of mine got in a big fight with me because I refused to give the family recipe. We had this sale for the benefit of the school, and so I brought in 20 kati rolls, and that kid bought all 20 of them before I even opened the sales.
For dinner, I had some chicken pulao, shami kebabs, chapli kebabs and achari kebabs from Desi BBQ on Steinway. I ate it at Rainey Park, which is kind of funny in some ways, because I'm 28, my life is changing, I'm getting older, but at the same time I'm doing the same thing I was doing ten years ago, which is hanging out in parks with friends and eating food.
Rainey is a little bit south of Socrates. Depending on your vibe, you either go to Socrates-Astoria or Rainey. Socrates is like art, sculpture, a lot more going on. But still a lot more relaxed. Rainey is like, We're going to have a party. People will drive their cars into the park to play reggaeton hits from the last 20 years. And that's the best place to have kebabs.
Sunday, August 9
Breakfast: iced coffee and egg and cheese with salt and pepper, split with my girlfriend. Once again at D&F.
Went to Jones Beach with Olivia and a couple high-school friends. We bought halal — chicken over rice with white sauce and hot sauce and grilled slices of pita on top with some shavings of lettuce on the side — from Shah's on Hillside and 169th St before leaving. Ate that at the beach and snacked on some cucumbers from my boy's garden.
At night, I went to my parents' apartment for dinner. Their apartment is the only place I go inside, and we have masks on the whole time and try to stay six feet from each other. I try to visit them once a week. My mom is an amazing cook and I'm a classic, all the caricatures of being a brown boy. "Oh I cooked, take this food, you don't cook because you're an idiot." So in my fridge I have the leftovers.
My mom cooked lamb pilau, with lamb chops, potatoes and rice. Ate it with fried bhindi (okra), kachumbari (an East African salad of jalapeño peppers, onions, lemon, and tomatoes), achar, and yogurt. For desert, she opened a can of lychees and mixed them in with Häagen-Dazs vanilla Swiss almond ice cream. Amazing.
I absolutely love that meal, and honestly anything that she cooks. During the beginning of the pandemic, I moved in with them for two and a half weeks. My mother is a film director but she's no different from many other aunties who have difficulty turning on Netflix. A lot of phone calls I have with my parents are regarding technology. I said it was to help situate them a little better, I wanted to help set them up, but I think I wanted to be around them as much as I told myself I was there to help them.
Later on, during Ramadan, we'd go for walks in the park. I remember I met them for Eid al-Fitr. That was really difficult. Now, with social distancing you can still meet people outside, we're at a different point than where we were at the end of Ramadan. But Eid was really tough, meeting my parents in the park, and my mom wanting to hug me and she couldn't. I think we all broke down about that a little bit.
So much of Ramadan is about community and building it and being a part of it. Then all of a sudden you're in the midst of an already isolating experience, and here's this time of year where usually you come together with people. But you're at home, you're isolated, you can't go to mosque. You can't go walk the streets of Steinway at 1 a.m. and see all the uncles drinking coffee. There are all of these aspects and things you grow to love and count on, and you cannot have them. For me, the mutual aid distribution we did through my campaign really kept me going, because it was a way for me to actually engage with my community in a way I wasn't able to at the time.
When Ramadan happened — well it happens every year, it didn't strike — my campaign decided to directly distribute the food ourselves. We raised $65,000 separately from the campaign to purchase 14,000 meals separate from small businesses, many of which were in Astoria and some of which were in Brooklyn, and we distributed those meals around our neighborhood. When you talk about food being a right, that's something people need to live. This is not a luxury. It's a very easy sync being a socialist and Muslim during Ramadan. Because so much of Ramadan is about this notion of solidarity, of not distinguishing between friend and stranger, of providing food to all. You go around to all these neighborhoods in NYC, you'll see a lot of Muslim businesses have events where they give out food to everyone, and we did not have that this year. So many people not only love that but rely on that as a way to feed their families.
I don't think the holiday changed my politics, but I think it deepened my understanding of the scale of the crisis. I think it's one thing to understand something on a kind of intellectual level, and it's sometimes a different thing, entirely, to understand it on a one-to-one level. We all know people are suffering and dealing with food insecurity. It is one thing to do this mutual aid distribution and have the campaign office host the Astoria Food Pantry. It is another thing to be walking on Steinway to get pizza at midnight on a Thursday, and see people already lined up for Friday morning's food distribution. It's very easy sometimes to look past the devastation in our daily lives, because you become inured to it. You see it on a daily basis. But the pandemic and the work that we did and the lives we engaged with and what we saw — the whole point of our politics is to never turn a blind eye to that reality. And to in fact change it.
Monday, August 10
Breakfast? You guessed it. Skipped it.
Lunch: iced coffee and egg and cheese on a roll with salt and pepper from St. James Deli.
I also had some cut up mangos off the street with lemon, tajin, and some hot sauce on them. New York City street food has kept me alive. How many days have there been where I'm dead tired after work and I have a churro on the subway platform and all of a sudden I can get home? Or halal food for lunch? I love those mangos. Actually, there was a period during Ramadan where I would just buy cut up mangos and pineapples and absolutely douse them with Tajin and then eat them at home.
Dinner was a refresher smoothie from Hemo's on Steinway and some beef nachos from Tacos El Tri. What am I doing? It's an interesting combo.
Oh my God, I love nachos. Speak on it. I just think nachos are truly a work of art. I don't know what more to say about them. There's this truck, Tacos Rosita, I love their nachos. I also love Tacos Mexico, off 38th and Broadway. I have their beef burrito, put some guacamole and sour cream on the side, and they have a jukebox that has 50 Indian songs, some of which are the classics like Daler Mehndi's "Tunak Tunak Tun" and then some really wild deep cuts. That's my favorite. Having a meal there and going to the jukebox and then playing Punjabi hits from the 1990s. I think that there is a kinship between Indian and Mexican food, and, frankly, culture. But God bless Mexican food. It's truly amazing. I don't know what this country would be like without it.