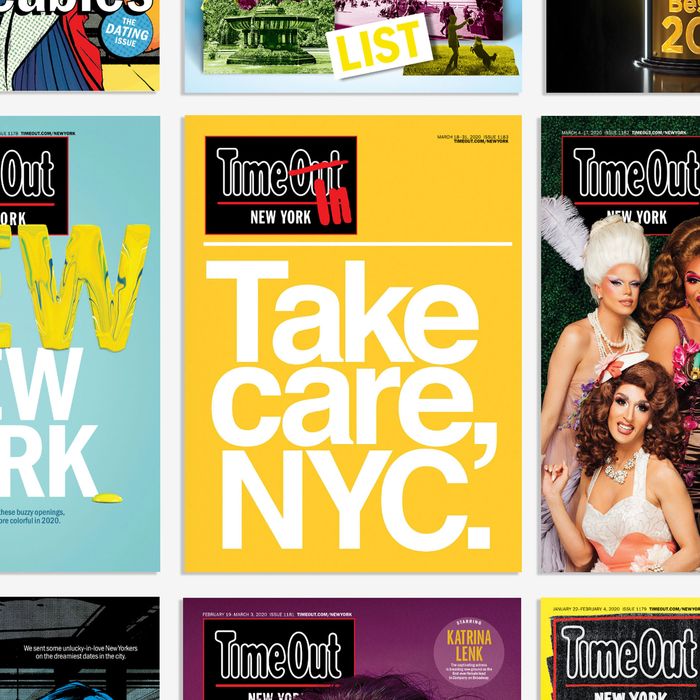 It is the end of yet another era: Time Out New York's print edition is no more.
Before the pandemic, Time Out was publishing — if not profitably — print editions in 40 cities. Now, Time Out Group CEO Julio Bruno tells the Financial Times, that number is down to three: After a coronavirus-induced publishing freeze, Time Out resumed print distribution in London this week, and plans to return to Madrid and Barcelona as well. As for the rest, it's not looking great. "The group is unlikely to resume printing in the US and Portugal, with other territories under review by management," FT reports. It seems, in at least this one case, that the doomsayers are right: New York is over. At least, the print edition.
The brainchild of Tony Elliott, who died last month, Time Out launched in London in 1968, with "a single poster-size sheet, folded four times, that functioned as a guide to the local counterculture," the New York Times recalled. "If you were in the in crowd, you knew," his wife said. "If you weren't, that's what Tony provided."
It brought that same sensibility when it arrived in New York in 1995. The New York of Time Out New York was cool enough, but more than that, it was accessible: focused on Off–Off Broadway and hole-in-the-wall restaurants, its event listings — and the publication was, even at its peak, mostly event listings — were filled with things a regular person might actually be able to see, eat, and do. In the food world, TONY had plenty of clout, with many of the city's high-profile editors getting their starts there and offering a useful guide to the city's eating-and-drinking scene before the dawn of digital-only food and restaurant publications (like Grub!).
This is not, however, the end of the Time Out New York brand, which will live on both digitally and experientially. TONY will continue to publish online, while also apparently doubling down on the Time Out Market New York in DUMBO, a curated "a dining-and-culture experience," or what is more commonly known as "a food hall."