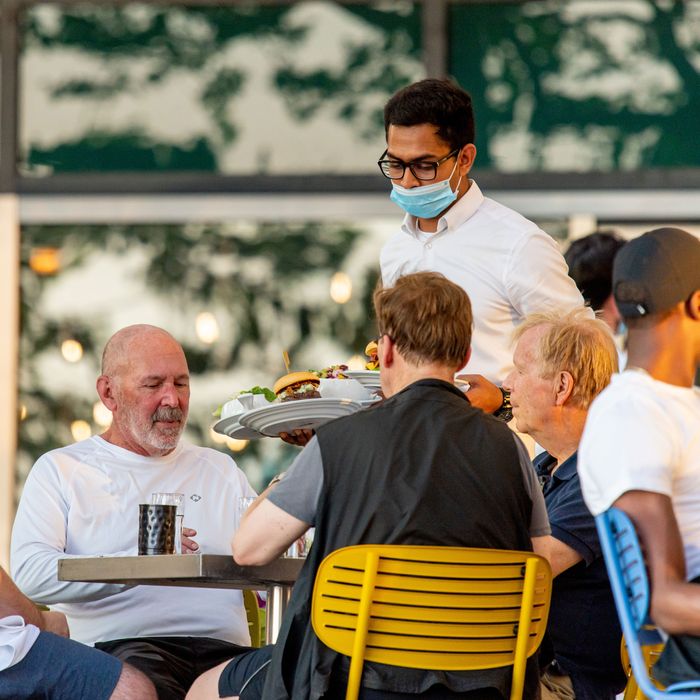 A worker serves food to some unmasked diners at the PJ Clarke's in Brookfield Place.
Photo: Roy Rochlin/Getty Images
Three weeks ago I did what many of my peers in the food world have done and reluctantly returned to work. At Petee's Cafe in Brooklyn, business has remained steady throughout the pandemic, making my decision to come off unemployment slightly less gut-wrenching. The small pie shop has also successfully maintained a takeout and delivery model, allowing us to find some measure of comfort behind a large barrier of tables and plexiglass borders. Right now, this is about as good as it gets.
Yet despite being in an otherwise-ideal work environment, I'm struggling with an uncomfortable feeling that follows me home each night. It is a feeling that surfaces whenever Uber Eats drivers strut in without masks on, and I have to remind them to please pull them up off their chins. It is a sensation that I encounter whenever a walk-in customer places a large order and still selects the "no tip" option. It is a mood that is impossible to fully define, even though it causes many of us to walk or bike or take a crowded bus home feeling confused and empty and tired in a way that is distinctly different from the standard exhaustion that comes after a long, busy shift.
It is a feeling that comes from the emotional toll of working in food service right now, a constant sense of unease compounded by several factors: the fear that one slip-up might help to spread a dangerous, highly contagious disease; the discomfort of greeting unmasked guests with a smile even though I am terrified by the the sight of their faces; and the frustration that comes from being deemed "essential," even though we are being treated far from it.
My co-worker has simpler words for it: Disturbing. Isolating. She recalls needing a permission slip to be on city streets past curfew. She's had customers turn their backs on her at 7 p.m. to begin clapping. She loves the job, but why is she essential? "It's just pie," she shrugs.
In addition to hourly wages that were already highly irregular and unsustainable, many of us also risk unexpected days off due to weather conditions, or even another temporary closure if just one staff member calls out or tests positive for COVID-19. The label of "essential" in the food-service world is just that: a label. Much like sending "thoughts and prayers" to victims of tragedies, the phrase is meaningless without action. The word "essential" feels like it is used to identify workers who must expose themselves to potentially dangerous situations while also deflecting any real sense of responsibility to keep us safe.
Now, as brunches pop up on more sidewalks and patios around the city, it may appear that things are returning to normal. Friends reconnect over food they did not cook for themselves and drinks poured by someone else. But on my side of this experience, things do not feel anywhere near normal, comfortable, or safe. Restaurants and bars have reopened not because it is absolutely risk-free to do so, but because of an insatiable societal and political desire to get back to the way things were. But due to the loss of supplemental unemployment benefits and a continued lack of government aid, the choices for restaurants and their employees remain extremely limited: reopen despite the risks, or risk closing permanently. So, whether it's tackling the complexities and dangers of outdoor dining, or adjusting to takeout and delivery services, businesses are adapting out of sheer necessity.
Every day seems like it can present a new problem or development, but what has remained constant is the lack of respect we — the same workers who make these reopenings possible — continue to endure. A shocking number of customers simply won't tip. Others ignore basic safety guidelines and demonstrate unsettling, astounding levels of entitlement and privilege.
Lola Raymann, who works at the East Village restaurant Huertas (where guidelines are clearly posted, and where I once worked), says that, for the most part, her customers follow mask rules. Even if they don't, she feels comfortable reminding people because of the explicit signage. What she says is far more difficult to enforce is the statewide restriction on serving alcohol without food. Guests complain about the rules, or refuse to comply, and Raymann says the issue is rage-inducing. "Having to police people in this type of way is exhausting," she says. This past weekend, after explaining to one table that the State Liquor Authority is actively suspending restaurants' liquor licenses, the response she received was, "Well, are they here right now?" This kind of disregard for service staff is nothing new, and it can be shrugged off in the moment, but when workers are risking their health and safety, there's simply no room and no reason for it. To the workers who confront it day after day, it's an unsubtle reminder that too many members of the public don't really value the people doing the work.
Offering prompts or corrections to at least respect workers' boundaries — I spend too many hours of my day simply asking people to wear their masks — is also a guaranteed way to negatively affect tips. For those of us who are even lucky enough to receive tips (it remains inconceivable that the system still fails back-of-house workers), even an extra dollar here or there says that people do care, that they recognize the immense risk and discomfort we shoulder on a daily basis, and that they understand that we take these risks home each night to our friends, families, and roommates.
We all want a sense of "normalcy," but that only happens if it works both ways. Yet as I talk to my friends and colleagues in the food world, I hear too many stories about safety rules being disregarded as mere suggestions; about being forced to sweep up broken glass under tables of unmasked customers; about feeling like our own concerns are simply being ignored. Customers want safety and comfort. All I ask for in return is respect.