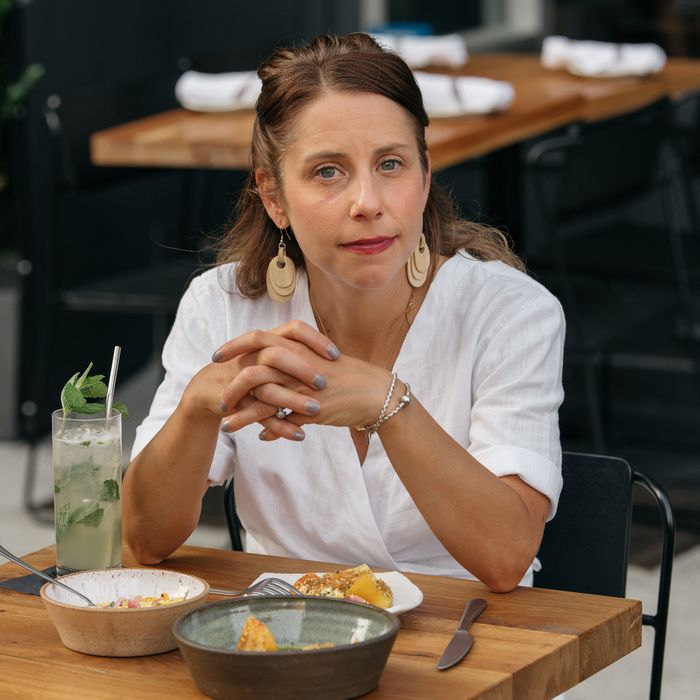 Delores Tronco-DePierro is the owner of the Banty Rooster.
Photo: Scott Heins
For three months, Delores Tronco-DePierro and John DePierro served Southwestern fare at their West Village restaurant, the Banty Rooster. Praise quickly rolled in for their take on a cuisine rarely seen in New York City, as did a roster of regulars hungry for pork collar with hatch chile, and the spice-packed bizcochitos. But with the pandemic gutting the number of diners they could seat, and Tronco-DePierro reaching an impasse in lease negotiations, reopening the Banty has proven impossible. Now, the couple, and former Denverites, will say good-bye to New York, and head more than 1,600 miles back west to the Mile-High City to try again. Tronco-DePierro spoke to Grub Street about leaving so soon, and what benefits Denver could offer her and the Banty Rooster 2.0 in a post-COVID-19 world. 
We opened our doors to the public on December 11, 2019 — 96 days before the coronavirus hit. The blessing in all of this is that for those three months, I lived what was a lifelong dream: For somebody who grew up in a small town in Colorado to make it here. That's all I ever wanted.
I opened my first restaurant, Work & Class, in Denver in 2014. I wanted it to be a neighborhood restaurant, and then it just sort of blew up. The restaurant had national recognition, we were insanely busy, and I think I got to a point three years into that where I thought, "What's next?" I really wanted to keep growing, I wanted the challenge of a tougher market, and New York had never stopped calling.
There's something fascinating to me about Southwestern cuisine, and I felt like it was missing in New York. In a city where I could go find almost anything to eat, I couldn't get green chili. You'd see these little examples — Arizona 206 is an example from way back, Bobby Flay had his place, Mesa Grill — but still, I just felt it was something that wasn't here, and Southwest was something I felt both Johnny, the executive chef, and I could speak to genuinely. I grew up in Colorado and throughout my childhood we'd go to visit New Mexico. Johnny's family moved to El Paso, Texas, when he was 15, and then he spent 17 years in Colorado.
After we opened, I was shocked at the number of people that came into the restaurant, and said "I'm from New Mexico," or they were Coloradans or Texans or people from Arizona that were like "I'm so homesick, and I'm so happy it's here." And also people who were experiencing it for the first time and having that ah-ha moment, like, "Holy shit where have these hatch chiles been my whole life?" Some of my favorite customers were two gentlemen in their early '80s. They lived in the West Village for 40-plus years. These two would come in at 8 o'clock, they'd want to have two rounds of martinis, and then they'd want to have dinner. They'd always want to have dessert. They came in two or three times a month.
The reception that we received was exactly what I hoped for, and what my team worked for. But in March, when COVID-19 hit, the ground beneath our feet was shifting daily, maybe even hourly. I decided Sunday morning, March 15, that we would not be continuing. Even a week prior, I had felt that my greatest moral obligation was to keep my staff working, but I quickly felt that my greatest moral obligation was to keep them safe. Not a single one of my staff can afford to live in Manhattan, including myself, and so everybody would've been commuting in on trains, and that felt risky. I decided to err on the side of absolute caution, and we closed. At that point my life became a series of emails, webinars, trying to figure out what was possibly available. I did file a business interruption claim, and I received a denial for that claim on the 20th. I also applied for, and received, PPP loans.
At the beginning of May, I started in earnest to try to negotiate a rent situation with our landlord, who has owned the building outright since 1998. Reopening is considerable work, and it's expensive in a time that's very uncertain. A big piece for me to reopen was knowing I would have a tenable situation moving forward. Our rent for that space is $23,000 a month, and in a pre-COVID-19 environment, that was ok. Is it still a lot? Yes, but it was ok. In a post-COVID-19 environment, that was no longer possible.
Our first three months in business, our revenues actually exceeded what I had projected. Post-COVID-19, I put together new projections. I measured our patio area to see how many outdoor seats we could have, looked at factors like on average how many days do we think rain wipes us out — the other night the rain came so hard and fast. All of my tables and chairs started getting knocked over and blown into the street. Originally, we had 74 seats. With proper social distancing, we'd have 24, so I wrote new projections based on that. Of course, we came up short; it's just math.
Our reality today is I have 18 seats outdoors, and those seats are completely vulnerable to rain, but I don't have any extra money right now for some kind of awning, and PPP loans can't buy me umbrellas. 
I still have to pay for insurance, and the PPP was designed to be two-and-a-half months of payroll; as soon as it's gone, you're back to paying all of your labor. I offered the landlord $69,000. I prepaid for the month of May, so $23,000, and another $46,000 out of my PPP fund. I asked, "Would you be willing to accept that and amortize that toward the end of the year with a percentage of sales on top of that, and we'll open as soon as we have an agreement worked out?" She unfortunately was not open to that. Her statement was that percentage rent is a disincentive for me to work hard, and that she was not in the business of subsidizing her tenants. That was hurtful, because that's not true.
It was probably late June when it really hit me there wasn't a long-term path here, and that any future in New York would be wrought with incredible stress, trying to make numbers work when they fundamentally do not work.
In that moment, the lightbulb went on, and I thought, "I have another option," and that option is to move the Banty to Denver and to go to a market where I have a solid reputation, I have a network of people who are supporters and fans, and there are landlords who are looking for good tenants, and who are willing to put together deals that make sense in light of the current situation. Like, it's not even funny. Rent is a fraction of what you'd see in New York, maybe half in a desirable neighborhood. Landlords offer tenant improvement dollars and incentivize good tenants to come into spaces.
It's not just rent. There are a number of other expenses — the insurance costs less, going into business costs less, opening moves faster. My liquor license in New York City — by the time I paid the legal fees and for the license — was over $60,000, and it took nine months. At certain points, I actually had to go to the State Liquor Authority in person and say, "I will sit here today as long as it takes but I need someone to help me. I need to walk away with my liquor license in my hand." In Denver, it's a 90-day process and it costs around $10,000.
A huge number of people I've worked with in the industry, who are not necessarily owners — they're chefs, they're servers, they're somms — are leaving New York. I rehired eight people on my team; six have confirmed that they'll be moving out of state sometime in the next year. We're going to see a lot of the secondary markets grow.
We made the decision to reopen for business in New York for one last seven-week farewell tour. We're doing dinner from Wednesday through Saturday, and we're selling through the inventory of things we already have, trying to incur as few costs as possible. I also want to have some emotional closure, saying farewell to New York, and this chapter of the Banty Rooster and my life.
The hardest part was coming to terms with the fact that something I wanted, and worked so hard for — to watch the arc of it. There's the anticipation and the opening, and then that brief moment of happiness. It's kind of like being the new parent: the baby is finally here, you're exhausted, you're up all night, but it's the thing you worked for. I loved it fiercely, and tried for months to make it work. But there were factors that were out of my control — and it didn't matter how hard I worked. It didn't matter.
I asked myself what lengths I would go to to save this business, and for me, the length became that I would move it across this country. I would leave this place that I love, but I'd have a real fighting chance to do what I love to do, and for my husband and me to have our livelihood again.
A lease agreement in which the rent is based on gross income rather than a fixed monthly amount.