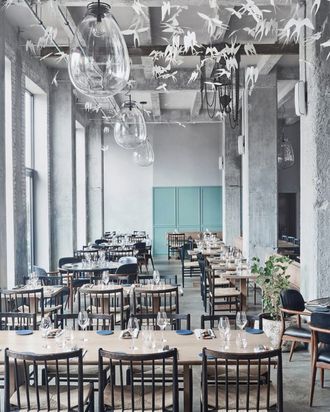 Restaurant 108.
Photo: Courtesy of 108/TripAdvisor
Rene Redzepi is closing one of his restaurants. Copenhagen's 108, which opened in 2016, will shut down "due to the negative consequences of the global pandemic." According to a statement posted to the restaurant's Instagram, its chef Kristin Baumann is stepping down as the restaurant's co-owner while the other partners will open something new in its place. 108's last day is September 30.
Bon Appétit called the more affordable Restaurant 108 as "Noma 1.5," and a New York Times article described it in 2016 "a stylishly casual alternative that's a third of the price, yet far more than half as good." Bauman was the chef, and Redzepi only involved as a business partner. Noma closed for a period of time this year because of the coronavirus pandemic, reopening in May temporarily as an outdoor wine bar with burgers.
In June, Bloomberg reported that 2,200,000 restaurants around the world could close because of coronavirus. The pandemic has exposed the fault lines running through fine dining, not only the low pay that cooks subsist on — including at Noma, where the kitchen staff includes many stages, or interns — but also the shaky business model.