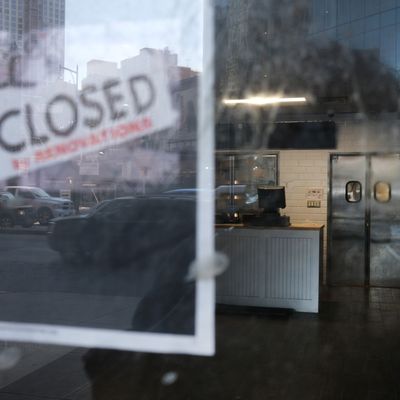 Photo: Spencer Platt/Getty Images
The immediate future of New York City restaurants looks bleak. Eighty-three percent couldn't pay full rent in July, according to the latest numbers from the NYC Hospitality Alliance. Nearly 90 percent say they won't turn a profit in the next six months without government aid. And that aid does not seem forthcoming.
But a group of New York City lawmakers have a proposal that could help: a "recovery lease" bill that would allow the city to give long-term tax incentives to landlords who agree to restructure the leases of their existing small-business tenants, Brooklyn Paper reports. The idea is to make it more profitable — or at least, less not-profitable — for landlords to work with their current tenants to keep the lights on. In theory, it's a win-win: Landlords would get tax breaks and small businesses, including many, many restaurants, would get to continue to exist. It should, lawmakers hope, bring landlords and tenants into (closer) alignment.
Part of the problem right now is that, as it currently stands, it's often more profitable for landlords to keep their buildings empty than to have them occupied at below-market rates, as hospitality lawyer Jasmine Moy explained on a recent episode of Eater's Digest. If they lower the rent, they lower the property value, she said. But if landlords leave spaces empty, they get tax write-offs for their losses. Certainly some landlords have been working with tenants. Others haven't. "Many landlords have said, 'Okay, we understand our tenants' pain, but we are suffering also,'" said Nolan Cheng, an attorney who represents small businesses in Chinatown. "If this new program can help out landlords by giving tax abatements or any other tax relief as enticement to renegotiate, that is an excellent idea."
For the moment, this is just a proposal. Manhattan State Senator Brian Kavanagh and Assemblywoman Yuh-Line Niou are introducing the legislation to authorize the program — the state needs to give the city the power to enact any of this — and City Councilmembers Brad Lander and Keith Powers would then introduce a local law to make it happen.
It's not totally clear what recovery leases would actually look like, since those details would be hashed out by the city, but the initial legislation lays out the basics: Landlords would get property tax abatements for working out recovery leases (with existing small-business tenants or new ones, as long as the space wasn't open because of a previous eviction). The leases will last at least ten years with caps on annual rent increases.
The program would be optional — landlords could still keep their storefronts vacant — and restaurants clearly have other problems besides rent, such as operating safely at all. It won't be the answer. But lawmakers hope it could help. "The model here is about sharing the pain," Lander told the Daily News. In 2020, that is what we call optimism.