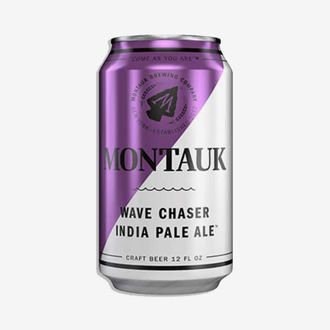 Montauk Brewing Co.'s beer.
Photo: Montauk Brewing Company
Long Island's Montauk Brewing Co. is being attacked for its pro-Black Lives Matter statement. The statement was posted outside the brewery and is a rather standard message of "support[ing] the movement with all our hearts" and an acknowledgement that they "have donated and will continue to support organizations that further the cause." This was apparently too controversial for some. Montauk Brewing Co. has subsequently been barraged with messages on its Facebook and Instagram from "Blue Lives Matter" types — a real thing people say — getting in a huff.
As happens, commenters have taken over their social media, with many saying they are never going to buy Montauk's beer again. Others write that the brewery "will be bankrupt soon enough because what you support has no base and full of lies," "Blue Lives Matter!!! When Antifa shows up at your door call BLM," and "Blue lives matter ! Never again ! Pouring your shit beer down the drain." The last is a solid self-own repeated by others, including one person who writes, "Never going to drink that piss again!" (As a food website, we feel comfortable saying: Please, do not drink piss.) A number of one-star reviews have cropped up on Yelp from New Yorkers saying "this company supports a terrorist, racist organization" and "police officers are being attacked for no reason."
When the BLM protests spread to Long Island in June, the Long Island Press reported that some residents "responded with intolerance to the dozens of peaceful anti-police brutality protests." Residents of Merrick tried to block a march through a largely white community, the publication reported, while the owner of Huntington's Tutto Pazzo called protesters "savages" and threatened to throw watermelons at them. In West Babylon, a driver tried to run over protesters while yelling "White lives matter!" (Video of the incident can be seen here.) In Smithtown, people called BLM protesters racial slurs, including the N-word.