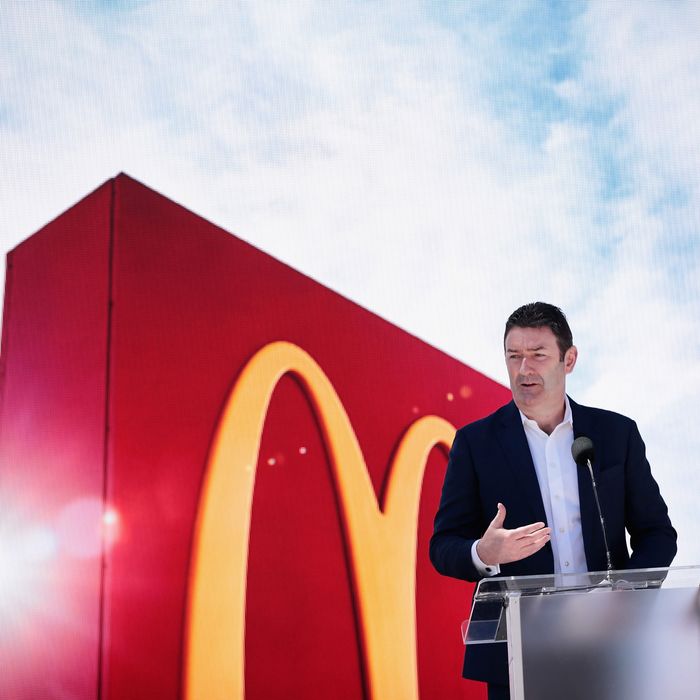 Steve Easterbrook.
Photo: Scott Olson/Getty Images
McDonald's is suing its former CEO Steve Easterbrook, who the company alleges lied during an internal probe about personal behavior, including three sexual relationships with employees. The lawsuit has been filed in a Delaware state court. Easterbrook was the corporation's CEO and president from March 2015 to November 2019, when its board of directors dismissed him immediately as a result of a relationship with a staff member.
In a filing with the Securities and Exchange Commission, McDonald's alleges that Easterbrook not only lied to the company but destroyed information about his inappropriate behavior. The allegations are a result of a probe conducted by the company, which also says that Easterbrook approved a stock grant "worth hundreds of thousands of dollars" for an employee he was having a sexual relationship with.
The McDonald's board says that based on these recent allegations, it wouldn't have signed its initial separation agreement with Easterbrook. That agreement included 26 weeks of severance pay, which the company seeks to get back along with other benefits. McDonald's is also trying to prevent Easterbrook from exercising stock options or selling stock from outstanding equity rewards.