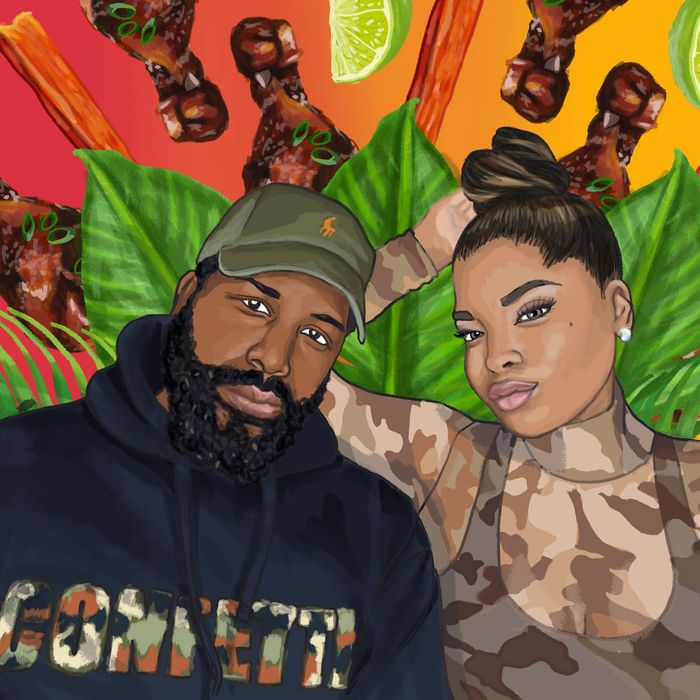 The Grahams are the owners of Kokomo, a new restaurant in Williamsburg.
Illustration: Margalit Cutler
While many people lament that the pandemic has halted the day-to-day routine, Ria and Kevol Graham are, it's safe to assume, busier than ever. They're keeping up with their 2-year-old, they have a new 5-month-old, and, just one month ago, they opened Kokomo, a Caribbean oasis in Williamsburg. "It's like having three babies," Ria says. This opening, of course, was not the plan when they took over the space in October, but the couple says they're so thankful for the support they've gotten so far. "We always wanted it to feel like people are on vacation, even though we can't go anywhere now," Ria says. Kevol's pitch is the same: "Just drive to Williamsburg for your sunset and your tropical drinks." 
So how is it even possible to balance everything? The Grahams agreed to keep track of it all for this week's Grub Street Diet.
Friday, August 14
Ria Graham: Friday is typically a feast-or-famine day for me. I go most of the day without eating anything, because I'm on the run, and as soon as I get to the restaurant, I want to eat everything that I see. I started off with some jerk chicken that the chef was trying out. So I stuffed my face with that. And about an hour later, there was a problem with one of the sauces for our flatbreads, so I decided to be the taste-tester for that, as well. I had a yardy flatbread that has shrimp and pineapple, some Jamaican callaloo, and plantain on it. It was amazing. And, within a three-hour span, I also had a shrimp salad. I definitely had the "feast" part down on Friday.
Kevol Graham: I was part of the jerk-chicken tasting. That was actually my breakfast. I also had a flatbread later that day, our Rasta pasta flatbread. It's very good. Not nutritious, but tasty.
RG: And we had a drink tasting, so I had some rum punch.
KG: I also had a D&G soda when she wasn't looking. D&G is the Jamaican brand soda, and it's so good.
RG: The sad part is, we're on a diet. We had a pact that we'd stop drinking soda.
KG: Like, once a month, I get a soda.
RG: Every morning, we start off saying, "Today is the day we're not going to have pizza, we're not going to have drinks."
KG: Or if we need to try a drink at the restaurant, we say we'll share it.
RG: … And then we don't share it.
KG: Everywhere I turn, it's food. "Try this, taste that."
RG: We're a new restaurant. We need to make sure everything is right or it doesn't get sent out.
KG: For dinner, I had the escabeche snapper. It was a special of the day, and I wanted to try it. Our chef really wants to make sure everything is as fresh as possible, and it's been a big challenge with everything going on. We've been lucky these past two weeks, being able to get fish that's consistent.
RG: Every week, we've been lucky, but we have to keep jumping back and forth between vendors. And because we're a new restaurant opening during COVID, they don't know what to expect. We've had so many vendors in a month. They all know us.
Saturday, August 15
RG: Saturday, I didn't go to the restaurant, because he left me.
KG: I didn't leave you. I told you I'd be right back, but when you go to the restaurant, you get sucked into so many things. As soon as I got there, it was dealing with the refrigerator, the plumber, the roof. You want to be there for your staff.
RG: In the morning, I finished my 2-year-old's breakfast: Cinnamon Toast Crunch with oat milk. And because we're never home and we haven't had time to go grocery shopping, I waited for him to get home with food from the restaurant, and we had Rasta pasta flatbread.
KG: When I left the house, I had nothing. But when I went to the restaurant, I had our sweet-plantain pancakes, which I'd never had before. And I had two triangles of a waffle.
RG: That's half a waffle.
KG: When I got home with food, they did already have some pizza, too.
Sunday, August 16
RG: Sunday is my reset day. I started with some of my toddler's pancakes and chicken sausage. I then had a green smoothie, and my aunt made us baked chicken and broccoli later in that day, so I felt like I ate really well.
KG: We closed for brunch. It was raining.
RG: We were contemplating closing the whole restaurant.
KG: Instead, we had 50 percent of our staff, so I went to support our two servers and the captain who were there. When I got to the restaurant, I had some of our Rasta pasta with shrimp. It's pappardelle, Rasta pasta sauce, marinated jerk shrimp. And that was my breakfast. I consider whatever I eat first each day to be my breakfast, whenever it is. Later on, I had salad with jerk chicken, also at the restaurant.
RG: This is our COVID menu, and I can't wait to roll out our full menu. Our head chef is Peruvian. We did a series of interviews to find him, and we did a lot of tastes. We fell in love with the way he fused the Peruvian culture with the Caribbean culture in the food.
KG: We worked on that menu for months before we had to rethink the whole opening.
RG: I wasn't trying to worry about it too much, because I was due on March 21 and didn't want to stress myself into early labor. I needed to stay away from negative thinking, and if I thought about it, it threatened the livelihood of our family when we were trying to grow our family.
KG: I just had to face the reality of the situation. We were supposed to go to a restaurant expo before opening, and I noticed that a lot of events were getting canceled. I realized it was going to be very serious and started to put myself in a mode where I got prepared to face the reality of not opening. We couldn't be scared; we just had to put ourselves in a position to succeed and survive.
RG: It was hard to know how to survive when people didn't know what was even going on. We were just waiting to see what Cuomo was going to say next so we could adjust as quickly as possible.
Monday, August 17
KG: This was the first day we stayed home from the restaurant in a long time. I woke up and had a bag of popcorn.
RG: That's like his vitamins. I have to stock the house with popcorn. When we first started dating, he asked me the typical questions, "What's your favorite food, yada yada yada …" I asked him back to be cordial, and he told me that he loves popcorn. He did not lie. He eats popcorn like a force.
KG: I really have a thing for popcorn.
RG: We live in Brooklyn, and we go to a movie theater in Yonkers just because we like their popcorn best.
KG: And there's one in Long Island. It's off exit 40. It's not close to us, but the popcorn is so good.
RG: I had Cheerios with oat milk, and later we ordered Thai food. I had pad see ew with chicken, and pineapple fried rice with shrimp, and it was delicious. It was nice to have any change from Caribbean food. I feel like I'm becoming one big piece of jerk chicken.
KG: So the Thai food was very refreshing. And we had sparkling water and apple juice.
Tuesday, August 18
KG: I don't drink coffee. I used to work for the fire department, and the culture of fire departments is that they always have coffee and they want you to drink coffee as soon as you walk in the door. There's always a pot brewing — literally, always — and I worked at different fire stations, inspecting them, and I would just drink coffee all day. I got coffee-ed out. I can't drink it anymore like that.
RG: I love chai tea, but my "breakfast" was a Buffalo chicken salad from Sweetgreen. Then I had jerk chicken salad with sweet-potato fries. And I had a slice of our oxtail flatbread, which was just sitting there! We made it for the staff to try, and they left back a slice.
KG: I skipped the healthy salad for lunch and waited until later on to eat. Family meal was chicken and rice and peas with cucumber salad, so I had that.
RG: You stole some of my fries, too.
KG: That's true.
RG: When we knew we were going to do this, we were scared to show everyone how we actually eat.
KG: I thought I'd have to fake-eat healthy stuff, but that would be so boring!