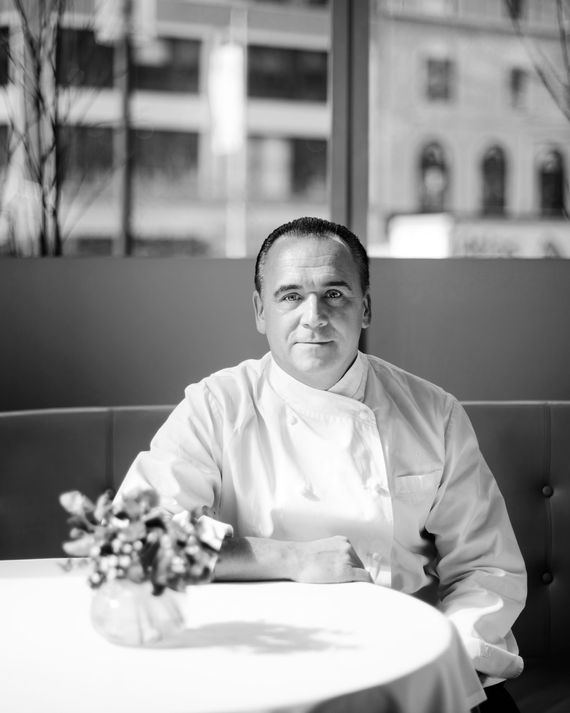 Jean-Georges Vongerichten.
Photo: M. Cooper
For laid-off restaurant workers in New York, the future is filled with uncertainty and a jobs market that has been decimated. Yet when Taylor, who works as a sous-chef at one of Manhattan's most popular high-end restaurants, got asked to come back to work, it was not a relief. "I was not offered my position, or the health benefits that I had before." Taylor adds, "It was also a significant pay cut" — her income has dropped by over two-thirds — "paid hourly instead of a salary." Taylor says of the offer, "It is insulting, really — I just felt like I had to take it."
The restaurant where Taylor works is run in partnership with the chef Jean-Georges Vongerichten. He is arguably the most successful restaurateur in the world. The New York Times reported his restaurant group's sales for 2018 totaled $350 million, and as of last year employed 5,000 people. Vongerichten's businesses span across nearly a dozen countries, and he is the public face of 15 different restaurants in New York City alone. His restaurants have won every accolade imaginable, he is a constant media presence, and he was even named to President Trump's coronavirus restaurant panel.
Vongerichten, his business partner Phil Suarez, and their investors own six restaurants within the group (Jean-Georges and Nougatine, JoJo, the Mercer Kitchen, Perry Street, and the Inn at Pound Ridge). The others are operated as management or licensing deals, but the company's COO, Luigi Comandatore, says Vongerichten is very involved with each property: "Whether he owns it or not, once he walks into a restaurant, the staff is the staff, the guests are the guests, the restaurant is the restaurant."
There is no question that Vongerichten's New York City establishments — which rely heavily on lunch business and tourist diners — have been particularly hurt by the COVID-19 pandemic, a government-mandated restaurant shutdown, and the subsequent economic fallout. An overwhelming majority of restaurants surveyed by the New York Hospitality Alliance have not been able to pay their full rent over the last three months. Outdoor dining can only do so much to help; many restaurant owners report business is abysmal. As of early August, restaurants have accounted for almost one-third of the New York small businesses that have closed during the pandemic. No business is immune, and Comandatore says sales at Vongerichten's restaurants are on average down to just 20 percent of what they typically are this time of year. Yet as these restaurants reopen, past and current employees say the compensation packages being offered to return to work are worse than they expected and that the virus has reinforced long-held resentments over pay. This is not the case at every restaurant around the city. Cooks and owners at a number of smaller independent businesses — including Di An Di, King, Ops, and Court Street Grocers — say that hourly pay is either the same as it was pre-pandemic, or has been increased for the time being. ("We sort of think of it as hazard pay," says Annie Shi, a co-owner of King.)
"There are sous-chefs who are not happy about this, and have chosen not to go back," says Ryan, a cook who formerly worked at Jean-Georges, the chef's luxurious flagship restaurant. Ryan adds, "The offer they were given was to get taken off of salary, and get rehired at $20 an hour."
For a sous-chef who had been making $60,000 per year, the change in pay means a 40-hour workweek now brings in the equivalent of $41,600 annually. One sous-chef says that the newly decreased pay has also exacerbated a rift with his restaurant's service staff. "The front of house still receives all the tips, and people realize this is a pandemic so they tip more," he explains. "For those employees to be making what they're making, when they're only here for three or four hours a day, and then for me to be here all week to walk out with $600 is not a particularly good feeling."
Comandatore confirms there have been pay cuts of generally 20 to 25 percent at the Vongerichten-owned restaurants, and that executives also took similar cuts. Employees like line cooks may have lower percent pay cuts because they are paid closer to minimum wage. "We rehired management at 75 percent of their original salary, which I think, considering our business is down to 20 percent, is the best we could do even to barely make it," Comandatore says. "We just went across the board based on seniority. I think the rate has been, across the board, very fair." (These cuts do not pertain to restaurants where Vongerichten has licensing or management agreements, including the one where Taylor works.)
At the Vongerichten-owned restaurants, health insurance has not been cut. "Health insurance for the hourly is exactly the same," Comandatore says. "Management as well, we have different packages for people, depending on their deal."
As for Vongerichten, he says via email that he slashed his own salary, too. "I took myself off the payroll the day we closed our restaurants due to the pandemic." He adds that he "personally put money into the business," and writes that he will continue to do so "in order to keep this company going."
Companies associated with Vongerichten's restaurants have also been the recipients of PPP loans worth millions of dollars. These include Jean-Georges Management, Jean-Georges of Pound Ridge (which operates the Inn at Pound Ridge), and Perry Street Project, which all received loans of between $350,000 to $1 million. The Mercer Kitchen received a loan for between $1 and $2 million and Triomphe Restaurant Corp. received a loan of $2 to $5 million.
"We surely would not have been able to hire people back without that loan. We're still losing a lot of money on top of that," Comandatore says. Depending on the restaurant, Comandatore explains, between 20 and 50 percent of staff have been hired back.
"We really thought about this carefully and are trying to be as fair as possible in a situation that has been unfair to everyone," Vongerichten writes. "It was a choice we had to make to get as many people back as possible."
High-end restaurants have long depended on low and unpaid workers, and former Jean-Georges cooks point to pay as a longstanding gripe. Hours are carefully watched to limit overtime, and in 2011 — before New York's minimum wage was gradually raised to $15 — line cooks were paid as little as $10.50 to $11 an hour. "I'll never fucking forget that," says one. Another who worked there at the time says, "I was making like $400 a week after taxes."
"I started to question why people were legit not able to afford anything and everyone was going into debt to work there," says yet another former cook. "There was a lot of pressure from investors to keep costs down. And they chose to do that partially by not giving raises and keeping pay and hours down for cooks."
Health insurance was also not offered to employees like line cooks before the passage of the Affordable Care Act, and some who worked at Jean-Georges on visas are unhappy with how they were treated. "I felt like JG was very unfair to a lot of people there who were on visas and were expecting certain pay, or a certain number of hours," says Ryan, the former cook.
Though several former employees say they learned a lot while working for Vongerichten's restaurants, others who spoke with Grub Street expressed broad dissatisfaction with the company and leadership, saying that they "felt very undervalued." (When Jean-Georges cook Jesus Roman Melendez — who worked at the restaurant for 20 years — died of the coronavirus in April, Vongerichten declined to be interviewed by Grub Street. Melendez's death was only noted by Vongerichten with a screenshot of the obituary on his Instagram Story.)
"I turned down the sous-chef position there several times because I didn't feel like it was the environment I wanted to work in," Ryan recalls. "It just wasn't a good environment. And they weren't compensating, either." Still, while critical of Vongerichten, he adds a caveat: "I don't think it's all JG's fault. He's doing a good job of being a trendsetter, opening up restaurants. He's working within a system that's fucked up."
In response to a question about his cooks' compensation, Vongerichten writes, "We try to do our absolute best to keep our restaurants financially stable so that we can all keep working." He also addresses the problems with restaurants' traditional pay model: "The restaurant business is the business I love, and I will always love, but it is a business that comes with pressure. Pressure to do something great and pressure to take care of your team, and yes, financial pressure as well."
Other former cooks describe their experiences at Jean-Georges as positive, calling Vongerichten "professional" and "well-liked," and describing it as a better work environment than other fine-dining kitchens where they had cooked. One cook specifically says he dealt with less verbal abuse than in other restaurants; another points out that "there isn't a toxic masculine culture."
However, in his recently published memoir, Vongerichten describes an instance of abusive behavior, recounting a time that he "beat the shit out of" a dishwasher named Sam, breaking his nose, at Lafayette in the Drake Hotel. (This is the same restaurant where the chef met Suarez.) According to Vongerichten's own account, Sam regularly took 45-minute breaks, including on the day of the assault, when the then-New York Times critic was at the restaurant. No members of the kitchen staff said anything about it, and, as the Times' Tejal Rao recently noted, "Vongerichten went on to find international renown."
Though the event happened in the mid-'80s, when Vongerichten was asked about it at the Philly Chef Conference this year, Philly Mag recounted, the chef said "that he was glad he did it because he felt the dishwasher's poor work ethic was getting in the way of what he was trying to accomplish." After the comments were published, Vongerichten issued an apology, saying "treating co-workers respectfully is a core value in all of my restaurants."
For now, the skeleton crews working at some Vongerichten-affiliated restaurants mean even some longtime employees have not yet been called in. I asked one employee, who has worked for Vongerichten for over a decade, if he had been called back yet. He had not. "I have no job and obviously no money," he says. "I have to wait until they open completely."
In July, Eater reported that the jobless rate in the NYC bar and restaurant industry is almost 60 percent. With enhanced unemployment benefits ending, some are getting desperate for money, even if it means jeopardizing their safety to go back to work. Others — undocumented workers, namely — haven't had access to the same benefits and find themselves with depleted savings and no prospects, turning to food pantries and other services. (Like at many restaurants groups, management started a GoFundMe for employees.)
"I had a guy reach out to me looking for a loan from the company," says the sous-chef. "He said when he comes back to the company, he'll just work off the loan."
"I really don't get it," says Ryan. "I don't see how they can do any of this stuff."
Grub Street is using pseudonyms throughout this story to protect the identities of the sources, who all requested anonymity to avoid professional repercussions.