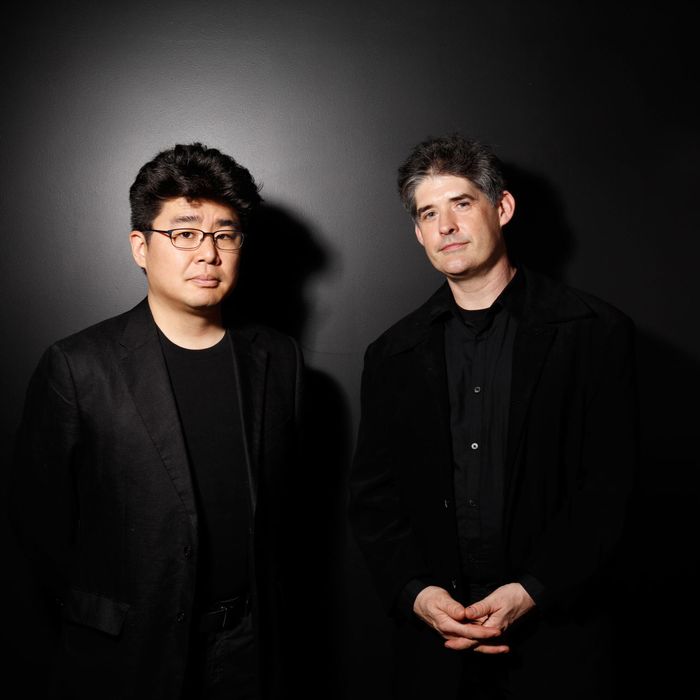 Don Lee and Dave Arnold of Existing Conditions.
Photo: Melissa Hom
Existing Conditions is no more. The popular Greenwich Village bar, celebrated by cocktail geeks for its clever approach to drinks both alcoholic and not, has officially closed. In a lengthy Instagram post, co-owner Greg Boehm calls it "one of the most difficult and painful decisions of my career" and that "the mandated shutdown has taken many options off the table and the bar is not sustainable financially." Reached for comment by Grub Street, co-owner Don Lee declined to go into detail, citing negotiations with their landlord, and points to a post from co-owner Dave Arnold.
When Boehm, Lee, and Arnold opened the anticipated bar in 2018, New York called them a "mixology dream team" and Eater called Arnold a "cocktail visionary." Lee and Arnold, who opened Booker & Dax, have been two of the more influential bartenders in New York's cocktail world; Boehm had opened popular places like Boilermaker and runs Cocktail Kingdom. The bar garnered immediate attention for its drinks, including for n/a drinks that they (along with head bartender Jack Schramm and bartender Bobby Murphy) poured time into, like one made with carbonated Melipona honey from the Yucatán. They went all-in, using a custom carbonation system to make a paloma with water picked for its salinity, and had a bottled-cocktail vending machine.
Calling any restaurant or bar closing a surprise during this year requires a willing suspension of disbelief. The pandemic and economic crisis have wrecked the restaurant industry, and places as popular as Uncle Boons have closed in recent weeks. With Local Law 1932-A, which suspends personal-liability provisions in leases, set to expire at the end of September, it's all but certain many more places will soon close.