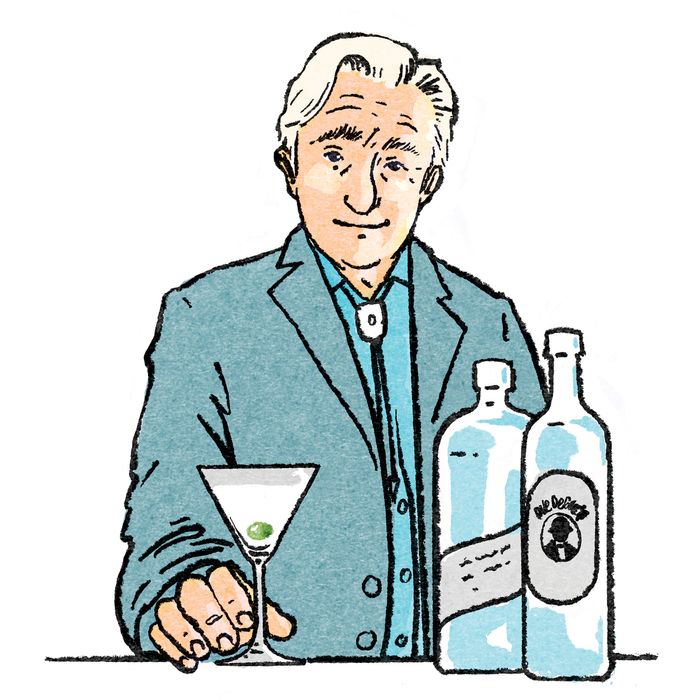 Dale DeGroff may be best known for running the influential bar at the Rainbow Room (and for popularizing the polarizing term mixologist). But he should be more properly credited with building the foundation for the craft-cocktail revival: excavating the history, prioritizing the use of fresh juices, perfecting the technique, and, especially, inspiring and training the new generation of craftspeople (most notably Audrey Saunders) who went on to transform the national scene. Many more absorbed his wisdom, a unique distillate of mechanics and humanity, by reading his seminal The Craft of the Cocktail, first published in 2002. It's a testament to how much has changed in the worlds of bartending and booze that DeGroff has seen fit to revise that guide after 18 hardcover printings. The New Craft of the Cocktail (Clarkson Potter; $35) comes out in September with 100 new recipes in a new format that includes recommended brands for every drink. Who better to speak to the future of the bar, a place whose very existence repudiates the notion of social distancing? We caught up with him just before cocktail hour at his new home in Pawcatuck, Connecticut, where he has taken his busy schedule of proselytizing for the lost and refound American art of the cocktail off the road and onto Zoom.
In the new introduction to the book, you write about teaching an interactive tequila class at Windows on the World on the night of September 10, 2001, and the aftermath of 9/11.
It's something I'd always wanted to do. This book came out in 2002, but it was in the can when 9/11 happened and I was really beside myself about not being able to say something about that. And now look what happens: The new edition is in the can once again, and the situation is even worse. If I do another edition, we might end up with the Four Horsemen of the Apocalypse.
You saw bars come back after 9/11. How do you think the industry will ultimately respond to COVID-19?
I don't know what's going to happen. I'm not a seer. But I'm very, very optimistic. Food and alcoholic beverages and people gathering around them goes back to ancient times. They unearthed bars in Pompeii when they started digging into that volcanic ash. We're going to lose a lot of wonderful bars. It's inevitable. But the people that don't survive will come back in another way. They'll go to a smaller town and start over again. I keep telling bartenders to get the hell out of New York. Go to Columbus, Ohio, or Cleveland, where you can actually own a bar. I mean, in New York, you're at the job; the investors own the bar, you don't own it.
Are you saying Cleveland is a better bar town than New York?
No, New York is still the ultimate bar town, no question about it. But not if you want to own your bar. It's too tough.
Considering that the bar is defined by intimacy, do you envision it changing its very nature to adapt to today's predicament?
No, I envision a vaccination solving that problem.
There's been a lot of advancement in professional bartending since you wrote your first book. What's left to teach?
I didn't really go into technique heavily in this book, but there are some fundamental things that a lot of craft bartenders are trying to skip over. You start to lose a lot if you don't pay your dues and work your way through the ingredients the way a chef who's staging does. You need to understand flavors. You can't walk into a bar, work for two years, and then go out and become a consultant and say you're gonna create menus around the world. It just doesn't work that way. Hospitality's not like that either; hospitality's something that, if you have the propensity for it, if you have the character for it and the people skills, it's something even then that you learn on the job.
Is that how you did it?
Yeah, I was lucky back in the '70s to work with a couple Irish bartenders who were just masters of this. I have a saying: We go to bartenders, not bars. I so believe that. Right back to my first experience in New York: I walked into a neighborhood bar on the Upper West Side called Paddy McGlade's, and there was an old man behind the bar. I was a hippie with a guitar and a backpack. Every head turned; they looked at me when I hit that door like a side dish they hadn't ordered. And I sat down and Al comes over and says, "What'll it be, young man?" And by the way, when I walked in, the guy sitting in the corner let out a big groan. It turned out he was the owner Paddy. Al paid no attention to him. And as soon as Al came over and greeted me, with like a real cordial greeting, suddenly the whole attitude of all the other old dudes at the bar changed. Because Al made the call: This guy's all right. How do you learn that stuff except by experiencing it on either side of the bar over the years as you work?
How do you describe this type of skill?
It's understanding the interaction between you and the guest on a deeper level. Developing the observational powers. Did you notice the eyes on that woman when she tasted her margarita, that it was way too sour for her? To see that … because if you did, you have to go over there. You have to talk to her about it. There's so many little things that you can't explain, really; either you see them and react to them or you don't.
What's the biggest difference between the cocktail world when your book first came out and now?
Bar teams. It used to be that bartenders were pitted against one another. We all had our own registers. In the old Irish bars on the East Side of Manhattan, the owner would say, "Hey, Joe, Tom rang $3,000 on his register last Saturday. You rang $1,500. A couple more nights like that, I'm going to have to put someone else on that register." It was a cutthroat kind of feeling. Now, the whole idea of community blows my mind: what the Speed Rack ladies are doing, what Tony Abou-Ganim is doing with the Helen David Relief Fund, what happened to the head bartender Murray Stenson at Zig Zag who had open-heart surgery based on two weeks' donations from around the world because he didn't have health insurance.
In your 45 or so years in the business, has there been much progress in terms of diversity in the workplace?
There has been. But women were first, by the way. When I opened the Rainbow Room in 1987, I hired a huge staff because we had lots of private dining. So I had, like, 36 bartenders, and 16 of them were women. And [prolific consultant and impresario] Joe Baum came to me when I was scheduling all the bars and said, "I don't want to see the women behind the public bars." I was really upset by that. But that's the way it was. There wasn't a single bar except for the strip joints in Times Square where there was a woman behind the bar. In any fancy midtown hotel, any fancy midtown cocktail lounge, or any fancy midtown restaurant, there were no women behind the bar. Now, of course, women own — and have for some time — many of the best bars in the city. People of color have lagged behind women. And now that's starting to change. I see it everywhere in the general marketplace, maybe not as much as the craft market.

What was Joe Baum's rationale for not allowing women to run the public bars?
There was no rationale. He just said, "I don't want to see any women behind the front bar." He thought that white-jacketed men in classic midtown locations were de rigueur. That was the New York barman. Mostly Irish. The whole idea was that these were guys who could handle anything that came up. And you know what? A lot of things came up. After Prohibition, these were places that were run by gangsters. And they didn't stop being run by gangsters for a long time. The gangster element stayed in the liquor business. There were people who were not safe people to have around, and you needed people behind the bar who could handle themselves. To be honest, there was some rationale for it in the '30s and '40s and '50s. By the '60s when that generation was gone, there was no reason for it, but it just stayed on as tradition.
Speaking of old traditions, lots of bars have taken to bottling their drinks and selling them to go. Are you in favor?
Absolutely. Are you kidding? It goes back to Jerry Thomas. He called the cocktail ideal for fishing and outdoor activities. He has recipes for bottled cocktails in the 1862 How to Mix Drinks.
Have you ever done one yourself?
I have. I took it on the road for an industry event in upstate New York at an inn on Lake Placid. They wanted to do Jerry Thomas cocktails, so we put them in bottles in the bottom of the ice-cold lake. We just threw them off the end of the dock in a net and then pulled them up when we were ready to drink. I'm actually involved in a product that I can't talk about now.
What kind?
I can't say. But what I can talk about is that my partner, Ted Breaux, who brought absinthe back to America, and I, we're going to be doing an after-dinner Italian-style amaro. We have a label and everything; it's just not on the market yet.
Do you see craft-cocktail-making and bartending moving into the home like online shopping and watching movies?
It already did. The home cocktail party was invented during Prohibition. They were a huge hit during Prohibition, and they continued to be a huge hit after Prohibition. But when people could go back to bars, they did in droves. You can have both.
So the bar is not an endangered species?
Absolutely not. I mean, there's nothing worse than having to make your own martini.
Let's go to the lightning round, as they say: What's always in your fridge?
Vermouth, sweet and dry, and sherry, usually fino. Almost always a bottle of Champagne. Right now: Narragansett beer because I'm up here on the Rhode Island border.
Sounds good. Cans or bottles?
I like a longneck bottle. I drink it over ice. I know people think that's crazy, but I love it that way.
What's the last cocktail you drank?
A new variation on the Vesper I came up with called a Second Chance martini.
How many cocktail books do you own?
I gave a lot to the Museum of the American Cocktail recently. I went down from over a thousand to a couple hundred.
Do you spend more time reading about cocktails than you do drinking cocktails?
Nope!
What's your least favorite cocktail?
I hate Aviations. You know why? Because maraschino liqueur is absolutely awful when taken in shots larger than a half to an ounce. It's just cloying. Mixed with marsh grapefruit and some really good rum in a Cuban daiquiri, it's absolutely ambrosial, but it quickly becomes cloying when you overuse it. Aviations overuse it.
What's an underrated cocktail.
The craft crowd pooh-poohs the muddled Old-Fashioned, but you know, on Thanksgiving my family took a piece of orange, a cherry, extra bitters, muddled the hell out of it with a sugar cube. My mother even made us put a little of that awful juice from the cherry jar in hers and they were delicious. In my career, from 1974 right up until the end of the Rainbow Room, we made Old-Fashioneds with muddled fruit because we catered to an older crowd and that's the way they drank them. Take care of your guests is the message here. Don't be preaching about what's the one true cocktail. Take care of your guests.
What's your biggest pet peeve?
I don't believe in rounds of drinks being served like they serve food at a table, where all the waiters stand behind each chair and put down the plates simultaneously. No, I'm a New Yorker, and I want my drink friggin' now! If I'm in a group, and I order scotch on the rocks, while everyone else is ordering Ramos fizzes and so forth, I expect my scotch to to be in front of me in about three seconds flat while the bartender makes the rest of the round. Now these craft bartenders have to finish every single drink before they put them down and I'm like, "Hello? Hello? I'm the guy with the scotch on the rocks, remember?"
They don't offer you one in prison, but what would be your death-row cocktail?
Well, I would have it with my dinner. I would start with an extra-dry martini, then I'd have some steak tartare, then I'd have another martini, then I'd have some oysters, then I'd have another martini, and I'd finish with a stinger. Three martinis and a stinger, that's the way I'd go out.
*A version of this article appears in the August 3, 2020, issue of New York Magazine. Subscribe Now!