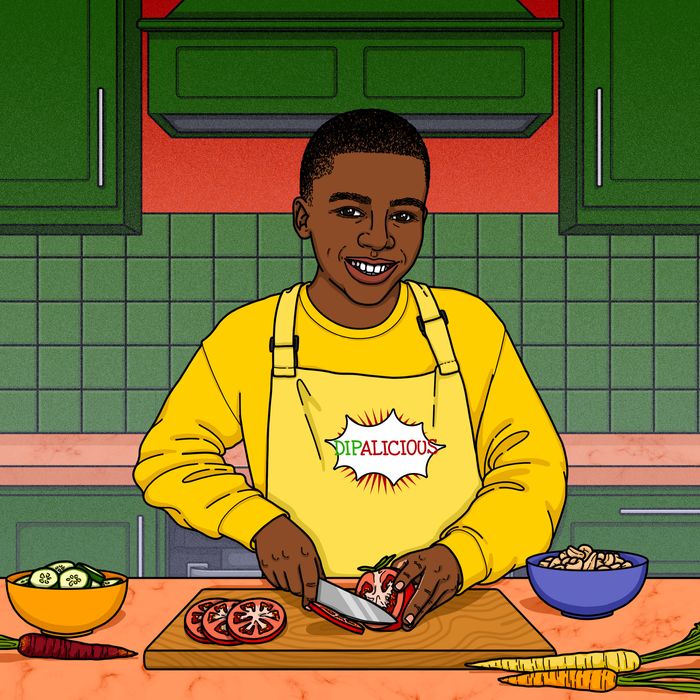 Omari McQueen's profile is rising quickly.
Illustration: Eliana Rodgers
It was more complicated than I thought it would be to schedule a Zoom call with Omari McQueen, a young chef who is quickly gaining fame in the United Kingdom as a leading proponent of all things vegan. Yes, we had to work around an unwieldy time difference — I'm based in California; McQueen lives in London — but it was mostly because his team, which consists of book publicists, an agent, and even his parents, all have to coordinate in order to fit media appearances into his schedule.
Also, McQueen is 12 years old, so between recipe-development sessions and strategy meetings, he's got homework to do and Fortnite to play.
In the end, however, I meet McQueen 20 minutes before I'm supposed to. He isn't yet wearing his signature yolk-yellow apron, adorned with the logo of his fledgling snack company, Dipalicious — just a long-sleeved shirt with the sleeves pushed up to his elbows, a sartorial choice that says "let's get down to business." McQueen logged in early to check if the link I circulated actually works, and he's flanked on his right by his mother, Leah. McQueen smiles shyly and waves hello, I apologize for lurking in the Zoom room, and we agree to meet back at the scheduled time because he still has a few ingredients to prep before our conversation officially begins.
The team, which also consists of Omari's father Jermaine, runs an impressively efficient operation: Between running an e-commerce shop, where McQueen sells vegan chip dips like Caribbean Kick (mango, pineapple, and chili), his YouTube channel Omari Goes Wild, appearances on British television, and the rigors of school, McQueen also found time to sell his first cookbook, Omari's Best Bites, which is slated to arrive next year from Scholastic UK.
"My book is a children's book and an adult's book," he says as we reconvene on Zoom, before giving me the full sales pitch. "If they all start making vegan meals more often, then they might become vegan," he adds with a hopeful lilt. "And then they'll be like, 'You changed my mind.'"
This is McQueen's defining ethos as a chef: convincing people that vegan alternatives are just as delightful as their meaty counterparts. Accordingly, his book will feature a number of the plant-based recipes that earned accolades at a pop-up restaurant he ran in the trendy London food hall Boxpark in 2019, like fries made from breadfruit. It will also showcase dishes he's perfected at home for a dining audience of his five siblings and parents, including vegan patties and a "secret dip," about which he says — coyly — he can't disclose more, at least at this early stage.
Some of his recipes are inspired by the Jamaican dishes he ate growing up — Leah's grandparents and Jermaine's parents are from Jamaica — while others are takes on family favorites, like a smoothie he invented whole cloth for his mom. The cookbook project is one he's "had on his vision board," for three years, according to Leah, who leans into the frame on our Zoom call to note that it's only the first in a long line of recipe collections he hopes to publish.
McQueen tells me he first became interested in food when he was 7 years old: "I learned to cook when my mum was sick and my dad was going to work," he says. Jermaine taught both McQueen and his older brother Laquarn how to make tuna pasta. For the younger sibling, the lessons really stuck.
Shortly thereafter, McQueen was researching foods that he hoped might help relieve his mother's hemiplegic migraines when he came across the word "vegan." One thing led to another, and he stumbled upon one of PETA's more graphic videos. He's been a vegan ever since.
At age 8, McQueen turned his interest into a revenue stream. He began peddling homemade dips to his siblings at precisely £2.44 apiece. ("I just thought of £2.44, because when I'd go to the shop, I'd see so many things priced at £2-something," he explains of his pricing strategy.) Before long, with Jermaine's help, he'd worked up official packaging, labels, and leaflets so he could participate in a children's business fair in London, then the Catford Vegan Festival a couple of years later.
"I said to my mum, 'I don't just want this to be my hobby — I want it to be my business as well,'" he tells me. During quarantine, his dip business has been booming, and his fan base continues to grow. A few days before our call, he was deep in a session of Fortnite when the Dipalicious order phone rang and interrupted his game. A 9-year-old superfan was on the other end of the line.
"Her homework was to write about an influential Black person in London," Leah says. "I was so proud of him." McQueen shifts his weight and looks down at the counter modestly. "This little 9-year-old had phoned to find out more about Omari. I was like, 'Would you like to speak to Omari?' and she completely freaked out!"
For our call, McQueen has agreed to cook his signature callaloo mix-up. It's a favorite dish — he eats it weekly — and a recipe he's finalized for Omari's Best Bites. He adds olive oil, plus a few cups of diced onion and bell peppers. Meanwhile, he explains how he salt-washes his greens for about five minutes before draining, for extra flavor.
Once the onions have softened, McQueen tips in his prepped greens with the easy finesse of someone on a televised cooking show, and moves the bowl offscreen — one of his biggest pet peeves when his family members cook, he says, is that they don't keep things neat. McQueen spices the greens and cooks them down for a few minutes as they release water, stirring constantly with a little wooden spoon.
We talk about his favorite vegetables (sweet potato sliced into wedges and baked) and next steps. Once his cookbook project has wrapped, McQueen's major goal is to open a permanent restaurant called Prince of the Kitchen, by the time he's 16. And in the meantime, he has his sights set on another dream: meeting his culinary hero, Gordon Ramsay. I asked McQueen what he'd cook for Ramsay if he had just one chance to turn him vegan. His answer: curried jackfruit, and rum-raisin ice cream for dessert, "if he drinks."
Satisfied with the texture of the greens, McQueen adds chopped tomatoes in their juices and some water, and covers the skillet to let the callaloo simmer. He's going to serve it over rice for dinner. McQueen makes many of the family's meals, Leah says, though McQueen cops to loving his dad's yam balls.
Currently, McQueen is also locked in an ongoing lasagna battle with his grandmother, trying to prove that a vegan version of the famously cheese-heavy pasta casserole can be better. (Recently, after tasting his latest attempt, McQueen's grandma acquiesced that it was "delicious," and took some home for leftovers.)
McQueen lifts the lid from his callaloo and gives it one final stir. "That's looking so good," I say, lamenting that it is being cooked roughly 5,500 miles away. "How does it smell over there?"
"It smells nice," the chef confirms, as I make eye contact with a days-old croissant half on my counter, threatening to crumble into a pile of dust. McQueen transfers the warm callaloo over to a serving plate, as it throws off cheerful steam. Leah nicks an approving bite.
And then it's time to go: It's a school night, after all, and he has a math exam the next morning at 10 a.m. He's hoping to squeeze in a little more studying, and a little more Fortnite before it's time to go to bed.