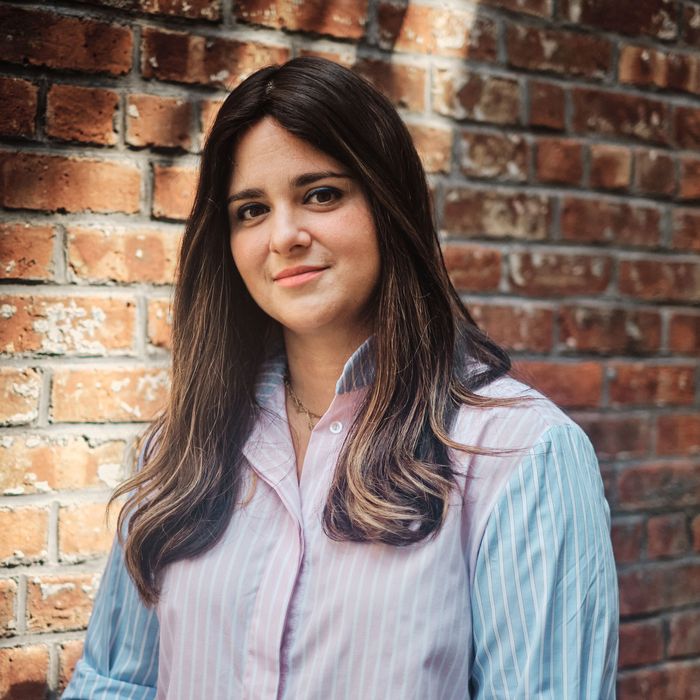 Chanie Apfelbaum, in Crown Heights.
Photo: Christian Rodriguez
On Fridays, you'll find Chanie Apfelbaum, a 39-year-old mother of five, in her Brooklyn kitchen working on her Shabbos prep. She has to prepare at least half a dozen courses to be consumed over the next two days. "I think it's funny when people make such a big deal about holidays like Thanksgiving," Apfelbaum says. "We basically have Thanksgiving every Shabbat."
The Friday rush, she notes, is because you can't use fire on the Jewish day of rest, from sundown Friday to sundown Saturday. To many, this would seem like a challenge, but to Apfelbaum, whose kids are all under the age of 15, it's a typical weekend in Crown Heights,  around the corner from the home where she grew up and first learned this weekly cooking tradition.
Although she began with traditional Jewish home cooking — potato kugel, matzo ball soup, brisket, latkes, stuffed cabbage — she found herself wanting a bit more variation. "There weren't a lot of herbs in the cooking and things were a bit on the sweeter side," Apfelbaum says. "I'm not really a dessert person."
At the time, she was a big fan of Smitten Kitchen, a popular NYC home cooking blog. In 2011, she started her own blog, Busy in Brooklyn ("before there was Instagram," she says), and built a following. A former web designer by trade, she also attended a kosher culinary school to refine her skill in the kitchen.
"That's when I decided I'm going to try everything," she says. "That's how I found my niche. I love to modernize kosher food."
Apfelbaum's first book, Millennial Kosher — in which she swaps margarine with coconut oil and uses natural mushroom powder instead of processed onion soup mix — was published in 2018, and is now in its "fifth or sixth" reprint, she says. "I work to build umami flavor naturally," she explains. She offers kosher ideas for "Meatless Mondays" and provides recipes for tacos and shakshuka — not exactly recipes from Bubby and Zadie.
Now, Apfelbaum is now working on her second book, set to be released in the fall of 2022, this time with the publisher Clarkson Potter. Or at least she was, until she fell ill with COVID-19, spending months battling (and recovering from) the virus. Now, with her health improving, she spoke to Grub Street about her mission, the new book, and what it's like to raise five kids when you're sick with coronavirus.
Jewish food has a reputation for being heavy and relatively unhealthy. It can also be surprisingly sweet. How do you work around those challenging tastes?
In the kitchen, my mom would be like, "Let's add more sugar!" And I'm like, "sugar is not a seasoning, it's a sweetener!" The more I learned about food, the more I learned that food is meant to be savory, and dessert is meant to be sweet. But in my circles, people lean towards sweet food. I used to see salad dressing recipes with half a cup of sugar in them!
Have you noticed a healthier change throughout the community?
Absolutely. I think people in the Orthodox community are really starting to embrace a healthier lifestyle, and make more health-conscious food choices.
Tell me about your upcoming book. You're working with a new publisher.
Yes! My first publisher was a Jewish publisher, so this is my first with a mainstream market publisher. It will be one of Clarkson Potter's first fully kosher books! They work with the biggest names in food. They publish Ina Garten! I'm so excited.
What can we expect from the new book?
So many kosher or Jewish cookbooks are just updated versions of the traditional foods we eat. But as someone who is Orthodox and cooking Shabbat dinner every week, cooking became a chore. I wanted to bring passion back into the kitchen. When I look at food as a creative outlet as opposed to a chore, it becomes enjoyable, and that's how I found my love in the kitchen. I love making fun kosher recipes that no one expects.
I also saw on Instagram that you spent some time in the hospital with COVID-19.
Yeah, after getting really sick, I went to the hospital for a chest X-ray to see if I had pneumonia. I called the hatzalah, the local Jewish ambulatory service. They were working around the clock. They were driving around giving people IV drips all day. They said my oxygen levels were too low. I didn't want to go to the hospital, but I'm so glad I went. I was throwing up and so nauseous. I spent six days in the hospital and was on oxygen through the nose, but I was not a ventilator. I was prescribed a hydroxychloroquine and Z-pack combo but it didn't help me. It made me more nauseous. I felt so sick, I tried everything I could: energy healers, vitamins, manuka honey, a cut onion next to my bed.
I just Googled "cut onion next to the bed" and never knew about this cold "remedy."
I seriously tried everything.
When did you get sick and how bad was it?
I was diagnosed in March. It hit my neighborhood really hard. We had a holiday gathering for Purim, it's like the Jewish Halloween. A lot of people were there. I'm not sure exactly when I contracted it, but it could have been then. I got really, really sick, and I have no underlying health conditions at all. When I started to get sick, there was not a lot of information out there yet. I had high fevers for two straight weeks and really bad body aches. The pain was inside my muscles. It was so bad, I couldn't sleep. Then I developed a bad cough. It lasted for weeks. I would get winded easily one day but then feel fine the next. Then the next day I couldn't get out of bed.
How did it affect your work?
The worst part for me was that I lost my sense of taste and smell for almost eight weeks! I couldn't taste anything! So I couldn't develop recipes, obviously. It was awful. I've joked that I should have insured my taste buds.
How did you manage with five kids at home?
My family and friends were sending dinner over every night. My kids were bringing me tea. They were in Zoom school at the time and my 12-year-old, who's not even my oldest, was running everything and staying so organized and keeping everyone on schedule.