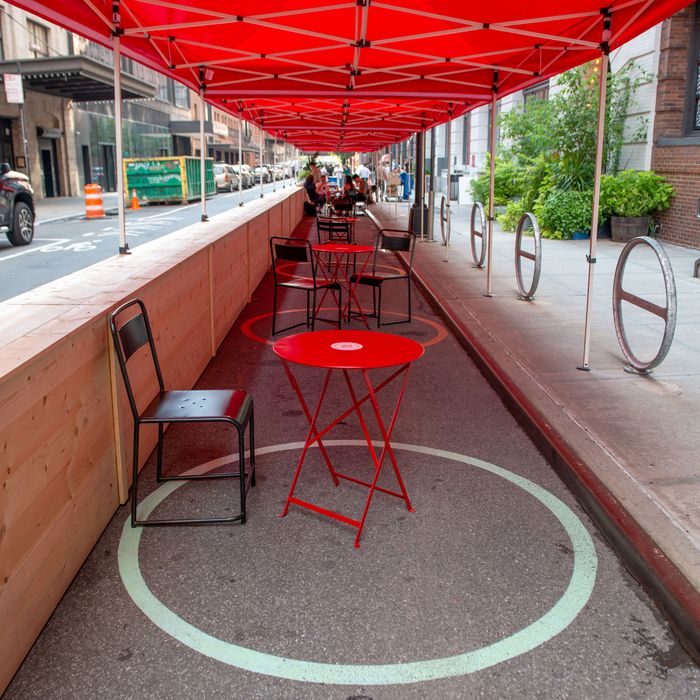 Restaurateurs have expressed concerns about the vulnerability of outdoor dining.
Photo: Alexi Rosenfeld/Getty Images
A car crashed into an outdoor dining area at an Upper East Side restaurant last night, leaving three people with "minor injuries." At around 9:30 p.m., a Cadillac Escalade SUV and an Audi sedan collided just outside Delizia 92, an Italian restaurant at the corner of 92nd Street and Second Avenue, according to reports.
The impact, Channel 7 Eyewitness News says, sent one of the cars "plowing into the wooden outdoor dining setup, decimating the wooden barrier."  By the New York Post's account, "several canopy tents were mangled and at least one wood-based barrier dividing the dining area from street traffic was overturned." The driver of the Audi was taken to the hospital for treatment. The two other people injured in the incident — there are conflicting reports as to whether or not they were diners — were treated at the scene.
It's not the first time cars have threatened outdoor diners. There have been at least four previous instances of cars careening into street-side dining setups, although so far — somewhat miraculously — nobody has been seriously injured. Since June, the Post reports, a pickup truck smashed into the outdoor dining area at Sunset Park cocktail bar L'Wren, an SUV "backed straight through the street dining area" of the Jackson Heights Ecuadorian spot 12 Corazones Restaurant and Bar, a van "slammed into" the seating area for an UES food truck on First Ave and 74th Street, and a driver went all the way through the seating area and into the storefront of Havana Café in the Bronx.
It is yet another pitfall of outdoor dining, which has proved a boon — but not a salve — for struggling restaurants. Of the nearly 10,000 restaurants now open across the five boroughs, 6,000 of them are operating in a roadway, according to the mayor's office — 90 percent in compliance with safety regulations.
It's a relief, certainly, that no one yet has been seriously hurt dining street side, but restaurant owners are acutely aware that the possibility of being crashed into is not tempting to customers. "We were worried patrons would be too scared to sit in the roadway again," one of the L'Wren owners told the Post. "A couple people there were [regulars] and I haven't seen them since."