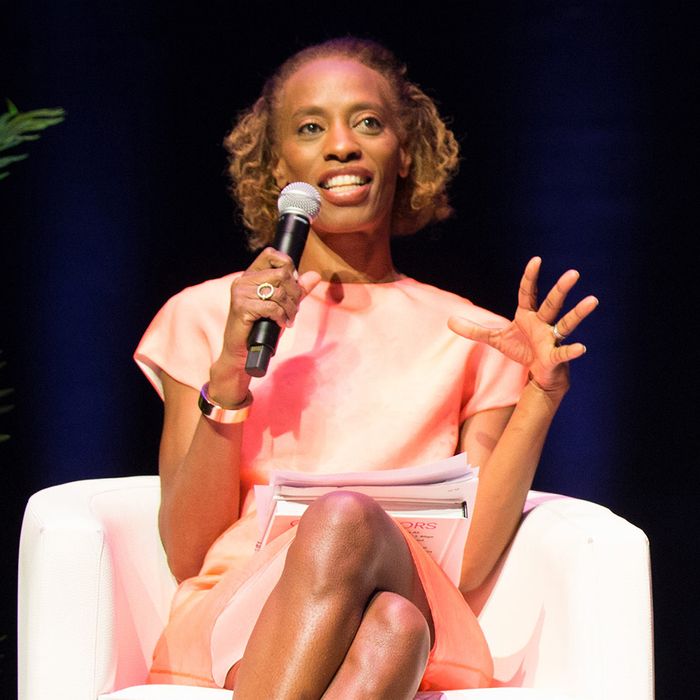 Dawn Davis.
Photo: Brian Stukes/Getty Images
Bon Appétit has a new editor-in-chief. Condé Nast announced that it's hired Dawn Davis, who comes to the magazine from Simon & Schuster, where she was vice-president and publisher of the imprint 37 Ink. Davis launched that imprint in 2013 and published a slew of award-winning and notable books during her career in publishing, and also wrote If You Can Stand the Heat, a book about chefs including Edna Lewis and Anthony Bourdain. Her tenure at the magazine starts on November 2. Speaking with CNN Business, Davis says, "I want the most talented people to work at Bon Appétit" and that "I want them to feel that if they have a contribution to make and they see the culture as being different then I want them to have a dialogue with us."
When she starts, Davis will be the third Black person currently leading one of Condé Nast's U.S. publications, along with Lindsay Peoples Wagner of Teen Vogue and Whembley Sewell of Them. A number of prominent names from within food media were being considered by Condé; Davis comes from outside these circles. In its press release, Condé calls her a "visionary publisher," and she spoke with NBC News last year about bringing marginalized voices into publishing. She's the biggest hire, joining the publication's new executive editor Sonia Chopra. The chef Marcus Samuelsson has also been brought on as an adviser and guest editor. Responding to the news, a colleague at Simon & Schuster describes Davis as someone with "a great eye and definitely a strong moral compass, which they clearly need."
The media giant had been searching for a new editor-in-chief since the June resignation of Adam Rapoport, whose exit came after wine professional and writer Tammie Teclemariam shared a photo of him in brownface. Staffers revolted, saying that the photo was the last straw in a series of offenses and their reaction was rooted in the magazine's toxic culture and failures to address issues of discrimination and diversity. Two days after Rapoport's resignation, Condé Nast Entertainment's Matt Duckor — one of the leaders behind the magazine's enormously popular videos — also resigned. The brand has been in a tumultuous state ever since. Earlier this month, Priya Krishna, Sohla El-Waylly, and Rick Martinez announced they had quit the Test Kitchen videos, and were soon followed by other editors and contributors. The publication's two Black employees, Ryan Walker-Hartshorn and Jesse Sparks, also announced they had left their jobs at Bon Appétit.