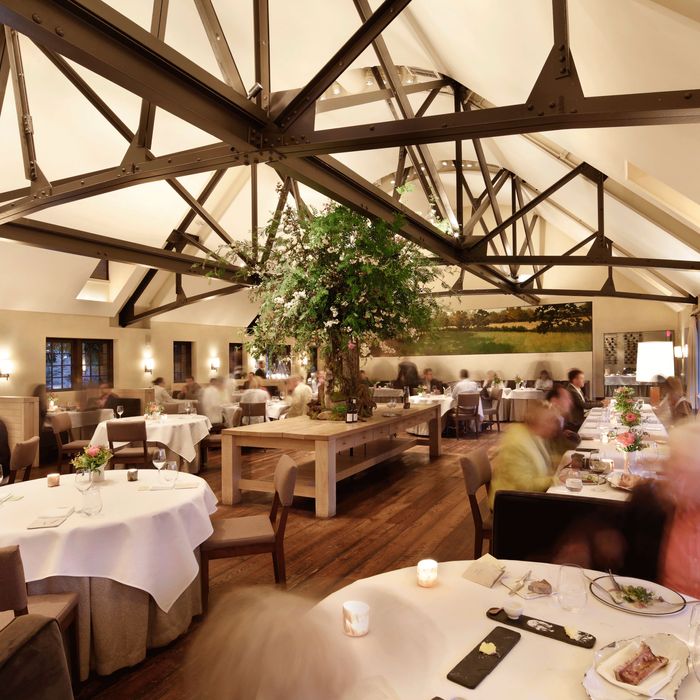 A rotating group of chefs will cook at Stone Barns in 2021.
Photo: Melissa Hom
Blue Hill at Stone Barns has, since it opened in 2004, been widely considered among the best, most influential restaurants in America. The chef Dan Barber is practically the face of the farm-to-table movement, and seats at his luxury-barnyard dining room used to book out months in advance.
Now, though, the chef tells the Times that when the restaurant reopens in 2021, it will not be as Blue Hill, nor will Barber be in the kitchen. Instead, he plans to transition to a chef-in-residence format with a new chef taking over each season. (Attention, potential resident chefs: A "strong interest in agriculture" is a must.) In a note to his staff, Barber wrote that the program will "support a rotating, diverse set of chefs' voices that interpret the farm and the region through their own cuisines and experiences."
As for Barber's Manhattan restaurant, which opened in 2000, the Times reports that it will "eventually help support the Stone Barns endeavor" — which will simply be named for the chef-in-residence. Barber says he will step away from kitchen duties for the foreseeable future, and in his note to staff, writes that he will join "Stone Barns in supporting and learning from these chefs. The kitchen and the cuisine will be theirs."
So, is this the end of "Blue Hill" as we know it? The name will still be used for events and catering, but the final answer to that question won't really be known until at least the end of 2021, when the chef-in-residence program could end, or — one imagines — continue on successfully.