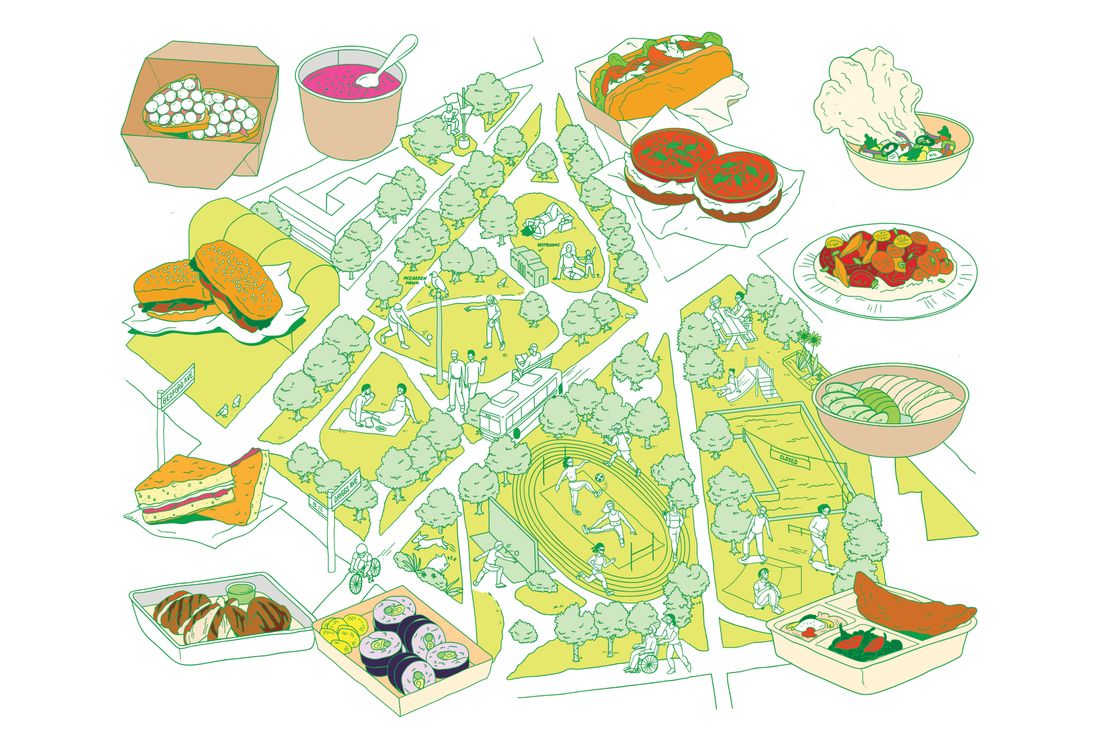 North Brooklyn may be (relatively) blessed with waterside parks, from Schaefer Landing up to Newtown Barge, but none compares to landlocked McCarren Park for square footage, a necessity in this socially distanced age. McCarren, which straddles the borders of the culinarily diverse neighborhoods of Williamsburg and Greenpoint, also has the advantage of centrality and access to restaurants offering a vast array of picnic-friendly fare to go, including everything from Norwegian sweet buns to Polish gazpacho.
1. Bakeri
150 Wythe Ave., nr. N. 8th St.; 718-388-8037
There is no prettier picnic sandwich in the vicinity than Bakeri's smørrebrød-inspired smoked salmon with preserved-lemon labne, radish, and fennel on house-baked sourdough rye. For dessert, get the skolebrød — sweet Norwegian custard buns sprinkled with powdered sugar and shredded coconut and said to resemble the sun shining on a snowy day.
2. Krolewskie Jadlo
694 Manhattan Ave., nr. Norman Ave.; 718-383-8993
When in Polish Greenpoint, do as the Polish Greenpointers do and bring cold borscht (a.k.a. chlodnik a.k.a. Polish gazpacho) to the picnic. A dose of buttermilk gives the soup its tangy oomph and chopped dill gives it some righteous herbaceousness. Pair it with grilled kielbasa on a brioche bun and shove the accompanying fries into the sandwich.
3. Five Leaves
18 Bedford Ave., at Lorimer St.; 718-383-5345
Charred shishitos, watermelon gazpacho, cheese boards, corn dogs, and lobster rolls. The super-summery menu combined with a just-across-the-street proximity to the park practically defies you not to unfurl a blanket and have a picnic.
4. Frankel's Delicatessen & Appetizing
631 Manhattan Ave., at Bedford Ave.
New pandemic rules: Order online, pickup Friday through Sunday from 10 a.m. to 1:30 p.m. So plan accordingly, be prompt, and find four to six like-minded fressers with whom to share the $75 Classic Brunch Kit's half-dozen assorted bagels and accoutrements (cream cheese, whitefish salad, Nova salmon, etc.). Solo brunchers should go for the open-faced heirloom-tomato bagel with scallion cream cheese, herbs, and a heretical drizzle of olive oil.
5. Baoburg
614 Manhattan Ave., nr. Nassau Ave.; 718-349-0011
Citrus-sour and chile-spiked, ceviche holds a special place in the pantheon of hot-weather foods that simultaneously cool you down and light you on fire. Thai-fusion spot Baoburg's picnic-ready rendition comes loaded with firm but tender shrimp and octopus. Scoop it up with a crispy rice cracker the size of an elephant's ear.
6. Tørst
615 Manhattan Ave., nr. Nassau Ave; 718-389-6034
The menu changes with the micro-seasons, and so do the toppings and trimmings on the burger and the fried-chicken sandwich. But you can always count on beautiful, bountiful salads like a recent heirloom-tomato knockout with peaches and pickled cherries that came dressed in carrot-top pesto and spooned over a creamy swath of ricotta.
7. Coast and Valley
587 Manhattan Ave., nr. Nassau Ave.; 917-838-7559
California bottles (and, picnickers take note, cans) are the thing at this regionally specific wine bar, which, to its credit, goes beyond meat-and-cheese plates to dishes like the house special: artfully fanned slices of avocado, cucumber, and poached chicken (or tofu) in a cooling ginger-buttermilk dressing.
8. Reunion
544 Union Ave., at Withers St.; 718-599-3670
The summertime motto of every Middle Eastern restaurant should be "Have Meze, Will Picnic." That goes for Reunion, too, which packs up its spreads and salads plus bread and baklava in a handy tote. But don't overlook the Israeli bento box with its choice of proteins (schnitzel or shawarma, say), sides (salad or potatoes), meze, and sauce (from harissa aïoli to feta ranch).
9. Okonomi
150 Ainslie St., nr. Lorimer St.; 929-295-0480
Speaking of bento boxes, Okonomi has taken to selling them on its new Togokonomi takeout menu. The fish-and-rice-centric Japanese breakfast can now be had all day, along with new options like the oko kimbap bento, starring nori-wrapped, thin-sliced rice rolls stuffed with marinated yuba and pickles.
10. Llama Inn
50 Withers St., at Lorimer St.; 718-387-3434
Chef Erik Ramirez offers his Peruvian-inspired pollo a la brasa by the half or whole bird marinated in black-bean sauce and accompanied by creamy aji verde for dipping. And if you always thought the problem with quinoa was that it lacked something, the house version's bananas, cashews, avocado, and bacon might change your mind.
11. Caffè Lilia
567 Union Ave., at N. 10th St.; 718-576-3095
In the minds of most New York restaurant-goers, Missy Robbins equals pasta, but her sandwiches and pastry are made to travel. Stock up on both at this daytime annex to Lilia, where house-baked focaccia encases fillings like prosciutto cotto and spreadable squaquerello cheese or spicy soppressata with honey and pecorino. For dessert, the fruit crostatas change but the chocolate-chip cookies are eternal.
12. Fedoroff's Roast Pork
178 N. 10th St., nr. Driggs Ave.; 347-384-2222
This Philly-style joint's roast pork with provolone and broccoli rabe is at once a thing of beauty and a horrible mess. If you plan to eat without a hazmat suit, consider instead Frank's chicken-cutlet hero, dressed with the same soft greens and extra-sharp cheese but marginally neater. (You can't go wrong with the classic Italian hoagie, either.)