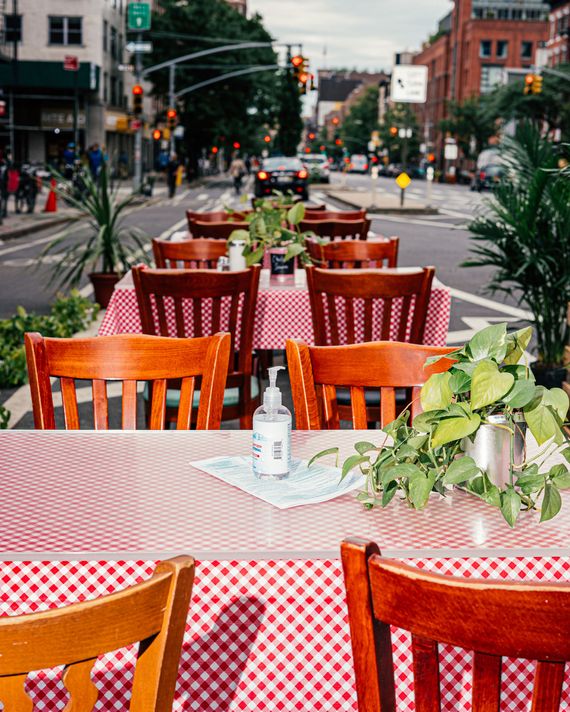 Photo: Poupay Jutharat Pinyodoonyachet
This spring, while I was furloughed from my formerly glamorous job as a professional eater and critic in what was once upon a time the greatest dining city in the world, I tried to create a variety of routines, the way all of us have, to keep myself sane. I drank two cups of coffee each morning starting at precisely 8:30 a.m. I embarked on a reading program (since abandoned) and a diet program (semi-abandoned), and every few days, around lunchtime, I'd make the rounds of the boarded-up, dispirited, mostly empty blocks near our apartment to check up on the old restaurants I'd known and loved, just like a retired ward boss might do in a neighborhood that has fallen on hard times.
On one of these rambles, I ran into James Truman, the co-owner of the vegetarian destination Nix, standing in front of his recently shuttered restaurant. Truman is a symbol, in many ways, of the glamour and promise of the pre-COVID dining boom in New York — a professional aesthete and editor who made his reputation as a tastemaker in the now-crumbling Condé Nast kingdom, a veteran of André Balazs's theatrical hotel and restaurant empire, and, for the past four years, the proprietor of his own stylish niche establishment in the Village, where he peddled lemongrass-scented mocktails and cauliflower steamed buns to the growing number of vegetarian sophisticates around town.
But in the space of a few calamitous weeks, times had changed. His landlord wanted money. Most of his clientele bugged out to the Hamptons or neatly refurbished barns deep in the Connecticut woods, and a carryout business featuring pricey faux meat seemed like a pipe dream. "It's been a great adventure," Truman said with a weary smile, "but I'm handing in the keys."
He's not alone, of course. The great adventure is ending for restaurateurs all over town these days, and also for chefs and line cooks and servers and possibly for the dwindling number of big-city critics, too. Survival is the issue now, not the quality of the service or your overcooked fillet. Websites that once upon a time advertised breathless news of openings in newly colonized dining neighborhoods are now filled with a steady stream of gloomy, nostalgic death notices for places like Thomas Keller's star-crossed TAK Room, which, it now turns out, opened in exactly the wrong place at exactly the wrong time.
"People who have the cash and can hang on through January are going to make it," one restaurant impresario I know said, with only a slight tremor of doubt in his voice, when I called to check on how he was doing. The winter will be brutal, no doubt, and whole swaths of the city's dining culture (midtown, Wall Street) will be dark for a while. Even in the best of times — as Gabrielle Hamilton wrote in her New York Times ode to her great labor of love, Prune — life is lived on a knife-edge in the restaurant world, and in the short term, all sorts of familiar destinations, large and small, are at risk.
There are the mom-and-pop restaurants that have had long, successful runs but whose owners have decided to throw in the towel. There are the overextended empires, like David Chang's or Keller's. Or even like that of Ann Redding and Matt Danzer, who recently closed their neighborhood flagship, Uncle Boons, after expanding rapidly during the boom years; they're now cutting back and trimming costs in an attempt to survive what another local empire builder, Gabriel Stulman, described in the Times as the "apocalyptic" prospect of a long, bleak COVID winter. Then there are the venerable ocean-liner destinations, which have had long, prosperous runs but need an infusion of tourist and Wall Street dollars to thrive and whose owners may decide the time has come to close up shop and move on.
Until this great calamity passes, however, all restaurants in the city will likely be operating the way neighborhood restaurants do — with carryout and small-scale sidewalk dining and the repeated patronage of regulars — and in our little corner of town, the old ward boss is happy to report that there are welcome signs of life. At the lively Mexican joint Tortaría on University Place, rows of tables and brightly colored parasols have sprung up in the exact spot where, not so long ago, I filmed a police van in flames and posted it on Instagram.
If you stroll down 12th Street toward the East Village, you can get a first-rate Neapolitan–style margherita pizza at Ribalta, although the last time I dropped in, the energetic crowds of revelers on the sidewalk made me a little nervous. I haven't dined under the brick archway next to the omakase restaurant Shuko across the street, but you can get a whole fried chicken to go and a reliably extravagant cut of New York strip with all the trimmings at Strip House, where I like to peek through the windows and examine the photos of old opera singers plastered to the walls. Excellent fish tacos are available at the Platts' favorite local taco joint, Dorado, and if you're in the mood for a proper sit-down alfresco meal, I recommend you walk several blocks west to Angie Mar's unsinkable Beatrice Inn. Ask for a table directly by the stop sign and call for a helping of the chef's famous milk-simmered pork shoulder, which is served in a pool of polenta with a dressing of wild mushrooms.
And what about the old Nix space? It has a new vegan tenant, Blossom, which specializes in the same esoteric green cuisine that Truman did. The dining room is closed for now, of course, but when it finally opens, I'll be standing in line, dressed in my sauce-stained coat, to dine on one of the house pizzas topped with crispy seitan, perhaps, or to spend a leisurely hour or two nursing a kombucha cocktail at the bar. Until then, I'll be ordering my dinner to go, and I'll take it home to the apartment, the way I've been doing all throughout this long, strange summer in the city, and I'll eat it happily over the sink.
*This article appears in the August 31, 2020, issue of New York Magazine. Subscribe Now!