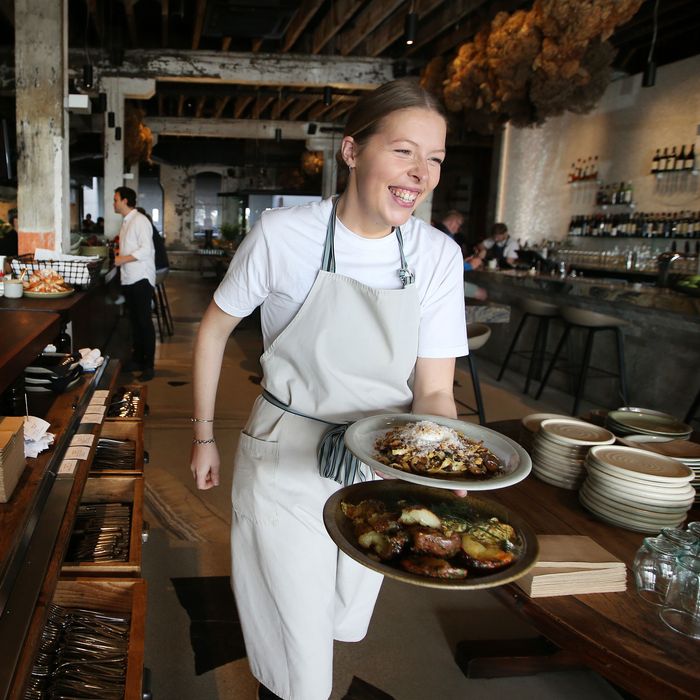 A server at Amano restaurant in Auckland, New Zealand, which reopened in May.
Photo: Fiona Goodall/Getty Images
Every day brings fresh reminders that the coronavirus pandemic in the United States is only getting worse. This morning, it's the ghastly news that at least 1,100 people died in this country yesterday because of the virus. Also the revelation that more than 1.4 million workers filed new claims for state unemployment benefits last week. And a demoralizing story from Michigan, where the virus is responsible for killing 13 nuns from the same convent.
It's all made worse by the fact that this stream of tragedy is now a daily occurrence with no end in sight. Yet lately, my social-media timelines are filled with the same incongruous mix of information that yours might be: Horror here in America, while in some other parts of the world, people are getting on with their lives and managing to find some sense of comfort. Since I follow an inordinate number of chefs and food writers, that means being regularly confronted with images of nice meals at reopened restaurants.
With the possible exceptions of New Zealand and Iceland, no one country can claim to have beaten the coronavirus, but as more countries ease restrictions and reopen, shots of nice meals eaten in public are nevertheless starting to pop up with more frequency. Here is the author Fuchsia Dunlop enjoying a lovely-looking meal at the London wine bar Noble Rot. Here is the British journalist Marina O'Loughlin with a truly imposing plate of French pork and potatoes. Here is the Danish chef Bo Bech and a course of many different mushrooms at Noma. I don't particularly care about Noma, but I would still like to be able to sit and relax while eating a too-twee plate of fancy little fungi.
Any time spent on the internet inevitably involves a certain degree of the feeling we briefly referred to as FOMO. And here — in New York and in America more generally — it is still possible to go to restaurants and post pictures of nice food, of course. From a regulatory standpoint, depending on where you live, it's not even all that different here than it is in a city like, say, Paris, where outdoor dining and reduced-capacity indoor dining are the norm. But this feeling isn't about missing actual restaurants: I don't miss obnoxious customers at the next table, I'm fine with not spending $200 to eat dinner in Manhattan, and I don't even miss the cheffed-up food very much.
Instead, I look at these photos and I think about the charts, the downward-sloping lines indicating that places like Italy and France are managing new infections while our government actively seeks to diminish the pandemic's impact, even as record numbers of Americans die and our own new-case charts spike ever upward.
Is this a situation in which the grass simply seems greener on the side of the proverbial fence where a rapidly spreading virus isn't infecting and killing tens of thousands of citizens every day? Yes. And I harbor no illusions about the catastrophic disruption that new waves of infection are still causing all around the world. No place is 100 percent safe, no matter how nice its mushrooms may look. But there is still an unshakable feeling — possibly imagined, admittedly — that the residents of Denmark, say, understand they need to work together to keep the virus at bay. The fantasy scenario to which I aspire is not specifically about Michelin-starred cuisine; it's about living among people who all grasp the severity of the situation, and are willing to take the truly basic steps that can prevent more death.
Seeing images of people in other countries simply go out is a reminder that, here in the U.S., we still cannot be out, not really. In this country, restaurants have had to close and then reopen and then close again because Americans can't be trusted to keep one another safe, and the people in charge refuse to offer meaningful financial assistance to workers. Every image is a tiny reminder that other countries don't have giant segments of the population who think that wearing masks — so easy, so effective — somehow infringes upon basic freedoms (it doesn't). Every new photo is, in its own way, a reminder that other countries don't have to endure a leader who openly brags about being forced to take rudimentary dementia tests and who has no plan or apparent desire to stop this disease.
We are stuck, and other people are not. And it's in the trivial little activities — being carefree enough to post a picture of a nice meal at a luxury restaurant — where that discrepancy becomes so painfully, acutely obvious.