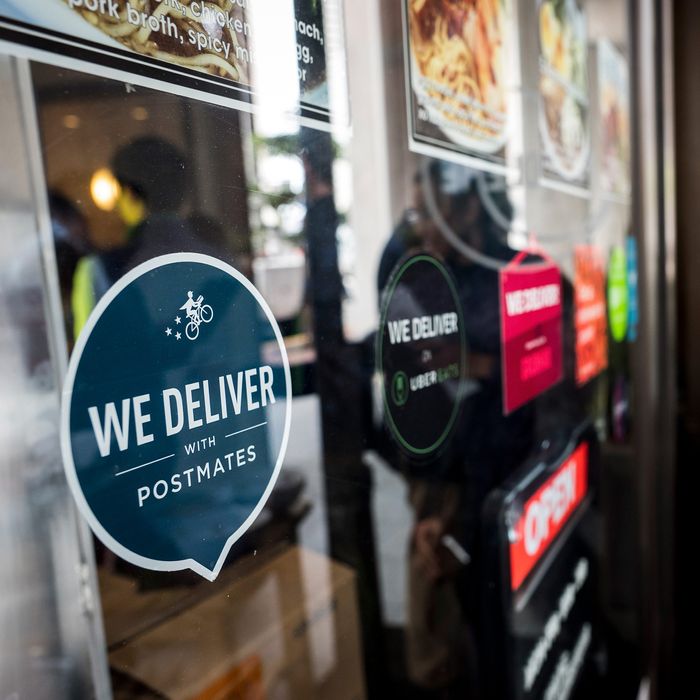 Postmates has been purchased by Uber.
Photo: David Paul Morris/Bloomberg via Getty Images
Uber's been hungry. After trying and failing to eat up Grubhub, Uber has found a more palatable meal in Postmates. The ride-hailing giant, which also operates food delivery service Uber Eats, purchased its competitor in a $2.65 billion all-stock deal, Business Insider reports. Together, the companies will have a 35 percent market share, the publication notes based on estimates from Second Measures. Postmates will continue to operate as its own app. This isn't the only consolidation happening in online delivery: Grubhub was purchased by Just Eat last month.
The purchase comes at a time of crisis for the restaurant industry and its workers. In a press release, CEO Dara Khosrowshahi says that second-quarter "bookings on Uber Eats are up more than 100 percent year on year." In May, Grubhub reported record revenue from January through March, and that sales were up 20 percent in April. Khosrowshahi had called Uber Eats "a silver living" to the coronavirus. Restaurant owners, consumers, and workers have been critical of how delivery apps have responded to the industry's crisis, including the high fees that cut into restaurant profits. On May 26, New York City imposed a cap on delivery fees of 15 percent per order for delivery and 5 percent per order for any other charge.