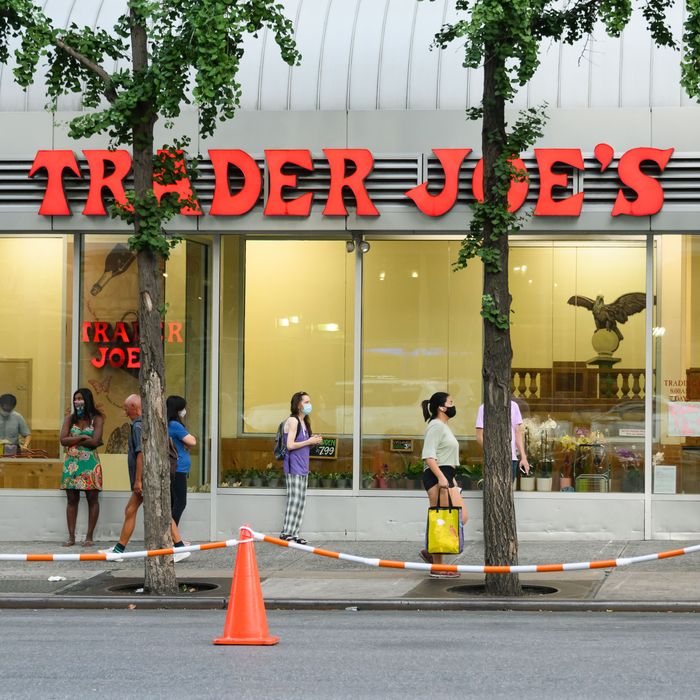 The incident occurred at the Murray Hill location.
Photo: Noam Galai/Getty Images
Two customers assaulted employees of the Trader Joe's in Murray Hill on July 14, after entering the store without masks and refusing orders to wear them, according to store employees and the New York City Police Department who confirmed the incident with Vice and the Washington Post. While wearing masks is an easy, effective way to slow the spread of the coronavirus, they've become a part of the culture war, leading to boneheaded antagonism to the very idea, violent incidents, and backlashes to government orders.
The two men, John Carrero and Alejandro Escobar, reportedly entered the store shortly before it closed. One of them allegedly proceeded to rip the mask off the face of an employee who told them to wear masks, repeatedly hit another employee's head with a wooden paddle, and pulled a third employee's hair. According to a witness, the employee who was attacked with the paddle had to go to the hospital. An NYPD spokesperson tells Vice that one of the customers yelled, "Don't make me get my gun."
After Carrero and Escobar left the store, they were arrested by police minutes later. The two were charged with disorderly conduct, harassment, and criminal trespassing, NBC reports. Carrero was charged with second-degree assault and criminal possession of a weapon, and Escobar with menacing. Seven workers and three managers were attacked, according to NBC News, and Trader Joe's spokesperson Kenya Friend-Daniel says eight employees were injured but have recovered.
Trader Joe's had not responded to requests for comments or acknowledged the incident before Vice published its report. Last week, journalist Kim Kelly shared information from one of the store's employees about the assault, saying that they asked her to share it because "management isn't doing anything to address it and they're scared."
After Vice's story was published, Trader Joe's responded to the publication, disputing that employees were not told about the incident, saying that there have been "a number of huddles/meetings" to inform people and update them on security measures. Employees who spoke with Vice say they believe Trader Joe's hadn't acknowledged the assault because they don't want to scare customers away, and also allege that not all employees were informed. One tells Vice that the company "is doing its very best to sweep it under the rug."