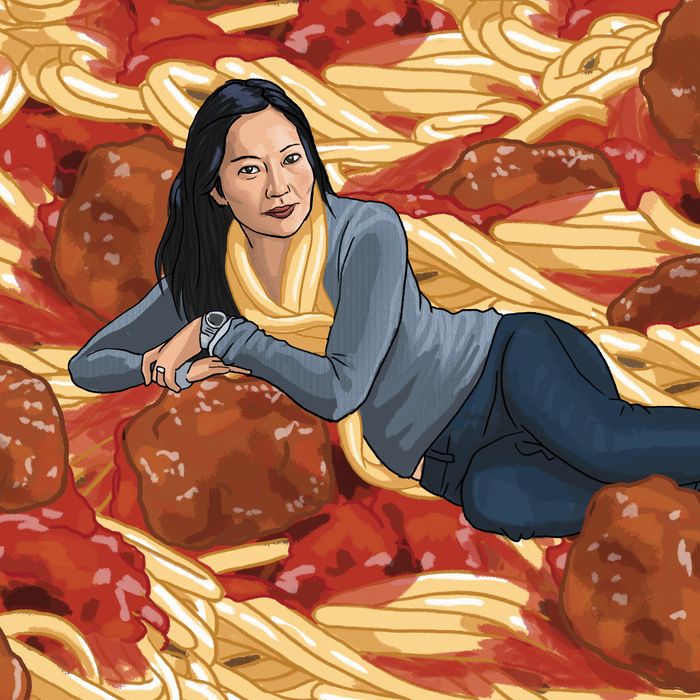 Rosalind Chao in a sea of red sauce.
Illustration: Margalit Cutler
The actress Rosalind Chao has spent her adult life onscreen, in movies like The Joy Luck Club and TV shows including The O.C. But she grew up spending her days at her parents' restaurant in Orange County. "I basically spent every waking moment there," she says. "I didn't have a normal childhood, and what I did during the day was basically talk to customers." Later, when the family opened a second restaurant, Chao bussed tables, hosted, washed dishes, and everything else. Ever since, food has been a big draw for her. "When I'm asked whatever my favorite dish is, I'm like, 'Whatever I'm eating at the time,' usually,'" she says. Next, Chao will appear in Disney's live-action Mulan remake, and will also appear in Hidden Figures director Theodore Melfi's new film, The Starling. For the time being, though, she's spending her time at home, making lots of scones, exploring new vegetables, and having Zoom dinners with friends. 
Friday, June 26
I start every day with my poor man's version of the latte that I used to get at my local Intelligentsia Coffee. I have been using coffee beans ordered from a small business in Bozeman called Treeline Coffee Roasters. My coffee buddy Andy sent me a couple bags when we first went into quarantine. I literally wake up each day so excited for the ritual of grinding the beans and making the lattes.

Started the day with my latte and a matcha cookie with sesame filling made by my daughter the night before. I definitely have a sweet tooth. I wish I didn't. We all do. My husband is intermittent-fasting so, IF I like him that day, I make a green fruit smoothie in the fridge for him as well.
My daughter wanted to make something special for somebody's birthday, and she looked up this recipe, and to be honest we didn't have exactly the right ingredients. It required black sesame; she had to make it with white sesame. She was a little wigged out about it. She's a musician, she plays cello, so she's very precise, and she was nervous it wasn't going to turn out well. So when it turned out amazingly, really the best cookie I've ever had, it was like she won the Olympics or something. We were just oohing and ahhing.
Late lunch because my daughter wasn't free until 2. We had leftover chicken from our special anniversary dinner the night before, made into a bread salad with croutons from stale bread. I made a shallot salad dressing, too.
Dinner was stir-fry veggies and leftovers from dinner Wednesday night. (My hubby got takeout fried rice and noodles.) I was doing the Joy Luck Club Reunion book club over Zoom during my usual food-prep time.
I put veggies from the farm box I get from Little Prince, a local restaurant. We had reservations to go there on the night that everything closed down, so we didn't get to go. I started getting a farm box from someplace else, and it wasn't good. I told somebody that, and she said you've got to try the Little Prince. I always trust her opinions; she used to be a barista at our local coffee shop.
I'm so loyal to this guy now — they put together this beautiful farm box with items from the farmer's market. They are making ends meet this way and helping the farmers at the same time. You don't choose what you get, and it's a delightful grab-box of items. Some I normally might purchase and some that I normally bypass. One time I got celtuce, I found out it's something they use in Chinese stir-frys, and I had never had it before. I cooked with it the first time I got the box, and I thought it was amazing.
I then look up recipes, with my goal being to use up all items for each week … even unfamiliar ones. It's kind of like a game-show challenge to figure out how to use the entire box by the end of the week, and it also helps to exercise my creativity. I need to do that every way possible these days.
I have been cooking almost every day, lunch and dinner. (Babette's Feast is my film inspiration story.) But I try to order out twice a week to small restaurants. My parents were hardworking restaurant owners. I have SOOO much empathy for what small-business owners must be experiencing right now.
They had this teeny, tiny, restaurant in Orange County, and it was a one room when they first started, and my dad worked downtown, so my mom pretty much ran it. She would open the door and there would already be a line throughout the little shopping center to go in. What I did during the day was basically talk to customers. I would sit and watch them eat, and especially if a little old man were eating by themselves, or a little old lady, I would sit down and talk to them while they ate. I was a miniature chaperone or dining companion. Later on, they got another restaurant, and I ended up working there. I did everything: bussing tables, hostess, cashier, washing dishes if someone didn't show up.
Saturday, June 27
Baked cranberry scones in the morning that I made with Geeek yogurt. We had them piping hot from the oven. I've been making these scones and put whatever fruits we have leftover or frozen that week. We've always got a scone happening somewhere on our shelf. We have half a banana bread, brownies, and scones on our counter.
I'm trying to make everything nice. I'm always inspired by this movie Babette's Feast. The whole theory behind it is, food can bring joy to a time or environment that has lost its joy. I just feel like it feeds the spirit, without getting too woo-woo. I've been baking a lot, and my husband is English, and I just spent six months in England, so it kind of brings us back there.
Then I had a tuna-melt sandwich made with radishes with fake cheese (I'm lactose-intolerant) and my hubby's delicious guacamole. He hates fake cheese, so he was on his own with leftover tuna salad. I like this brand called, ironically, Chao. But it's harder to get, so lately I've been getting Daiya's cheddar-style cheese. My favorite one I can't seem to find anymore.
I love a tuna melt. It's my staple. When you're pregnant, you're not supposed to have tuna — they say it lowers your kid's IQ. I didn't know that. But I had it all during my pregnancy with my daughter, and I think she's smart.
I think you can put anything in a tuna melt to make it good. I put radishes in them if I have them, or mix in tomatoes. You can do so much. I also like anchovies on toast. That's my other favorite thing. But we're out of anchovies.
Chinese sesame noodles with cucumber and peanut butter for dinner. Had it with the lettuce from the farm box. Made extra sesame peanut sauce because it's great on everything: fish, chicken, etc. If I have cucumbers, nice cucumbers in the house, I will make this. It's something everybody loves and it keeps well, and you can reconfigure it and serve a stir-fry with it. The bottle of peanut dressing is so useful, so I find myself using it using it constantly once I've made it.
Dessert was nondairy stone fruit ice cream from Sweet Rose Creamery. It's another local business owned by friend of our family Zoe Nathan. Her hubby, Josh Loeb, is extra-meticulous with safety and health during COVID, so I am comfortable buying from their local shop or from any of their restaurants. I just try to minimize the amount of lactose I have so I don't OD on it and then don't feel great. My husband is milk-fed English, he's from an area that has dairy farms. So it's the opposite.
Saturday, June 28
Happy Pride Day! Was planning to make French toast but found Beyond Burgers I had defrosted last week in the back of my fridge (in case my Zooms went into dinnertime). Forgot about them and don't want to waste — pricey! They weren't quite the Apple Pan– or In-N-Out Burger–good, but they were good!
I love those places. As a kid, to be honest, I was raised in a restaurant, so I never really got to go out to places. I feel like my life didn't really begin until, you know, I wasn't in the restaurant all day, every day, anymore. So I love dives, I love mini-mall restaurants, and maybe that's partly because I grew up in one.
It was Taiwanese dumpling dinner (wood-ear mushrooms, noodles) night over Zoom with actress and comedienne Patty Harrison and director Nikole Beckwith. Nicole Beckwith is a director I worked with a few years ago, and she ended up working with Pattie, and we started getting together before COVID.
We were doing thank-God-it's-Friday, quote-on-quote cocktail hours, and Patty has suggested we do a Zoom dinner ordering all the same thing with food from a Taiwanese restaurant we all love called Pine & Crane. (The owner, Vivian Ku, is a friend, and all the veggies are grown by her dad.). We ate so fast, I didn't even see the food; they could've been eating a burger for all I know.
Sunday, June 29
Leftover dumplings, leftover peanut noodles. Glad I made the extra sauce to give it new life!
I had a busy afternoon before picking up a bento box dinner from a small business called Spoon by H. It's a family-run business started by a young woman who was a classical pianist, proving there is a link between art and food! They have kimchi, they have fish, they have a huge bento box. Not a tiny one. Maybe a foot by two feet. Twelve-inches-by-24-inch bento box.
The bento box is a great deal. What isn't in it? I was shocked when I saw it the first time. I think each time, it's different. I've gotten it twice now. It does two meals, easily. I could probably squeeze three meals out of it, if I were to take all the kimchi out, make it with chicken or something. We eat a little bit out of it, and then we save the rest for the next day.
Monday, June 30
Breakfast: Finished off the crumbs of the last scone — can't believe my daughter left a sliver for me.
Made a salad niçoise for the first time. It felt like a meal one would eat on vacation. We are all feeling the ups and downs of this time, and the COVID situation in Los Angeles has gotten so dire. And we have been feeling furious at the non-mask-wearers. The BLM movement's power is the main upside to this time. We have to keep it up!
Felt like I had to cheer us up nevertheless with a feeling of escape. Hence, the pretty salad. Sometimes at night, because the news can be so dire, I skim the NYT Cooking app and see what's out there. This salad Niçoise popped up, and I was like, "That's got everything still left in my vegetable box." It's got the potatoes, the haricot vert, and it's got five stars. It was put together by one of the chefs I like on the app, as well. I couldn't believe how well it turned out.
If you ask me, I don't think I'm opinionated about recipes. But if you ask somebody else, maybe they would say I am. I like Melissa Clark's recipes. Some of the recipes are a little above my pay grade. I'm not one of those cooks who can just throw things together. My son's roommate came over for the holidays, and he just cooked a thank-you dinner for us. He's that kind of chef who just grabs stuff and puts it in a pot and doesn't measure anything, and I'm not that. I wish I was.
Took a call sitting outside while snacking on brownies. I love to hear the little boys who live across the alley playing. My daughter made two batches of brownies late last night: one was for a friend whose cat died while they were having a distance visit the night before. She came home, baked and dropped them off at 11 p.m. that night. Baking is a lovely way to show that you care. All this cooking I'm doing is mainly because I just want to keep our spirits up. Everybody's got their plans cut short. There's been a lot of disappointment in the air.
At night, I put the veggies that didn't have a home in any of my dishes this week into a donabe. The donabe clay pot was my big splurge for myself after we closed a deal for a film that I was supposed to film this month. The film is on hold, but my donabe pot isn't!
I got it at a store called Toiro Kitchen; I go there or I go to Tortoise. I have wanted a donabe pot for ages, ever since I saw one in San Francisco. I think this was my last running-to-the-store COVID purchase. It's great. The whole house smells so good after.
I made dashi stock from dried seaweed and katsuobushi (dried fish). Then threw in veggies. We had that with the leftovers from the bento box the night before. My fridge is quite empty now — I love to have as little waste as possible.
I had a few items left over from last week's farm box, so I didn't successfully complete my game-show challenge. The fennel took me down! I'm a fan of the game show Survivor — if this were a Survivor challenge, I would be at risk of being voted off the island because of that damn fennel! My daughter is giving me side-eye and my opinionated, foodie son is about to return to the island, so my torch could get snuffed this upcoming week.