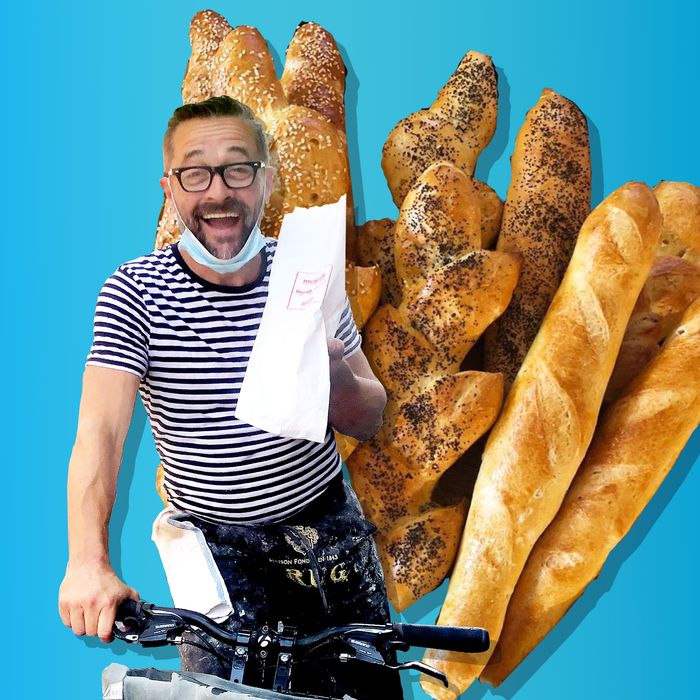 Richaud Valls started baking baguettes in his West Village apartment.
Photo: Richaud Valls. Photo-Illustration: Megan Paetzhold
During the early months of New York's COVID-19 pandemic, there were a few evening rituals that brought at least some comfort to West Village residents: the familiar chimes of the ice cream truck, clapping at 7 p.m. for health heroes, and a Frenchman covered in flour making bike deliveries.
"In the neighborhood, they call me the bread guy," says Richaud Valls, a 48-year-old French actor who's lived in New York City for a decade.
At the beginning of the shutdown, Instagram looked like one big sourdough starter, of course. Valls, like so many others, began baking to pass the time and stay creative. After sharing his creations with friends and posting on Instagram, Valls began to receive inquiries from people asking how they could buy his baguettes. Valls's creations ($5 per baguette with a two-baguette minimum, plus delivery) are smaller than your typical baguette — on purpose. Valls says it's so "you can eat it in one sitting."
Now, what started as a couple of orders a day has turned into ten-hour days ("About six hours baking and then four hours delivering," he says) and, if he doesn't start the dough at night, 4:30 a.m. wake-up calls to give it time to rise. Valls delivers six varieties (plain, poppy, garlic-onion, poppy-pecan, pumpkin, and sesame) fresh every day to most of Manhattan, with a weekly Brooklyn stop.
Curious to learn more, Grub Street talked to Valls about how he turned his quarantine baking habit into a growing, viable business.
When did you start baking?
I've always cooked, but I just started baking about two years ago. I tried to make baguettes, but it didn't work. I tried so many times. I don't know what I was doing wrong, but it was a mess. The consistency was too thick. I redid it over and over and over again. My friends didn't even want to try them anymore. So I stopped. But a few months ago, with the world being what it is right now, I tried again.
Why baguettes?
I wanted to re-create the baguettes I used to eat as a kid in France. In Paris, you smell the boulangerie on your way to school in the morning. The baguettes were crunchy with a lot of air inside. I wanted to re-create that feeling. So I'm in my little kitchen in the West Village, I tried again and it just worked. A batch finally came out so delicious. But I was scared I was going to forget what I did. So I started another one right away and made batch and after batch after batch.
What changed?
I think I worked the dough more. I think it let out some air. I do the dough all by hand. I think it's the movement of the hands that made the dough better. All of a sudden, everybody loved them.
How long do you work the dough?
It changes all the time. Sometimes 15 to 20 minutes, and sometimes I have to work it more until it's really subtle and elastic. I've hand-worked dough for more than 30 minutes before. It's a workout.
You're baking every single baguette by hand yourself?
Yes. I am in front of the oven for every baguette. I have to be really focused. They bake for about 25 minutes in total. I turn them over after about ten minutes. When I was making them in my apartment kitchen, I could only make three at a time.
Where are you making the baguettes now?
Like four or five weeks ago, I was having a drink outside with a friend and we were talking about how I was struggling with my oven. I had too many orders and not enough space. I would take out the bread, turn off the oven, run downstairs, make the delivery on my bike in my apron, and then come back upstairs and turn my oven back on. And this guy was outside and heard us and said he owned the bar Orient Express and said I could use his oven. The next day, I was baking in his space.
That was nice of him. No strings?
I worked out a deal with him, and I give him 20 percent. It's funny, though, because now the neighbors who live upstairs smell the bread and are coming by.
How many are you making a day?
Depends on the orders, really. A slow day, maybe 35 baguettes. Two-hundred on a busy day.
How many can you make in the new space?
About six at a time. It's not a professional oven, and I'm not pretending to be a professional baker, but it's double the output of before, so it is working.
What kind of licenses did you need to do this?
I registered as a home processor with the Division of Food Safety and Inspection at the New York State Department of Agriculture and Markets.
Why do you think your baguettes have been such a hit?
I always use organic flour from King Arthur Flour. It's such a difference. The baguettes are airy. Crunchy. And people like the smaller size. Just an hour ago, I got a call from Benoit, and they will serve my baguettes.
How did that come about?
A person from Alain Ducasse's restaurants contacted me after seeing my Instagram and asked to try my baguettes. I sent four or five samples of each baguette to Benoit, and then the chef there, Laëtitia Rouabah, gave me some notes — work on this and work on that — and then I sent more back!
All from pandemic baking.
Actually, two other restaurants wanted my baguettes, but I had to turn them down. They wanted like 100 baguettes! And for me, something like 25 would be more reasonable. I'd rather make 30 good baguettes than 100 not-good.
It seems personal for you.
The connection is there. I'm not just the delivery guy, I'm the guy who baked it for you. I put handwritten notes on the bag, and I got a cool branded stamp from Casey Rubber Stamps in the East Village.
What's next for the baguette business?
At some point, I'm going to buy a new oven. I have to do that. I need more space. Everyone keeps telling me to rent a commercial kitchen or something bigger with more ovens, but the baguettes won't be as fresh. It's always delivered fresh, like oven-to-door, and I don't want that to change. It's not about the money.