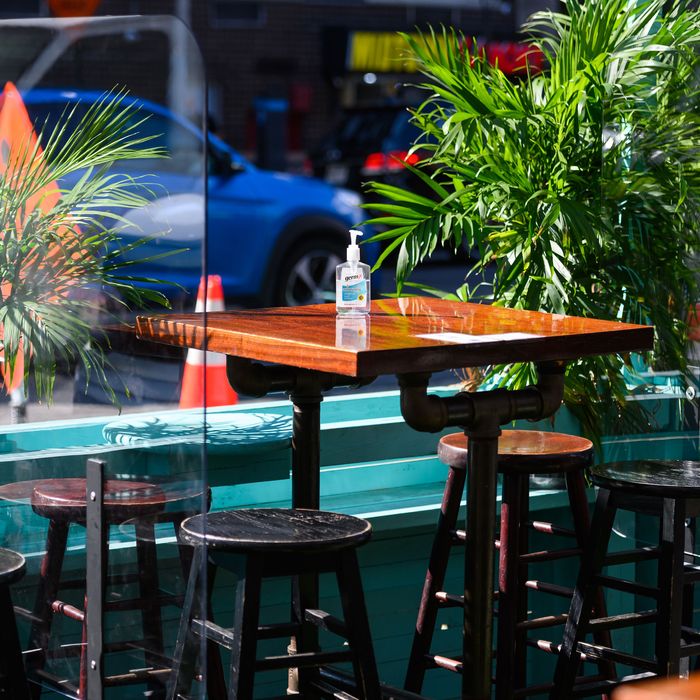 "These seats could be yours for $99.99 per month!"
Photo: Noam Galai/Getty Images
There is very little, now, to which you cannot subscribe. You can subscribe to monthly deliveries of cheesecakes. You can subscribe to tampons. You can subscribe to plants. Traditionally, you cannot subscribe to restaurants, but that, too, is changing. Or at least, Panera thinks so.
This winter, the company launched unlimited coffee subscriptions: For $8.99 a month, you get "free" unlimited coffee — as often as once every two hours, if you really want to make the most of it — with unlimited refills that are, again, "free." The caffeine-subscription model was, according to Business Insider, a "radical new weapon in the fast-food-breakfast wars." Since then, it's doubled down: All summer, the free coffee subscription is free (through Labor Day). If you get five free friends to sign up for free, it's free through Halloween.
Why not? This is how we live now, Panera's chief brand and concept officer Eduardo Luz told Adweek. "You just turn on Netflix and it's there," he said. "And what's our version of that? What kind of services or categories would be of interest? Coffee [is] such a penetrated category with high usage."
Traditionally, coffee shops and casual sandwich joints have gone with loyalty programs, from buy-nine-get-one-free punch cards to extremely elaborate digital rewards programs. But these are casual relationships. Panera wants to be exclusive. You go to Panera because you've already paid for Panera, and while you're there, you might also buy a muffin.
And while Panera may be the first big name to go in on subscriptions, it isn't (totally) alone. To help weather the shutdown, the East Village dog-centric café Boris & Horton recently launched its own "membership" program, also offering unlimited drip coffee — among a host of other benefits — for the significantly higher price of $70/month. The membership-based coffee shop Fair Folks & a Goat — $25/month for unlimited beverages — also had a few good years in Greenwich Village before shutting down. Does it work? It's hard to tell.
But as Adweek points out, if it's going to work at all, now might be the time to try. Many of our old routines are up for grabs now, and at the same time, our worlds have gotten very small. If you're going to restaurants at all, you are likely going to restaurants that are close to your home. Wouldn't it make sense, then, to pay a monthly fee to be able to go as often as you'd like? Why stop at coffee? Anything can be a subscription if you are willing to make it a recurring charge!
This, as it happens, is the thinking at Panera HQ. "Our hypothesis is that recurring revenue based on subscription makes a lot of sense," Luz has said. "I believe part of our future is going to involve recurring revenue or subscription-based revenue, which is new to the restaurant world." So, Panera has plans for "several" subscription types, potentially including some kind of kid-focused lunch subscription, "in light of likely school cancellations in the fall." (Other plans are presumably less grim.)
It's a well-known fact that restaurant operators do whatever they can to cultivate regulars. What's stopping some enterprising owners from formalizing that process a bit more?