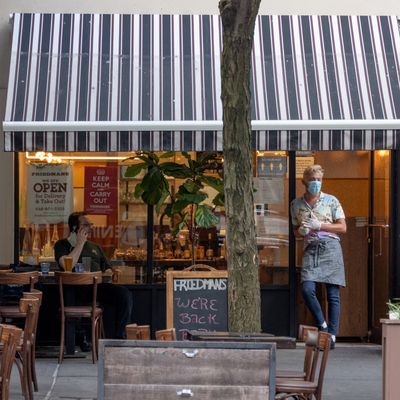 An outdoor dining setup in Manhattan.
Photo: Alexi Rosenfeld/Getty Images
Yesterday, Mayor Bill de Blasio and Governor Andrew Cuomo each announced that New York City will not, in fact, reopen for socially distanced indoor dining, as originally planned. Our government has made a number of questionable decisions in response to the pandemic, but this is not one of them. Indoor dining is now indefinitely postponed and, given what we know about COVID-19, there is really no other choice.
Yesterday, the United States recorded 50,000 new infections, a ghastly record. While there is a lot that remains a mystery about this virus — how to cure it, for example — one thing that has become increasingly clear is that groups of people in enclosed spaces are extremely dangerous. Such groups are also, unfortunately, the definition of a restaurant. Even if the rate of new cases has slowed considerably in New York City, there is no safe way to put dozens of breathing, talking people into a small room.
Over the last three and a half months, restaurants have scrambled to adjust their business models to this new reality, leaning into takeout and delivery, or selling meal kits, or turning into grocery stores. But these are stopgap measures, not long-term solutions. For some restaurants, it's working. For the vast majority, it's not. Many are bringing in 20 or 30 percent of what they're used to. Roughly 80 percent of restaurants were not able to pay their full rent in June. Delivery isn't cutting it. There are only so many artisanal-provision and jam shops that the public can collectively support.
Last week, the city lifted restrictions on outdoor dining, and so far, it is promising: If outside is safer, then, yes, let's figure out how to live as much outside as possible! Still, restaurateurs say outdoor dining, even very expanded outdoor dining, is not enough to save them. "I don't know anybody who would have the capacity outdoors that they have indoors," Melissa Fleischut, the president and chief executive of the New York State Restaurant Association, told the New York Times. "The sales are just not anywhere where they need to be to make restaurants profitable."
In other words, New York's restaurants need indoor dining, but indoor dining is not an option, and it's not clear when that will change. If what we've seen elsewhere is representative, the answer is: not soon. In Los Angeles, for example, businesses were allowed to reopen at partial capacity on May 29; yesterday, California Governor Gavin Newsom ordered them all to close again for at least three weeks.
Restaurant owners are now "stuck between the economic imperative to reopen and the fact that reopening may harm their workers and customers," writes Tejal Rao at the Times. Customers have been told for months that we're supposed to support our local restaurants — you, personally, keep them in business! — but, also, that we're risking their employees' health if we do.
This is a bad choice — either restaurants die or people do — but luckily, it is also false. There is a third option, which is that the government does some version of its job, providing actual guidance and money for struggling businesses.
You might assume restaurants carry insurance for emergencies, and they do. Restaurants already have business-interruption insurance, which is "supposed to protect companies from major financial losses if they are forced to close or suspend their operations," the Washington Post explains. This would seem to qualify, but it doesn't, because insurance industry lobbyists say those policies were "never intended to cover contagions." (After SARS, some providers added clauses excluding interruptions caused by viruses or bacteria.) If insurers were required to pay out, it would, the industry argues, "threaten to create a 'solvency event.'" The pandemic is "fundamentally uninsurable," David A. Sampson, chief executive of the American Property Casualty Insurance Association, told the Post. Several chefs have filed lawsuits. There has been no resolution.
Meanwhile, the federal government has made some tepid gestures at relief. Some restaurants got some help through the Paycheck Protection Program, but the program is designed to keep employees on payroll, not to cover the costs of keeping a half-open restaurant afloat for the next year. Trump has helpfully proposed some tax cuts, which will primarily benefit the biggest, richest companies. It will not save restaurants or the people who work in them.
"The harsh reality is this: Without specific government assistance, most the restaurants you love will close permanently, no matter how much merch you buy, takeout meals you order, and GoFundMe campaigns you donate to," writes Khushbu Shah at Food & Wine. "The government has specifically bailed out other industries — so why not small restaurants?" The government has bailed out airlines, for instance, and their food is terrible.
If all of these choices sound familiar, it's because they're the ideas that have been circulating for months. We're all in the same limbo where we've been stuck since March. The Independent Restaurant Coalition has made some progress on a restaurant-specific relief program, to be presented to Congress this month, but for now, outdoor dining is the big development, and some operators will make it work, while others will throw in the towel. But it's clear that restaurants are also going to need more help. The warm weather won't last forever, and if nothing changes, they all risk being left out in the cold.