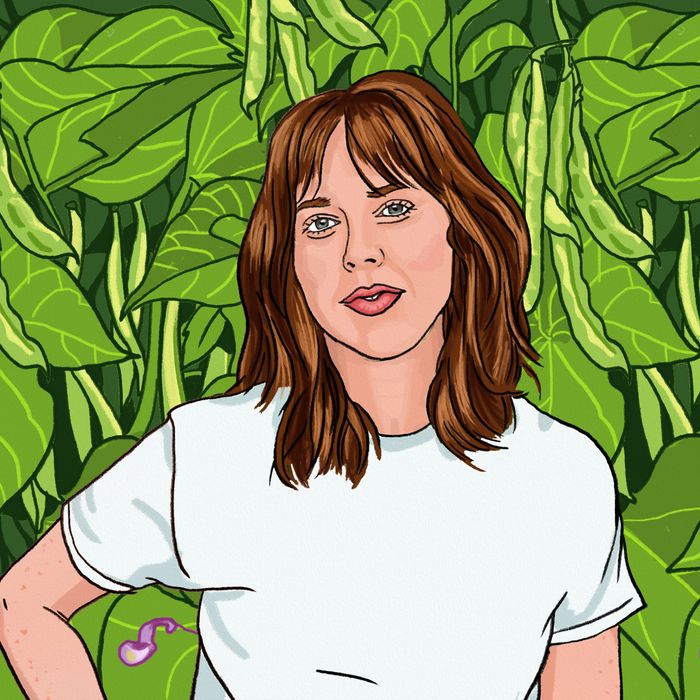 Molly Wizenberg among the greens.
Illustration: Margalit Cutler
"Being willing to talk about these things, and not hide our own confusion or mistakes, is tricky," says the Seattle-based writer and Spilled Milk co-host Molly Wizenberg about co-parenting a young child during the pandemic. On her (now dormant) blog Orangette and in her books, Wizenberg writes nakedly and intimately about her life; her newest, The Fixed Stars (out August 4, with a virtual book tour), is a memoir about her divorce from her former husband, coming out, and finding a new way to live with her family. While food was often her lens into everyday life, Wizenberg admits she hasn't been interested in writing about it lately. But she's still cooking plenty — and enjoying a first-time garden — though she found herself particularly busy last week. "I really love leftovers," she says. "I love having a couple dozen recipes that I can really lean on." 
Monday, July 20
Ate my usual breakfast, the one I have 9 mornings out of 10: homemade granola from a recipe I call Granola No. 5, mixed with Straus plain yogurt. I made a cup of black coffee in the Aeropress. While I ate, I read The New York Times Book Review. Lately we've been getting the Sunday paper from my ex-husband Brandon's house when we drop off our daughter June on Sunday mornings. One of his housemates used to subscribe, and though she moved a few months ago and changed her address and everything, he still gets her paper. So he's been giving it to me, which might be the kindest thing you can do for another person? I'm a digital subscriber, and that's always been enough, but now, getting the Sunday paper-paper allows me to do a very ordinary, very wonderful thing that, until a few weeks ago, I had never done: sit around on a Sunday and read the entire NYT. Dreams do come true.
After breakfast, I did a bunch of email work for an online writing workshop I've been teaching, and then I taught on Zoom from 10 a.m. to 11:30 a.m. This is our third and final week of classes, and today we were exploring the question of whether it is possible to write a "truthful" memoir. I have a brilliant group of students, and they made the discussion a pleasure.
For lunch, I warmed up some leftovers from last night's dinner, which was a double batch of boxed mac and cheese (Annie's shells with white cheddar, made with the optional butter, of course) with homemade pesto from the fridge that my partner Ash stirred in at the end of cooking. I warmed up a bowl of that, and with it I ate a handful of cubed raw kohlrabi. Kohlrabi is weird, like the texture of jicama infused with the flavor and stink — the good stink — of cooked cabbage. Our CSA share has given us lots of kohlrabi lately, and it's growing on me.
After lunch, I went outside and watered the garden. While I watered, I listened to a David Byrne album. There was a single ripe Sungold tomato — the season! — and I ate it right there. My gardening skills are meager and this year is my first time growing edible plants, so it's required watching a lot of YouTube tutorials about things like raised beds, tomato suckers, and how to harvest basil without killing it. My daughter, who is 7, thinks it's hilarious how often I reference Gardener Scott, this gardening guru on YouTube. She has no idea how much more I could talk about Gardener Scott. Actually, the best part is that she can never get his name right. She gives me this mischievous smile and says something like, "Mama, have you learned anything new from Gardener Bob this week?" Or, "How's your friend Gardener Tom?"
Anyway, the thrill of watching vegetables grow in my own yard has turned me into the kind of person who shuffles around the garden, hunched over and squinting, my hands clasped behind my back, appraising everything and grunting. The other night, when I took our dog Alice out before bed, I noticed that our first green bean had appeared, and there I was, squatting down in my bathrobe in the dark, peering between the leaves of the green bean plant, when our neighbor across the street came out with her dog, saw me, and yelled over, "What are you DOING?"
In the afternoon, I had three phone consultations with students. I drank some PG Tips with sugar and milk and ate a nectarine. When I finished, it was almost five, and I felt like my brain was trickling out of my ear. I snacked on an apple and finished off a bag of jalapeño Kettle Chips. While I ate, I read a devastating article about how coronavirus is straining hospitals in Texas's Rio Grande Valley. Every day feels like living in a dystopia; it should be fiction, but it's not.
We didn't start making dinner until 7:30 p.m., and it was hot in the house. I poured a glass of Beaujolais that I had stashed in the fridge last night. It was just me and Ash, and we cooked in T-shirts and underwear. Not much fresh food in the fridge — we're due for our weekly grocery run — so we made fried rice with bacon, kimchi, eggs, scallions, red kale, and frozen peas. I use my friend Jessica Battilana's recipe for hot dog fried rice, from her top-notch cookbook Repertoire, tweaking the ingredients list to use whatever we've got. We played Bananagrams while we ate, and there were Klondike bars for dessert.
Tuesday, July 21
The usual breakfast again. And then I ate the last nectarine. We really needed to get to the grocery store. Had my first student consultation of the day at 10 a.m. and somehow was hungry again by the time it was over, so I went to prowl the fridge. Ash had made Swedish-ish pancakes on Sunday morning, and I'd almost forgotten that there was a plate of four leftover pancakes at the back of the fridge. Jackpot. I warmed up two of them and ate them at my desk with maple syrup. Ash is relatively new to cooking, but this has become one of their signatures. We used to get these thin, plate-size pancakes called 49ers at the Original Pancake House on 15th Avenue NW, and when it closed down — RIP — Ash hunted around online and found this recipe, which tastes similar.
Around 1 p.m., Ash emerged from the basement where they've set up a makeshift office. Before lockdown, they saw clients — Ash is a psychotherapist in private practice — at an office, but now it's telehealth. Their desk is right below the kitchen, so I do a lot of tiptoeing during their work hours. When they're not with clients, they've been building a platform in a tree in our backyard, a playhouse of sorts for June. So they went out back to do that.
I warmed up leftover fried rice for lunch and stirred in some sambal oelek for heat. Perhaps you will notice a pattern here. Without leftovers, I'm pretty lost.
Ash had some hours free in the late afternoon, so they went to the grocery store and did our big shop for the week. Usually the person who goes to the store gets a break from sanitizing, and the person who stayed home does that part. But while I was on calls, Ash sanitized the whole load. My champion.
After lunch I had more calls with students, six in all. Finished at 4:30 p.m., then my mom texted to say she was ordering takeout from Ristorante Picolinos for dinner and wondered if we wanted any. We certainly did. While she was picking up the dinner order, I ran out to mail a few things and buy wine at Delancey. They've converted the dining room into a bottle shop, selling wine and some artwork made by staff. I don't own Delancey anymore — I left in mid-2018 to return to writing and teaching full-time — but we eat from there all the time, and now we buy wine there, too.
When I got back home, I watered the plants outside, mom arrived with dinner, and I opened a bottle of rosé. I harvested a head of near-bolting lettuce and we had it with sliced avocado and vinaigrette — 1 tablespoon strong Dijon mustard, 3 tablespoons red or white wine vinegar, ½ teaspoon Diamond Crystal kosher salt, all whisked up, and then you gradually add anywhere between 6 and 9 tablespoons of olive oil, to taste. I make sure we always have a jar of it on the counter. Mom and I had rigatoni Bolognese for dinner and Ash had spaghetti carbonara. Dessert was Tillamook toasted coconut fudge ice cream, which tasks like a macaroon.
My mom stayed until nearly 10 p.m., by which point Ash and I had moved into our nightly Guinea Pig Time. Back in May, we got two young guinea pigs, a pair of brothers. It was not one of our better decisions. Though we did a lot of research beforehand — and we were familiar with caring for them because June's classroom at school has a pair — the first weeks were hard. The boys had fungal infections, an abscess, lice — should I go on? Three months in, we're finally feeling less rattled by how much upkeep they take, both financially and in terms of the sheer amount of feces they produce. Their names are Ron (Weasley) and Alby (Dumbledore). They love to eat the lettuce I've been growing out front — a good use for leaves that miss the bar for salad — and they are totally nuts for fennel tops, which I'd otherwise just put in the compost. So that's nice. Each evening we take them out of their cage, which is this giant thing, roughly a quarter the size of our living room, and we let them run around and climb on us. They're finally getting more snuggly, more tame, more personable. They make noises like a video game with the volume turned low.
Wednesday, July 22
Usual breakfast.
Spilled Milk taping (in my closet) at 9:30 a.m., then June came over from Brandon's. She was very excited to show me a pair of bracelets she'd made with loom bands for herself and her best friend. She had a Zoom call at 11 a.m. with a reading support instructor from her school. I made a to-do list that felt never-ending. For lunch, she made herself instant ramen, and I had fried rice leftovers. Felt like I was spinning my wheels all morning, just making lists and not accomplishing much. After lunch, I cleaned up the dishes and fed our sourdough starters. I have one named Sylvia that my friend Matthew made almost a year ago, and then June started her own, named Eloise, about a month ago. Between the guinea pigs, Alice the dog, the tomatoes and green beans, and the sourdough starters, apparently Ash and I like to feel needed.
In the afternoon, June and I stopped at our neighborhood bookstore, which has a great curbside pickup setup, and got a couple of The Baby-Sitters Club books, the graphic versions illustrated by Raina Telgemeier. June had been begging for them. Stopped by June's best friend's house to drop off the bracelet and talked a bit over their fence. It was so nice, almost "normal," albeit with all of us masked. When we pulled up, the kids already had their masks on, waiting for us. A few months ago, it would have made me so fucking sad, seeing kids have to play with masks on. Now it just feels like a relief when we all do what we're supposed to do to stay safe, when we don't make a big deal of it.
Back at home, I worked some more, organizing the last details for book events. At 5:30 p.m., June and I watched a cooking demonstration put on by our regional Girl Scouts organization. The theme was recipes that you can easily cook while backpacking, and the instructor Zoomed in from a campsite in the woods, where he was cooking on a tiny MSR stove. Pretty sweet. We made guacamole, queso (with a block of Velveeta! Throw it in your hiking pack!), and chorizo tacos. June made most of it herself, with my guidance — she got to learn how fiddly shallots are to peel and chop; sorry, kid — and we ate it for dinner. She loved the guacamole, but not so much the queso or tacos, so Ash and I ate those. June had last night's leftover rigatoni Bolognese and a sliced-up Persian cucumber.
While Ash helped June brushed her teeth and flossed — this is our nightly routine; Ash gets June ready for bed, and then we all read aloud in June's room together — I sautéed some sliced zucchini and tossed it with the last of the homemade pesto. I wanted to make sure we had cooked vegetables in the fridge for future lunches, because I never seem to want to actually cook anything at lunchtime. I need things to be ready.
When June was in bed and the zucchini was Tupperware'd, Ash and I sprawled out on the sofa with the guinea pigs. They rattled and chirped like rusty casters while we attempted to watch the third season of Dark. We'd forgotten so much of the story line in the time between the second and third seasons that we had to look up a family tree for the characters and print it out for frequent consultation. We know how to party.
Thursday, July 23
Ash was already in session with their first client when June and I woke up. June had a bowl of cereal, and I had my usual thing. I also sliced up two nectarines, a little crunchy but with lots of flavor, and she and I shared them. She asked me to read aloud to her while we ate. She's always asking me to read aloud at breakfast, but I usually refuse, because a person can't actually read aloud and eat at the same time. So usually I read to her only at bedtime, and occasionally in the afternoon if there's time, but then it makes me so damn sleepy. I had all these visions, pre-parenthood, of how much I would love reading to my kid, but it turns out, reading to her so thoroughly relaxes me that my eyes start to cross and I can hardly stay upright. But reading aloud in the morning, between slugs of coffee, is a much more energetic experience. I wish I had two mouths so I could do it more often. I liked doing it today.
After breakfast, June walked over to my mom's house, one block away, and I sat down at the computer at 10 a.m. to teach the last session of my current workshop. This group of students was so good — great writers, and really curious minds. I'll miss them.
After the workshop meeting was over, I fell down a rabbit hole of reading news about what Department of Homeland Security troops are doing to nonviolent protesters in Portland. Then I read that DHS troops have been sent here, to Seattle, as well. It seems to me that this is actually a civil war we're in, right? At what point do we start calling it that? Eventually I dragged myself out of the rabbit hole and walked to my mom's to retrieve June.
For lunch, she had the last of Ash's spaghetti Bolognese from a couple of nights before, and I had the last of the fried rice. We shared a bowl of the zucchini with pesto, which I'd warmed a little, just to take the edge off. Then she spent the afternoon at an outdoor playdate with a friend, and I sat in front of the computer, following up on invoices and emailing. Snacks: Theo 45 percent milk chocolate, jalapeño Kettle Chips, and a sliced apple.
Dinner: risotto in the Instant Pot, just a plain risotto with peas. I use this recipe, which I learned about from Luisa Weiss, minus the fontina and mozzarella, plus frozen peas. I opened a bottle of Italian white wine from Delancey for the risotto, and we drank that alongside. I also roasted a sheet pan of broccoli with olive oil and salt — nice and hot, 425 fahrenheit, so the florets got frizzled and crisp at the edges. Plus: We harvested the first green beans from our yard. We managed to get a couple dozen beans from just one plant. I don't know if that sounds impressive to anyone else, but I was elated. I boiled them in well-salted water and we ate them with our hands. We had a "TV dinner," watching Anne with an E while we ate. We are all obsessed with Anne with an E, so much so that we've pinky-sworn to only watch it together, the three of us. That means that Ash and I can't watch it when June's at her dad's house, and she can't watch it without us. We all have crushes on both Gilbert and Cole.
Friday, July 24
The usual breakfast, plus the now-usual nectarines! The coffee hit me extra hard this morning. I was ELECTRIFIED.
In mid-morning, Ash drove June back to Brandon's for a couple of days. Our custody schedule is a bit off this week, but we had to make adjustments to accommodate work obligations and a little summer travel nearby. When Ash left, I got on Quickbooks and YNAB and did a bunch of budgeting and accounting. Since Ash and I are both self-employed, there are always accounting tasks to tend to, which is not fun, but the budgeting part is.
Then I tended to email. But I had forgotten how head-spinning, how adrenalized, this time is. When a new book comes out, it usually only has a couple of weeks, or a month or two at the very best, to find its audience and achieve "success" before people move on. So you work on a book for years — three years, in the case of this book — and its "success" comes down to a matter of days.
Anyway, around 2 p.m., I warmed up the leftover risotto and the last of the zucchini with pesto and refreshed my bottle of water. For dessert, I had four Oreos, the original kind. At 4 p.m., I got hungry again and cut up an apple and poured a bowl of jalapeño chips. The guinea pigs make this high-pitched sound called "wheeking" whenever they hear me open the fridge. I gave them lettuce, some kale, and fennel fronds this morning, but they wheek all day long. I admire their spirit.
I worked until after 7 p.m., at which point Ash came inside from their work on the tree platform. We both stumbled around the kitchen, trying to figure out what to eat. I miss going out to restaurants, being out in the energy of strangers. We talk a lot about how much we miss being out among other queer people, out in queerer parts of town than our neighborhood. I miss watching people flirt, summer legs in shorts, people with their arms around each other. I even miss the smell of cigarette smoke. If we weren't in a pandemic, on a night like this we might go find a bar where we could sit and watch people pass on the sidewalk. But I don't want to do that now, not even if some restaurants and bars are open. It gives me no pleasure that restaurant workers — servers, cooks, bartenders — have to put themselves at risk so that we can have a pleasurable night out. At the same time, I don't want those same bars and restaurants to fail, to close permanently. I don't know.
Eventually we poured ourselves glasses of the Italian white from the night before, and I remembered that we'd bought all the ingredients for coconut-gochujang glazed chicken with broccoli … except that we accidentally ate the broccoli last night. We made the recipe anyway, substituting green cabbage for the broccoli, and had it over jasmine rice, and then it was the weekend.