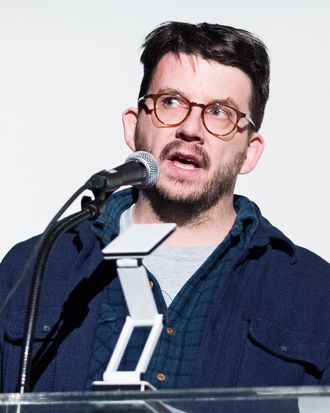 Peter Meehan
Photo: Emma McIntyre/Getty Images
The Los Angeles Times food editor Peter Meehan has left the paper, announcing his departure in a screenshot apology that says the move comes after "tweets on Monday." The tweets in question were published by the wine professional and writer Tammie Teclemariam, who wrote that people had shared "traumatic experiences" working with Meehan, alleging there have been "multiple HR complaints" about him, and that these issues go back to his time as the editor of the food magazine Lucky Peach.
Last month, Teclemariam also tweeted a photo of now-former Bon Appétit editor Adam Rapoport dressed for Halloween as a Puerto Rican, which led to his resignation and contributed to the current reckoning at Condé Nast.
In his note, Meehan says the Teclemariam's tweets "compelled [his] staff to speak out."
Meehan, who lives in New York, was treated as a splashy hire by the L.A. Times, which brought him on as a contributing editor after the unexpected death of its famous restaurant critic Jonathan Gold in 2018. In 2019, the paper brought back a stand-alone food section and named Meehan as editor. Before the Times brought him on, Meehan was the editor of Lucky Peach, the cult food magazine founded with McSweeney's and chef Dave Chang.
That magazine folded in 2017, causing many to speculate why, with stories about the working conditions circulating within the industry. On Twitter, Teclemariam wrote that Meehan's behavior goes back to his time at Lucky Peach, alleging he "has no work boundaries in the workplace" and that abuse was rampant.
Last year, former editor Rachel Khong wrote for the Cut about her experiences as an editor in 2015, when she was at Lucky Peach, and finding out that she was "making significantly less than the newest hire, a man younger than I was, and only about 60 percent of what another new hire, also a man, did." Former editor-in-chief Chris Ying told the New York Times that he left in 2016 "partially because I realized that there just wasn't room for another ego in the room." Both Khong and Ying were brought on by Chang at Majordomo Media, his successor to Lucky Peach.