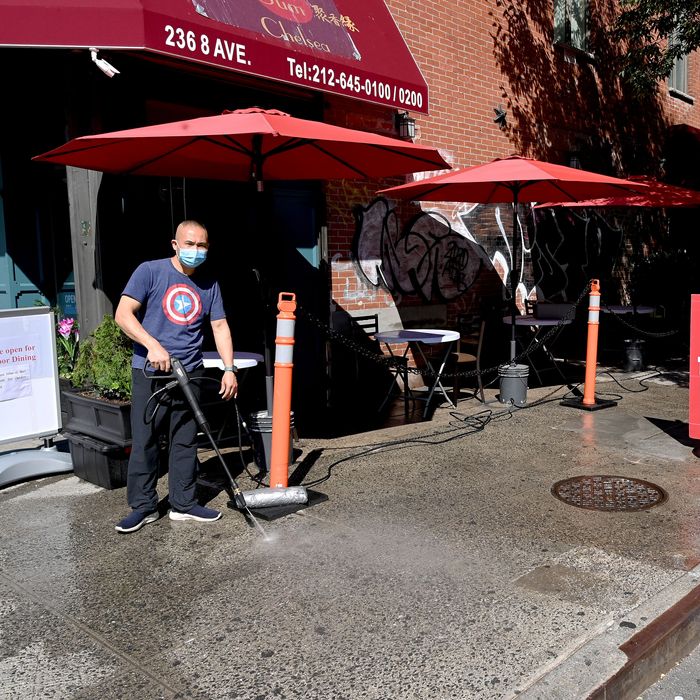 A New York restaurant with outdoor dining.
Photo: Jamie McCarthy/Getty Images
On May 26, the New York City Council passed a crucial piece of local legislation, called Local Law 1932-A, for struggling business owners. "Local Law 1930-what?" you might be asking. "Is that why I'm able to take my piña colada to go?" Well, no, but maybe it's given your favorite bar some wiggle room to keep operating. How did the law do that, and why are so many owners worried that it will run out? Grub will answer that question for you, as well as some others.
What is Local Law 1932-A?
Passed as part of a slew of local legislation meant to help bars, restaurants, and other small businesses, it temporarily suspends personal-liability provisions for businesses impacted by mandated closings or limitations to service. This includes, well, the entire restaurant and bar industry, as well as gyms, fitness centers, movie theaters, retail outlets, barbershops and salons, and tattoo and piercing parlors. The purpose of the law is to "temporarily prohibit the enforcement of personal liability provisions in commercial leases or rental agreements involving a COVID-19 impacted tenant," meaning owners don't have to worry about their own financial ruin. The law applies to a time period of March 7 (retroactively) through September 30.
In theory, it's meant to give businesses some breathing room, from landlords that might otherwise come after them for rent that they're struggling — or unable — to pay while not being able to operate their businesses. When it was introduced to the New York City Council, co-sponsor Carlina Rivera said, "With the federal government continuing to stall further relief for small businesses, it's imperative the City Council acts through all measures possible to assist the longtime businesses that are an important part of the fabric of our neighborhoods."
So why are we talking about it now?
The key word is temporarily. The suspension of personal-liability provisions will only last through September. While it provides some relief to restaurant and bar owners, it's seen as another example of simply kicking the can down the road, especially since it's clear that restaurants will not be back to normal by the time this relief runs out. Owners that Grub spoke with are concerned about the suspension's end, and see this as one of the most important issues they're facing. "I think the protection absolutely and desperately needs to continue, otherwise we're going to see some serious issues," says Roni Mazumdar, who owns the restaurants Adda, the Masalawala, and Rahi. "It would be a fatal blow to the restaurant industry if they don't extend it."
Has the suspension of personal-liability provisions helped restaurants?
Yes, because it has given the owners more time, but also, Mazumdar says, because it's given some tenants leverage in a city where real-estate interests hold enormous sway. "New York City has always been a landlord's place," Mazumdar says. "For the first time it gives us at least a voice to have a conversation." He adds, "If it wasn't for this law, I don't think there would be conversations — most people would just get knocked out and that would be the end of it. There aren't very many landlords sitting there thinking, Oh, I wonder if my tenant can actually pay their own bills?"
What are owners worried about?
Last week, restaurateur Gabriel Stulman — who has previously talked about the possibility of going bankrupt — took to Instagram to write about his own ongoing issues: "I'm being threatened by my landlords that they will pursue personal guaranty once Bill 1932 is overturned — which they're actively pursuing," and his own lawyers and advisers say that "there is no promise of protection against personal liability." Stulman is not alone, and other restaurateurs recognize that this situation presents a real issue. "If this gets overturned, or when it's up in — what September? So many people have just thrown in the towel because they're like, 'It's just not worth it,'" says Fabián von Hause Valtierra, a co-owner of Contra and Wildair. "I hope it doesn't get overturned. If it does, I think we'll see a lot of restaurateurs that wouldn't have closed just giving up, thinking there's no real help at all."
Are many restaurants facing eviction?
The country is on the brink of a possible eviction crisis, with CNBC reporting that more than 40 percent of renters are at risk of eviction and that we could see as many evictions in August as in the entirety of 2016. This is a looming issue for restaurant owners as well. According to an NYC Hospitality Alliance survey, 75 percent of restaurants did not pay full rent in June. The expiration of the personal-liability provision could cause a mass wave of closings, von Hauske Valtierra explains. "Rent is the only thing that's a constant burden on the business. If this doesn't get extended, I think a lot of people will be more willing to close," he says. "I think it's the one thing allowing people to say, Let's just push through; let's see what happens and where we come out of it."
Mazumdar agrees. "Come September 30, you — if this doesn't get extended — might see a massive number of evictions. Evictions will continue to happen at an exponential rate, and I think this will be the specific last straw many restaurateurs are holding onto," he says. "Rent being a flat number to hit regardless of your sales, especially at a time when you're forced to not be able to sell, what does that mean? We're all well aware that landlords are not in a favorable position either."
But restaurants have been able to sell frozen drinks to go, and now they have outdoor dining. Why is rent an issue?
In his post, Stulman brought up the issue of having to continue to pay his full rent while also not being able to do business as usual. Von Hauske Valtierra says that people are essentially at the whim of their landlord and location, and at his businesses, outdoor dining doesn't make up the difference. "A place like Contra, we can sit 40 people; outdoors we can have four tables. A place like Wildair seats the same number indoors, but we can seat like 20 people outdoors," von Hauske Valtierra says. "It's not adding up. The amount you pay up for real estate before is not adding up to outdoors — or in some cases, it might."
Mazumdar likewise can't take advantage of outdoor dining because he has obstacles — bus stops and fire hydrants, as well as busy streets and intersections — at each of his locations.
For him and his team, the uncertainty of the future means that the suspension can't end anytime soon, much less so early in the crisis. "Nobody in my circle has a damn clue of exactly where we're headed and how many months it's going to take," he says. "We talk about a vaccine by the end of the year, what does that mean? How long is the distribution process? What does that look like?" He doesn't see any kind of quick fix on the horizon either: "I think 2020 is gone, and I think 2021 is also a wash," Mazumdar laments. "What does that mean for everybody?"