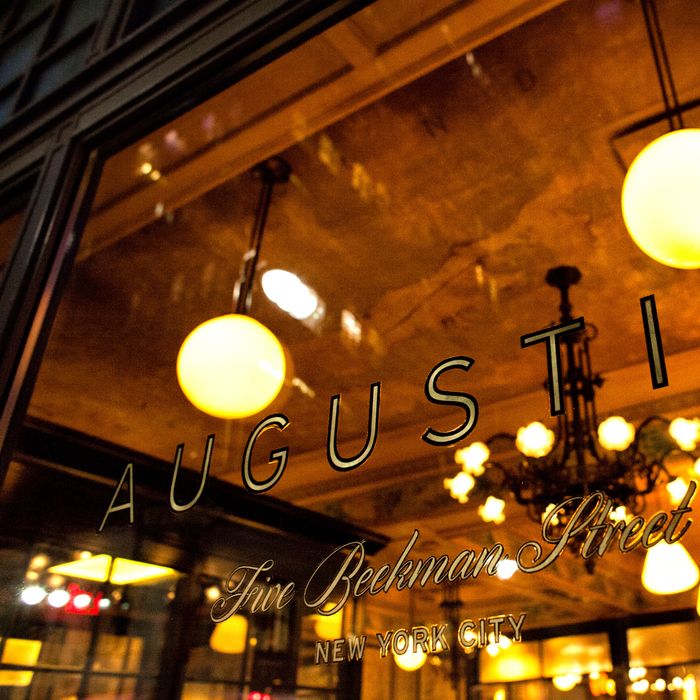 Au revoir.
Photo: Ron Haviv
Augustine, the (admittedly quite beautiful and seemingly well-liked) Keith McNally–owned brasserie in the Financial District is the latest high-profile restaurant to close its doors for good. As our friends at Eater NY note, McNally posted the announcement on his Instagram page, writing, "Thank you to all of Augustine's lovely staff and customers. I'll cherish our wonderful memories together and look forward to seeing you at Balthazar, Pastis, Minetta Tavern, and Morandi. Or Debtor's Prison — whichever comes first."
McNally writes that his reason for closing the three-and-a-half-year-old restaurant is entirely financial. That was also the case with Lucky Strike, the more ramshackle bistro McNally ran in Soho for more than 30 years, which permanently closed back in April.
Of course, in the four months since Lucky Strike went under, New York has lost a great number of world-class bars and restaurants that might otherwise still be in business today — perhaps planning for some time off in August and ready to return to full force in the fall. Pegu Club's a goner, as is Glady's in Crown Heights. Clinton Hill favorite the Finch was forced to call it quits in June. The offal-centric Takashi and vegetarian destination Nix are both no more as well. Even the enormous Times Square McDonald's, which, with its strangely dark interior, could feel a bit like eating a Big Mac in Blade Runner, packed it in. Yet this is just a small sampling of the businesses that will never reopen. Sadly, the list will only grow as the pandemic wears on.