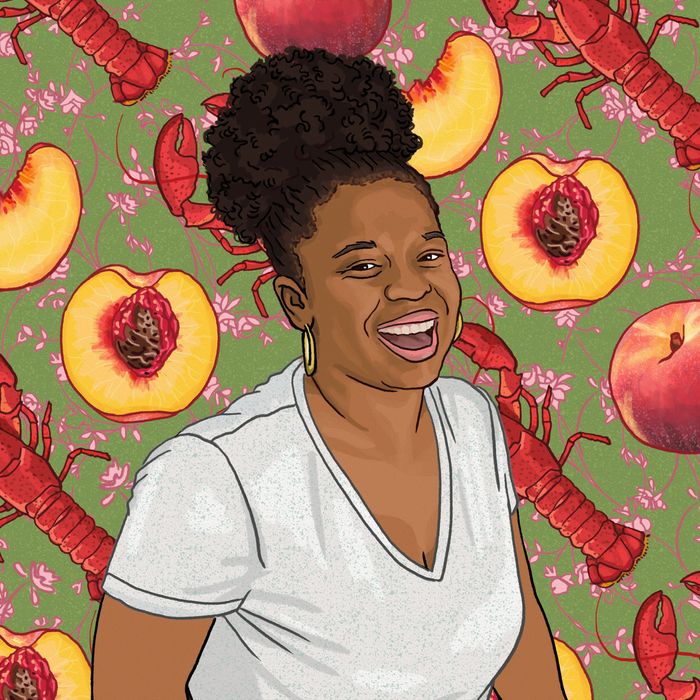 Katori Hall dreams of lobsters and peaches.
Illustration: Margalit Cutler
"I would say, even though I'm in the middle of New York City, I have felt the most southern that I've felt in a really long time because of the fact that I have to cook so much nowadays," says the playwright Katori Hall, whose work is often set in her hometown of Memphis. Cooking is not a new interest for Hall, who once had a food blog (Katori's Kitchen) and whose last play, The Hot Wing King, was centered on a cooking contest. The South is also the setting for her first television show, P-Valley (based on her play), which follows the lives of performers and patrons in a Mississippi strip club and, as Hall tells the New York Times, "pulses with the female gaze." (The show, which the Hollywood Reporter hails as "so variously accomplished you don't know what to praise first," debuts this Sunday on Starz.) While working on the show, Hall has also been keeping up with her cooking and feeding her two young boys, making sure they continue to eat the food, like chicken and dressing, she grew up on.
Wednesday, July 1
Tea with milk and sugar. I drink hot tea every day. My husband is from Uganda, and usually we drink Ugandan tea. But recently we ran out of it, so I've been drinking Lipton. I am the weirdest writer in the world. I do not drink coffee at all. I do not drink it at all.
Left physical therapy and went to Westside Market and bought beignets, pecan pie, tea, and $26 cherries!!!! Why are cherries so fucking expensive?!?!?! (It's a splurge; I will eat them slowly.)
As soon as I got home, my boys tore them beignets up. They wanted Dunkin' Donuts, but this had to do. They love Dunkin'. When they see that pink and orange lettered paper, they're overjoyed. They flip.
Lunch was soft tacos for the boys using ground beef I made with a kit. There will always be a taco night sometime during the week. They're easy to make and really easy for kids. Of course, I have the two little ones, and I have to feed a group of people for a whole day. So it's been a struggle to find food that your kids want to eat — the sheer amount of work. I was joking with a friend, "It's like we're working in a cafeteria." Not only do you have to feed kids, but you have to wash all the dishes; you've got to get the groceries. It's been reflective of the work that we, as women, kind of have traditionally taken on. But, luckily, I actually love to cook.
I'm from the South, so I grew up on some amazing food. My mama did teach her little girl how to, as she says, "burn in the kitchen" — not actually burn stuff, but cook really good in the kitchen. So, luckily, I really enjoy providing nourishment to my children, and I love to take on new recipes and do my own little tweak on them. I have a lot of cookbooks. I gather recipes from all different parts of the world, so my kids actually have a very diverse palate. So if they are tired of a certain thing, I can very quickly turn to their favorite, which tends to be noodles or pancakes with sprinkles.
Dinner was a T-bone steak with special compound butter and rice. I made the butter with a mixture of garlic, parsley, and, actually, orange zest. It's a nice flavor. We eat a lot of meat here. We eat a loooottt of meat — all kinds of meat. My kids will not eat anything but the meat. It's very weird. They like their protein, I guess. But T-bones are expensive.
Thursday, July 2
Breakfast. Tea with milk and sugar.
I made eggs with heavy cream and parsley, and we also had strawberries with castor sugar.
I love all eggs: boiled eggs, poached eggs. My kids usually only like the white part, but these they actually eat. There's a scrambled version they'll actually eat. They're very fluffy because of the cream. I cook them really quickly. I'll use butter, sometimes olive oil, and cook it on low, because I don't want the eggs to be hard. I want them to be a little wet.
I started cooking dinner early, before we had lunch, because I didn't want to be in the kitchen for long. New recipe I found online — Crock-Pot beef stew and rice — and something I can cook while looking after these kiddos. It takes five hours. It wasn't just one specific recipe. I'll think of what I want to cook, then I'll look at five recipes, and then I will take ingredients from this recipe, that recipe, that recipe and I look at what I have in my spice rack and then use whatever I have. I basically combine the recipes, that's what I end up doing.
For lunch, hubby ordered chicken and rice from one of our favorite Dominican spots up around our hood, Inwood: El Nuevo Sabor. Obviously, because of the pandemic, initially a lot of places were closed, so as time kind of marched on, places started reopening. It slid in as our favorite.
We ate the Crock-Pot beef stew when it was ready.
Late-night snack of leftover rice and beans with ghee made in Uganda.
Friday, July 3
Tea with milk and sugar.
Physical-therapy day. I got out pretty late. I didn't really eat breakfast that day, just the tea, so it was like, Wooo, let me just have something done. I wanted to bring home something, versus getting home and having to cook and then lunch being super, super-late. So for brunch, I got this roasted chicken from Westside right after I left physical therapy. What was funny was my husband had ordered Dunkin', so my kids didn't really eat the chicken. They kind of snacked on it a little bit, so they basically had two meals.
Snacked on a Dunkin' Donuts sandwich. I literally don't know what it was. I just unwrapped the paper and shoved it into my mouth.
Lunch was noodles ordered out from a Japanese place, Tampopo Ramen. We got Ramune soda, curry rice, shoyu ramen, and Enter the Dragon ramen, which has a habanero spicy-miso broth. We eat there all the time — once a week. These kids love noodles. That's the only thing they will devour.
Dinner was lemon-and-sea-salt salmon with lemon and dill and an arugula salad. I took this class, Home Cooking New York. It was some time ago; I forgot exactly when. Maybe a couple years ago. This is one of the recipes that really stuck with me. I sprinkled sea salt on the fish, squeezed the lemon juice on it, then I cooked the lemons up, placed the fish on top of the lemons, and baked it in foil all together. I make sure to sprinkle dill all over it. I try not to overbake it. I hate overcooked salmon. I like my salmon to feel real juicy and just fall apart. The kids love it. Everyone loves it, and it's just so super-healthy.
Tropical Punch Kool-Aid. I grew up drinking it, and I would get it from BJ's because they have big canisters. I got tired of buying cans of soda. With Kool-Aid, you can kind of control the level of sugar a little bit, and if you get a big canister, it'll last for a couple months. But in my family, it usually lasts a month. It's something we drink a lot. I wouldn't say every, every day, but I'll make a pitcher for the kids especially. They love their red drink.
Late-night snack: one glass of wine.
Saturday, July 4
Tea with milk. Pancakes with sprinkles.
Lunch?!?! McDonald's!!!! No barbecue, but something a little Americana. We got Chicken McNuggets, the double cheeseburger, and two Happy Meals. Oh, and two slushies. I kind of feel bad ordering McDonald's.
Dinner was southern fried tilapia with oven-roasted potatoes. I always do a little "Memphis in Manhattan" day, where I do a southern dish once a week. Fish is usually my go-to when it comes to that, but I do chicken and dressing, macaroni and cheese, chicken and dumplings. Just making sure I always pay respect to my southern roots through the food that we eat.
I think taste buds change over time, but you always remember what you grew up on, and it directly takes you back to home. So I really want to make sure my kids have the South on their tongues.
Coke with Bulleit Bourbon as we watched the sky light up with fireworks from our window. It was amazing, and you know in New York, people have been popping off fireworks forever; it's been the thing to do at night. Every night, we'd been going to bed hearing a lot. On the Fourth, the neighbors were really smoking up the sky. It was hard to get my kids to go to bed because every time they would lie down, they would hear it going off, and they jumped off their beds and opened the curtains to see brilliant colors lighting up the sky.
Sunday, July 5
Pancakes with sprinkles again and eggs mixed with heavy cream and parsley (my kid-friendly go-to for eggs). But, for myself, I did shakshuka, which my kids hate because they hate egg yolks. They are missing out, but it's fine because I'll eat it myself. I made it in my personal cast-iron pan. It screams "I'm not sharing."
It's the thing I do. There is this place, Rustic Table, that I was ordering my shakshuka from every day because I was in rehearsal at Signature Theatre. That's my go-to breakfast when I'm working on something because it's very healthy, and they can deliver it to me really fast. Even when I was in the editing bay for P-Valley, I'd want shakshuka every morning. It got to a point where I was like, I should really learn how to make this dish. 'Cause I like it so much. I found three or maybe four recipes, figured out what I had in my cabinet, and made it.
Lunch was instant noodles I learned how to make off Nadiya's Time to Eat on Netflix, one of my fave quarantine shows. She teaches you how to make this paste with garlic, fish sauce, chile sauce, and you make it and it can last for up to a month or two, I think. I make a big old mixing jar of it. I'll say once a week, my kids get a bowl of these noodles to eat.
Dinner was spicy-tuna poke bowls with jasmine rice and homemade sauce, a mix of mayo and sriracha. Food is a source of joy, especially right now. The fact that I get the opportunity to eat with my kids three times a day — this feeling of putting family first and making memories in the midst of a very volatile moment. There's two crises happening — there's the pandemic, and there's also insurrection demanding yet again for equality — and food has provided a source of comfort for me and my family. It's this rhythmic thing I get to do every morning and every afternoon and every night.
Now don't get me wrong: I get tired. 'Cause it's a lot. In the midst of running after the kids and cleaning up after them, I'm doing the work of trying to launch a TV show. I'm having to balance that work-home life, but it's all at home, so there's no line at this point in time between those two things in my life. The cooking is something you have to do. You have to eat, and those kids have to eat. So let's say I talk to other people who hate cooking, and I'm like, Oh, thank God I like it, because this would be hell right now otherwise.
I drank two Coronas — it's a fuck you to the virus. And I'm still chomping on them $26 cherries for a late-night snack LOL.