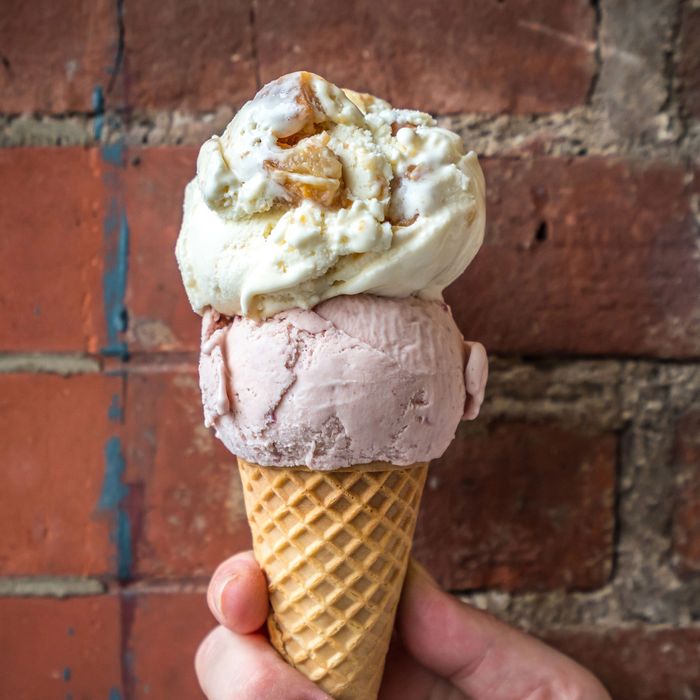 Ice cream from Ample Hills.
Photo: Noah Fecks
When the complete history of Brooklyn ice cream is written, the rise and fall of Ample Hills will be equal parts Icarus and Antigone: the tale of a brand that flew too close to the sun, melted, perished, and was, perhaps, denied its rightful burial. Scribes will tell of how the ice-cream company, founded in 2010 by husband and wife Brian Smith and Jackie Cuscuna, a former schoolteacher, were undone by a hubristic factory expansion in Red Hook and fell tumbling to earth, like the errant scoop from a toddler's cone, to melt unclaimed on a hot Gowanus sidewalk. The brand languished, picked at by flies and strays, in bankruptcy court until last week, when the Oregon–based precision-manufacturing outfit Schmitt Industries completed its purchase for $1 million, the corporate equivalent of ice-cream money.
More than its mix-ins or its flavors, what differentiated Ample Hills from the ferment of Brooklyn Ice Cream was its devotion to narrative, which embodied a certain twee hyperbole specific to the original shop's 11238 zip code. "We named Ample Hills after a line from Walt Whitman's 'Crossing Brooklyn Ferry': 'I too lived — Brooklyn, of Ample Hills, was mine,'" Smith wrote in the bankruptcy filing. "In the poem, Whitman writes about our shared humanity, the connections between us across space and time. Ample Hills is after something simpler but equally profound: connections across the table, sharing a scoop of ice cream."
At first, it appeared the founders and the new owners might find détente, but on July 6, Smith and Cuscuna announced they were stepping away from the company. Overnight, the Instagram feed took on a decidedly different, some might say incongruous, tone. "Here's a cool scoop for our Ample Hills fans: We are relaunching Ample Hills in the coming weeks!" wrote the new owners. Commenters were not impressed: "Despite my sadness, I want to keep an open mind, but please don't start future posts with lame things like 'Here's a cool scoop …' You sound like a middle-aged dad just discovering ice cream," wrote one.
Late last week, I spoke to that middle-aged dad, Michael Zapata, the man who hopes this tale is more Lazarus than Icarus. Zapata, the CEO of Schmitt Industries and now interim CEO of Ample Hills, is a former Navy SEAL commanding officer, father of two, and graduate of Columbia Business School, who moved to Los Angeles from New York six weeks ago. But he was back in town, installed in the cinder-block basement of the Ample Hills factory, to help with the transition.
According to the company's website, Schmitt Industries makes "high precise test measurement and process control systems for a wide variety of applications." Including a "line of dimensional and distance measurement lasers" and ultrasonic measurement for propane and other liquid-filled tanks. So I guess my first question is: ice cream?
That's a good question. I agree. If you look at a certain angle, which is that Schmitt is a U.S. manufacturer based in Portland, Oregon, then it doesn't really make any sense. But if you look at it from the lens of how we view it — which is that we are value investors and like to find really good companies that have a lot of potential — then it makes more sense.
For a noob, what is value investing?
It's just the idea of being able to be opportunistic when something presents itself. Here's an example: I grew up in Texas on food stamps, right? My mom, a single parent of three kids, wanted to get good things for us, but she didn't and couldn't pay full price. If you wait a bit, you can get a high-quality item for a fraction of the price. That's value investing.
But to follow that analogy, Schmitt purchasing Ample Hills seems like your mom not wanting to buy yogurt at full price so she buys a lawn mower at a discount. You can't eat lawn mowers no matter how good the value.
The connection is the business. It's the ability to have a really strong core business with strong core values. It's not like Schmitt is a huge company. We're a tiny company with family-oriented values and a tight team. So is Ample Hills.
Schmitt is based in Portland. How did you find out about Ample Hills?
I was living in New York at the time, and it was introduced to us by a friend. He said, "Hey, take a look at this super-interesting company." So we did. We know we're going to have to carry this company for at least a year. There are not too many crazy people who would buy a retail space in this environment. To me, that's the beauty of it: to find an opportunity that other people, frankly, turned away from. When it came down to it, we were the only qualified bidder.
Reading through the docket, it seems like it all started going south for the previous owners when they decided to open the factory in Red Hook. Sales were increasing year over year, but so too were losses. Did you know what you were getting into, and how will you avoid the same errors?
We knew. We read the same court documents. The company ended up spending three times more than what they expected to pay for the factory, and that's on the build-out alone. Even when it was completed, they had a utilization rate that was a fraction of what it should have been. It's a 500,000-gallon-capacity factory that was only operating at 20 percent capacity.  So they were paying the same amount of factory workers to produce a certain level of ice cream, but because the cost of the factory was so high, and the amount of ice cream they produced was not high enough, they were losing a lot of money. And that meant they couldn't scale up or make payroll.
COVID-19 couldn't have helped.
Well, officially the company filed for bankruptcy in mid-March, but that had already been sort of laid out a couple of months prior or a month prior. We found out about it probably in April.
To go back to something you said earlier, I understand the connection between Schmitt and Ample Hills being the business, but I think there's a lot of concern, precisely because Ample Hills is such a revered brand, that there is absolutely zero overlap in terms of operational expertise. Precision lasers and artisanal ice cream are two very different beasts.
Again, it depends on how you look at it. Other than loving ice cream, I'm not a subject-matter expert on how to make it. But I do know how to ask the right questions and identify what people to elevate and empower that do know. I was a Navy SEAL for 10 years. I started as a very junior officer and ultimately was a troop commander at Development Group. As an officer, when you enter a unit, you are in a new position, and yet you're responsible for other military members who likely have more experience than you. Even when I was a troop commander, I had good experience about snipers and ordnance, but my recce guys and breachers, they were the subject-matter experts. I would never go in and say, "I have all the answers." You have to listen to the people with experience and surround yourself with the best. If the mission failed, it was my fault. If it succeeded, it wasn't because of me but because of them. That's the same approach we're taking with Ample Hills. The GMs and AGMs, the ice-cream makers, the creative-design and brand person — they know more than I do. There's a solid group of Amployees who have been here from the beginning that I'm able to support and empower. And we are excited to bring Ample Hills back.
But Brian and Jackie aren't involved anymore.
They're not. They decided that they're not going to be part of it going forward. And I think that's just a decision that they, you know, that they made.
See, that seems like a problem. One of the reasons Ample Hills was so successful was the element of storytelling. It was something I know Brian prided himself on. But how do you craft a narrative now that this icon of Brooklyn hipster whimsy is owned by a Portland-based precision-equipment maker? As a narrative it lacks a certain … coherence.
We can't and we're not here to spin anything, except ice cream. We're here to make the factory as efficient as we can for the benefit of the company.
Quick question about Navy SEALs. Do they love ice cream?
How many people have you met who don't? SEALS are people too.
Known unofficially as SEAL Team Six.