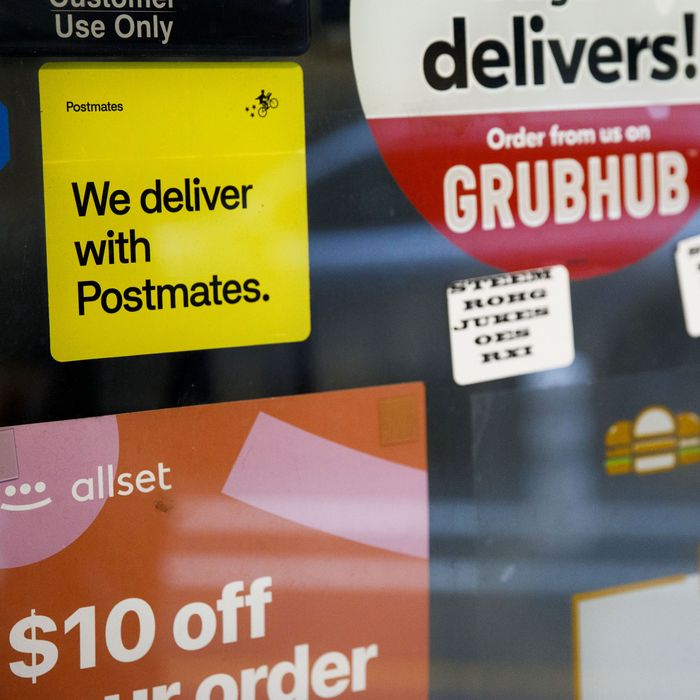 Photo: Patrick T. Fallon/Bloomberg via Getty Images
Yesterday, Uber announced it had successfully bought Postmates in a $2.65 billion deal after first trying, and failing, to merge with Grubhub — a plan ultimately foiled, at least in part, by antitrust concerns. So Grubhub (which already merged with Seamless in 2013) instead joined forces with a European company called Just Eat Takeaway, and Uber bought Postmates. Last summer, DoorDash bought Caviar. The era of delivery-app consolidation is now fully upon us.
It's clear what Uber gets out of this latest deal: market share. Between Postmates and its own delivery platform, Uber Eats, Uber will control 37 percent of food-delivery sales in the U.S., making it the No. 2 player in the delivery space, behind DoorDash (44 percent) but ahead of Grubhub (17 percent), according to the New York Times. None of these apps are actually profitable, but, as Josh Barro explained over at Intelligencer, the idea is that they will someday become profitable; they just have to first capture enough of the market so that they can raise prices, and we will all have no choice but to pay them.
Whether this profitable future will ever actually arrive is a separate question — as Barro noted, Uber has been providing rides for a decade now and still isn't in the black — but that's the idea. First market share, then money (maybe).
It's even less clear what the deal means for restaurants. Some owners see a grim future; others see the consolidation as a much-needed convenience. Josh Grinker, the chef and owner of Kings County Imperial, is in the first camp. "They're trying to monopolize and win market share and then they're going to jack up prices because they have no choice," he says. "It's an unsustainable business model."
Despite any misgivings, Grinker isn't about to abandon the apps: "I mean, listen: We do a shitload of business with all of the delivery platforms. We use Grubhub. We use DoorDash. We use Postmates. We use Caviar." But the situation can't continue in its current form — it only works as long as there's venture capital to subsidize the losses — and that is where Grinker gets nervous. "It's an old axiom, but competition brings prices down, and this is the opposite of that," he says. "The long-term implications of it are kind of scary, because once they get you in a place where [owners] are reliant on that revenue, then they can raise their prices. One day, they will raise their prices, unless they want to continue to lose hundreds of billions of dollars. And what are you going to do? Like, cut your staff by a quarter?"
For Amelie Kang, the chef and owner of MáLà Project, though, the news came as a relief. "I'm actually quite excited," she says. For now, she isn't worried about the platforms jacking up commissions because "at the end of the day, they rely on restaurants to be profitable so they can make a profit." This is true: At least for now, the food-delivery apps need restaurants so that they have food to deliver. And from an operations perspective, it's "so much less of a headache for us." MáLà Project works with nine different delivery platforms, Kang explains, and each one has its own idiosyncrasies. The mergers, she hopes, will "reduce a lot of unnecessary work."
"We're beholden to them at this point," says Michele Gaton, who owns Extra Virgin in the West Village. You can take orders on your own website — and Extra Virgin does — but you have to be where the customers are, she says, and that is on the apps.
As a result, many operators feel like they have no choice but to maintain the current setup. "If we cut out Caviar and DoorDash tomorrow," Grinker says, "we would lose 85 to 90 percent of our deliveries." COVID-19 only accelerated what was already happening: Delivery is now the backbone of the restaurant industry.
When these apps first started to appear in the early 2000s, it wasn't supposed to be like this, says Bobbie Lloyd, chief baking officer at Magnolia Bakery: "The idea was that you're adding to your full restaurant." App delivery sales were, in other words, icing on the cupcake — so the fees that these services charged didn't feel onerous. "It's free money," Lloyd says, "so, okay, we can give away that 30 percent they want to take." But apps didn't unlock a whole new bonus market; they redistributed the market that already existed for a 30 percent commission. (In May, New York City Council capped fees at 15 percent.) And yet they do provide a service: How else do you get a single order of banana pudding to someone's doorstep in half an hour?
So delivery apps keep restaurants in business while making moves that could end up crushing them. For the industry, every move these companies make has potentially enormous consequences: "It's not something you can fight because we have to do so much delivery," Gaton says. "I'm nervous it's going to cost us more, I'm sure. But it's something that we clearly can't do without."