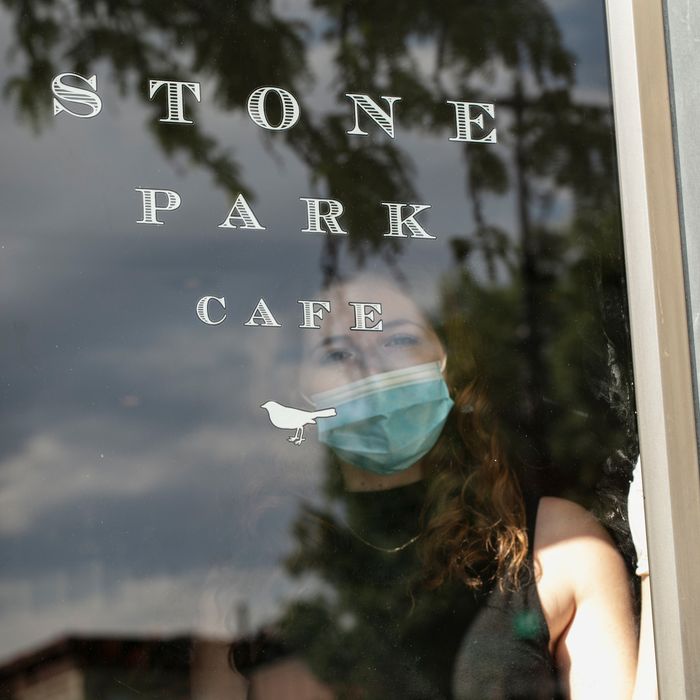 Bartender Hannah Kornfeld at Stone Park Cafe, which reopened to outdoor diners last week.
Photo: Melissa Hom
Stone Park Café is the quintessential Park Slope restaurant. Since it opened on the corner of Fifth Avenue and 3rd Street in 2004, it has become the kind of upscale tavern that tends to cultivate a loyal set of regulars. The food was elegant but not experimental; the room was cozy but not crowded. On any given night, customers could chat over martinis and grilled hanger steak. On any given weekend, there would be a wait for brunch. 
In a normal year, in April, May, and June — peak season — they'd pull in $888,000; this year, after shifting to takeout and delivery, it was down to $160,000. Business at the restaurant's adjoining event space has gone down to zero. The rent is still $12,500 a month. (The restaurant also got a federal loan through the Paycheck Protection Program, which allowed Stone Park to keep paying at least some staff, and an Economic Injury Disaster Loan, which, whenever it arrives, can be put toward bills.)
On Thursday, June 18, restaurants were given the go-ahead to reopen for outdoor diners the following Monday. Suddenly, co-owner Josh Foster had a million decisions to make — including when and whether to reopen the restaurant at all. Grub Street followed Foster and his team through one frantic week, as they navigated both logistics and existential questions: In the midst of a pandemic, what should a restaurant even be?
Can, and Should, the Restaurant Reopen at All?
At 1:30 p.m. on Saturday, June 20, Foster calls a staff meeting to discuss whether to reopen at all. "I have very mixed feelings about it," Foster tells the assembled group — seven managers, bartenders, and would-be servers — who have, for weeks, been waiting for exactly this.
Is it too soon to be doing this? While the number of new cases remains stable in New York, infection rates have soared around the country. Some states that had reopened have already begun to re-close.
Foster is ambivalent. "It's never going to seem right," he explains. "I don't feel it's gonna feel more right next week or next month." What would change? "COVID is not going to become safer," he says. "This is not going to get easier." So they'll mask and distance and disinfect. They will serve cocktails in individual shakers (they need to buy shakers) and leave pour-it-yourself water on the table in carafes (they need to buy carafes).
The most pressing issue isn't the coronavirus itself. Everyone is concerned about that, obviously, but what is going to be different in three days, or three weeks? The train is already moving. The advantage of reopening at this particular time is momentum: People are excited, Foster says. Regulars have been calling, asking about reservations for the opening. The accountant thinks they should. The tips would be generous. But is the restaurant ready? Foster doesn't want to feel pushed into something they're not ready for. He wants to do this right, and the team agrees. They need to do this right.
During the shutdown, the restaurant has been fully painted. All of the china has been inspected for errant chips and scratches. The bathroom lights are now on sensors, and now they're waiting on the faucets. Plenty of other tasks still need to happen. On Monday, for example, someone's coming to install UV lights in both air conditioners to purify recirculating air.
There are so many things to order: Order new credit-card readers. Order tablets. Order wine buckets and stands, because, Foster reasons, allowing customers to manage their own wine bottles "gives you the comfort of being in control." They have to order new garbage cans for the bathrooms. They also need to order stickers with the Stone Park logo to go on the bottled cocktails, which come exclusively in quantities of 1,000 or 10,000.
To order new liquor, they also need to pay off the old liquor — rules of the New York State Liquor Authority — and they haven't paid off the old liquor on account of being mostly closed. The existing inventory has been enough for three months of takeout cocktails, but it is not enough for a fully stocked reopening. Maybe you can work out an arrangement with your trusted long-term fish vendor, but the New York State Liquor Authority does not make exceptions. The restaurant's outstanding balance is $11,000.
Then there are all the usual non-pandemic annoyances, like finding somebody to haul away an old ice-cream machine, which is sitting sadly on the floor of the events space and is at least the size of one obese Great Dane. "It's driving me fucking bonkers," Foster says. "I gotta get that shit out of here." Somehow, they also need to extend the Wi-Fi.
"It's all happening way too quickly," says one of the restaurant's managers, Will Rearick, who is sitting at a white-tablecloth-covered four-top, mask dangling off one ear. No one has waited on a table in three and half months, and never with these safety precautions. It would feel "like a cash grab" to open right now. After 97 days of being closed, what is two more, if it means you can put your best foot forward? The team agrees that, even though they're allowed to reopen on Monday, they'll aim for Wednesday.
What Does the Staffing Look Like?
By Tuesday, one day before reopening, the staff has grown a bit, as more servers have been invited back. "No one's being required to come back to work, right?" Foster says, addressing the assembled crew. "If anyone does not feel safe at this time coming to this environment, I 100 percent get it and respect it." But, he adds, the reality of the business is not as simple. "The only thing — and it's not a threat, it's just a fact — is that I do, for the business, need to eventually be open. And if someone's like, I really can't come back right now … Well, six weeks from now, when they're feeling a little bit more comfortable, if I have an opportunity for that, I will find that opportunity. But if I don't, I can't make that promise."
At the bar, Berton Schaeffer, the longest-serving restaurant manager, is scheduling shifts for the week. "We can only see how it goes, because each day is different," he says. Whatever plans they have can be adjusted. By now, he is adept at surfing the uncertainty. "If all of a sudden, we found out that somebody had it, or one of our customers had it, then everything changes," he says. "If the city were to shut down again, we'd be better prepared, but we also just might not make it."
How Will Seating Work?
Stone Park has always had seating on the extra-wide sidewalk along the southern face of the restaurant, but through the city's Open Restaurants program, they now have permission to extend it, possibly to the restaurant's eastern side, although to preserve the goodwill of the neighbors, Foster would rather not. They have also gotten approval to take over some parking spaces, but would that be pleasant? It's possible they won't use any of it: With the sidewalk, they already have the luxury of space, and also, the restaurant only owns ten outdoor tables, although Foster has four more on the way, just to keep his options open.
As with everything in the restaurant world, this one decision ripples into countless others: Where should delivery happen? If more diners are sitting on the sidewalk, where will the Caviar workers park their bikes? Where does the outdoor host station go? Who is serving the to-go cocktails from out the front window?
The final arrangement — seven well-spaced tables, three staggered alongside the front half of the restaurant, and four along the back — feels remarkably normal, if suboptimal for eavesdropping. After a long pause, Foster deems it "serviceable." Angela Waterhouse, the restaurant's head bartender, assures him that the umbrellas are going to help.
Foster is not in love with this new setup, although he has high hopes for the umbrellas. "I think umbrellas are key," he says. "And I think everyone and their mother is going after umbrellas." Waterhouse checks Lowe's. They are all out.
What Kind of Food Do People Want?
The last two years had already been tough for the restaurant. In part, Foster points to shifting demographics. Park Slope now, Foster says, is less "hip" and more "hip replacement." But also, the restaurant hasn't been what it could be. The food, he says, lost "some creative edge." The shutdown gave him an opportunity to fix everything about the restaurant he hadn't liked, including the menu, which is in the middle of an overhaul.
For months, they have been leaning into basic comfort foods, but comfort food is not the kind of restaurant Foster wants Stone Park to be. His vision, he explains, is a more elevated version of what they did before. Stone Park has never been an inexpensive restaurant; now to survive, it will raise prices. If appetizers used to be in the $12 to $16 range, but now they'll be between $16 and $23. Entrée prices will range from $35 to $50. The once-complimentary bread basket will now be a not-complimentary bread service.
They'll make it worth it: The new menu will be smaller, but brighter, cleaner, and more interesting. They will turn up the hospitality. People used to go to restaurants before going on to other activities — plays, concerts, sporting events — but now the meal is the only activity that's left.
At a tasting on Tuesday afternoon, head chef Gabino Carmona rolls out an initial round of proposals for what might go on the new menu, beginning with lobster knuckle sliders. There is honeydew-cucumber gazpacho with vinegar and jalapeño; and ceviche; and perfect seared tuna squares over a rustic white-bean salad. There is sweet corn raviolini and grilled peach salad; duck-leg spring rolls; fillets of panko-crusted halibut; and salmon dressed with a tarragon-and-baby-arugula emulsion; lamb over Moroccan couscous; and tamarind-glazed duck.
A COVID-era tasting is like a regular tasting, except that everyone tries everything with a fresh and untouched metal fork. Take a bite, get a new fork.
The menu still needs work. The tarragon sauce is a resounding hit; the ceviche isn't.
Will Customers Show Up?
In the end, Wednesday is too soon, and they decide to push the opening back one more day. So on Thursday at 4 p.m., Stone Park Café is open to diners. "It feels exactly the way I was hoping it would feel," Foster says, inspecting pictures of potential seafood towers at the bar. "It's disjointed. It's a little strange. But we're not sending anyone to the wolves."
The $11,000 of liquor bills are paid, and they've placed new orders. Soon, they'll start doing takeout and delivery from the kitchen at the event space next door, where there is now functioning Wi-Fi and a newly refinished bar.
There is still a lot to figure out. The idea is that the delivery kitchen will also be used for cold prep — salads, charcuterie, oysters — which means that your appetizer might come from one kitchen, and your entrée from the other. "The timing is going to be very weird to figure out," Foster figures, "but we're going to totally get it." Maybe they'll start introducing new menu items next week — nothing drastic, just verbal specials. There is still no satisfactory outdoor lighting.
For now, though, a handful of regulars are dining on the sidewalk; Foster points out an older couple who've been coming four times a week for years. By 6:30, the restaurant's seats are full, with a waitlist; they've instated a two-hour maximum for tables, given that there are only seven of them, and it may be time to do some gentle nudging.