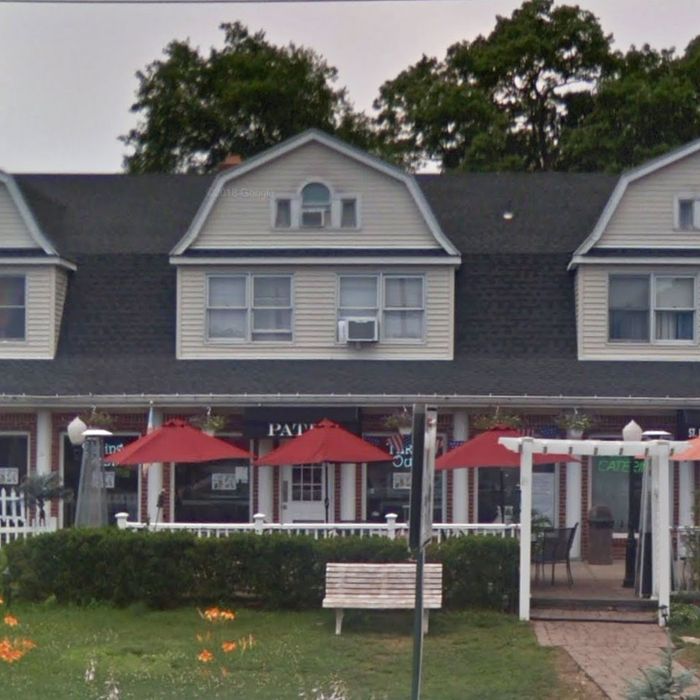 Patio Pizza in Saint James, New York.
Photo: Google
Let's get this over with: This morning, at 10:26 a.m., Donald Trump tweeted "Support Patio Pizza and its wonderful owner, Guy Caligiuri, in St. James, Long Island (N.Y.). Great Pizza!!!" He also tagged the Twitter handle for Stuart Varney's Fox Business show.
Even by Trump's usual standards, this is weird. So, what's going on with this pizza tweet?
Patio Pizza is indeed in Saint James, New York, a tiny hamlet on the North Shore of Long Island. The town has its own stop on the Long Island Railroad on the Port Jefferson Line. According to Google Maps, Patio Pizza also has a patio.
Anyway, Caligiuri was a guest on Stuart Varney's Fox Business show this morning, discussing the persecution he felt from one customer after he decided to fly a pro-Trump flag at his pizzeria, which is apparently also sometimes called "Patio Italian Kitchen," and whose pizza at least one Yelper calls "fair." (One of Grub Street's colleagues, who lives a few minutes away from Patio Pizza, was not actually aware of its existence until this morning, so it is safe to assume it is not exactly a beloved local institution.)
It is logical to conclude that the president was watching the Varney segment when he tweeted out his support for Patio Pizza. That is all you need to know about this situation, Patio Pizza, its owner, or our current president.
If, however, you want to know anything more about Long Island's pizza scene, Grub Street would refer you to the innovation known as the cold cheese slice from Little Vincent's in Huntington. Cold shredded mozzarella is added on top of a hot slice of pizza. It is a signature regional style that has, for some reason, remained extremely regional. However, even if you cannot make it to Little Vincent's in Huntington, you can recreate a cold cheese slice for yourself. And you should! Yes, it sounds weird, but it is surprisingly enjoyable, and these days we need to find excitement wherever we can, right?