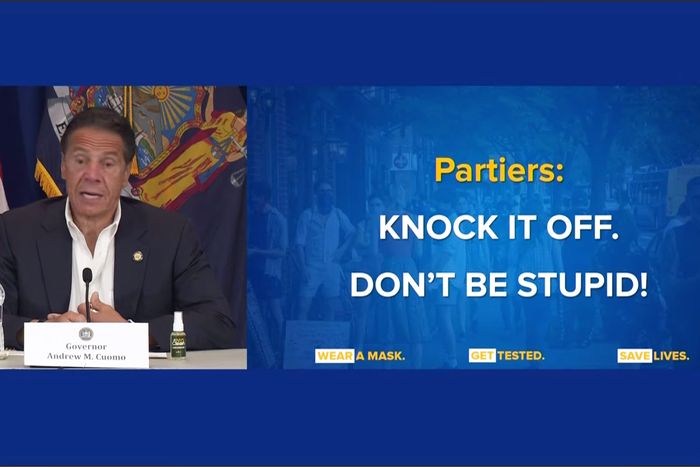 Photo: CNBC Television/Youtube
Over the weekend, Brik Astoria in Queens became the city's first bar or restaurant to have its outdoor-seating permit stripped, after crowds failed to follow social-distancing rules. This morning, Governor Andrew Cuomo addressed the ongoing congregations that are happening "especially in downstate, primarily of young people." Accompanied by a slide of outdoor parties in Astoria and on the Lower East Side, Cuomo reiterated that it is up to local governments to enforce outdoor-dining rules and laid out what he plans to do if large groups of people continue to gather outside bars and restaurants:
I will tell you what's going to happen. I spoke to a number of restaurant owners yesterday … the bad restaurant and bar owners are going to make it worse for the good ones. Most restaurants and bars are complying; they're going through a very tough economic situation, but they're living by the rules. The bad ones, who are exploiting the situation and breaking the law, by the way — this is not just morality, they're breaking the law — are going to make it bad for everyone.
He continued that if "those congregations continue," the state will "have to roll back the opening plan. And we're going to have to close bars and restaurants. That is what we're going to have to do."
Cuomo directed his comments to "local governments" more broadly, but they were clearly aimed at the city. He ended by saying, "To local governments, I say, you don't want to enforce the law because it's politically unpopular … I'll tell you what's more politically unpopular: When you're going to have to explain to the people why we had to close all bars and restaurants. That's going to be more politically difficult than telling the NYPD to do their job."