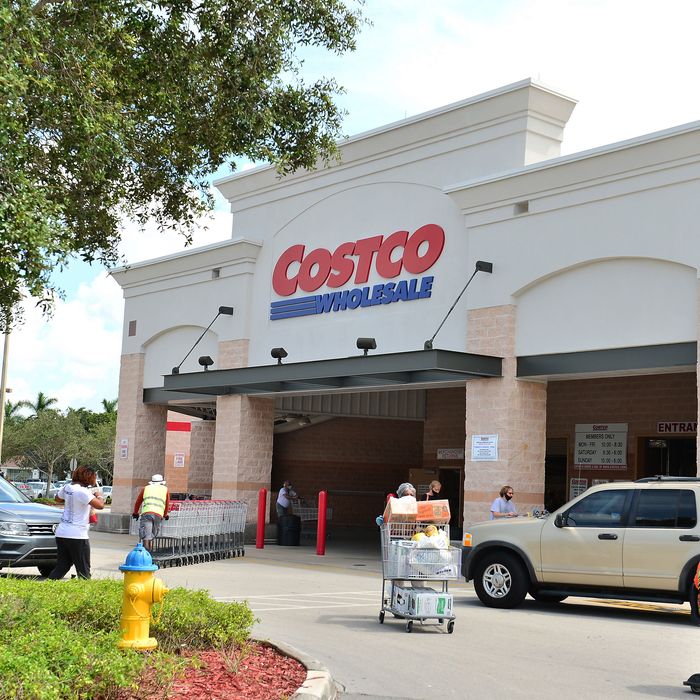 A cake-free Costco in Florida.
Photo: Johnny Louis/Getty Images
Last month, Costco discontinued its beloved half-sheet cakes. It was, reports Fox Business, a public safety measure: the cakes were "dropped as social-distancing measures during the COVID-19 pandemic curbed large parties." A massive cake is not responsible at a time like this. A large cake is but an invitation for a party, and so: small cakes for small gatherings only. Costco announced it would focus on 10-inch round cakes instead, which the company says are meant to feed between eight and ten people.
Could Costco perhaps at least make special-order sheet cakes, distraught fans wondered? No. The company itself has not offered an official explanation for the greater change in cake policy, but Costco did gently explain, on social media, that it had reduced service in some departments to allow for social distancing among employees, and therefore was not currently taking special orders. Okay, but would they return eventually? "We have no immediate plans to bring back," said the company in a statement, reiterating its newfound commitment to the socially responsible 10-inchers.
Sheet-cake activist Kelly Stross took the matter into her own hands, launching a "Costco Bring Back The Half-Sheet Cake" campaign on Change.org. "Birthdays and special occasions will never be the same," laments the petition. "Pure perfection!" Currently, the charge has 601 signatures, which — given Costco's own estimate — would be enough people to eat approximately 12.5 Costco half-sheet cakes.
"They're delicious," one devoted Costco sheet-caker told the New York Times in June. "I don't know if they're fresh or if Costco uses superior ingredients, but they're delicious." The big cakes, which cost less than $20 and came in white (filled with vanilla cheesecake mousse) or chocolate (filled with chocolate mousse), were a staple of her family gatherings, she said. She understood the need for social distancing, but still, she believed customers should not be robbed of access to very large cakes. Certainly, a large cake does not require a gathering. Haven't you ever heard of freezers?
One might argue that it is never wrong to have big hunks of frozen cake on hand, not because you are entertaining, but precisely because you are not. There is nobody to see and nothing to look forward to: Thaw some cake.
But here is where the plot thickens: on Tuesday, NBC Bay Area reporter Chris Chmura discovered cake ordering stations were back at Costcos in Santa Clara and San Jose.
Certainly, it appears to be a picture representing sheet cakes. And suddenly, as is so often the case with cake these days, it is hard to know what to think.
Costco, though, maintains that there are and will be no giant cakes, half-sheet or otherwise. In a statement to USA Today, the company reiterated its previous statement on the matter: "Currently we are not selling our 1/2 Sheet Cakes at any US locations."